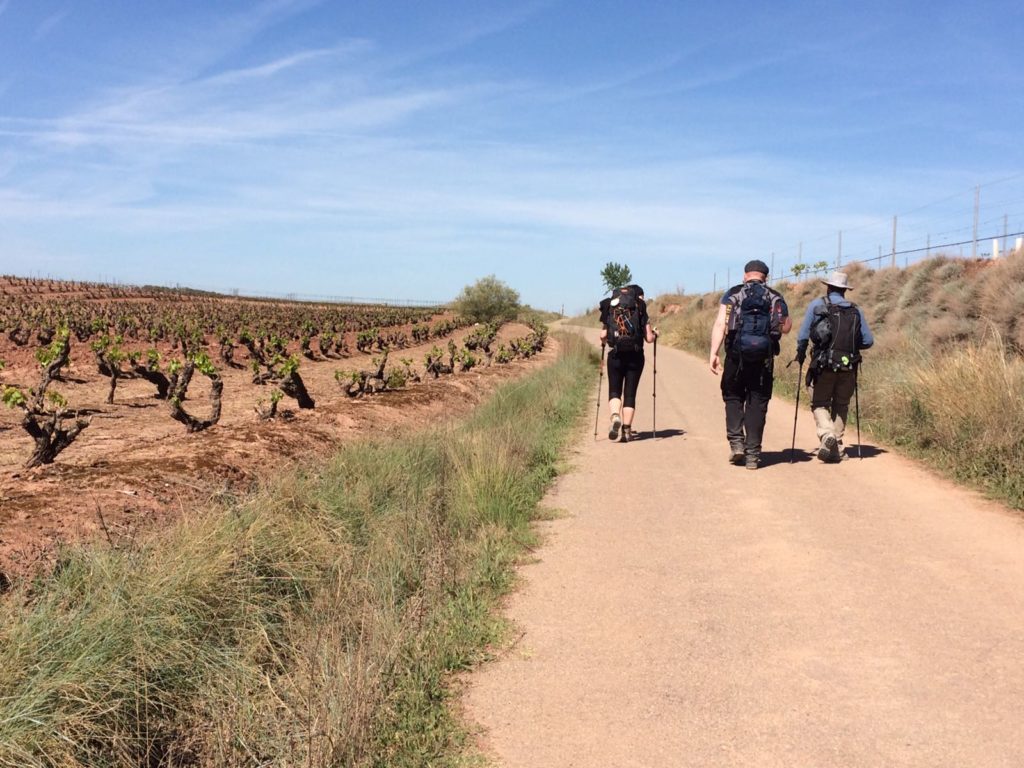 I have just completed walking the Camino de Santiago which is a thousands of years old pilgrimage across the north of modern day Spain. In the 1980s it underwent a resurgence as new markers & yellow arrows were added to the route to guide pilgrims on their way. In 2016 the Camino had more than 250 thousand pilgrims arrive to Santiago with almost 60k in the busiest month of July. 2017 numbers to date have exceeded previous years again. It has been described as life transforming & likely to be one of the most challenging experiences of many people's lives.
Here's some of what I've learned & advice given to me by others before, during & since my journey.
What is the Camino?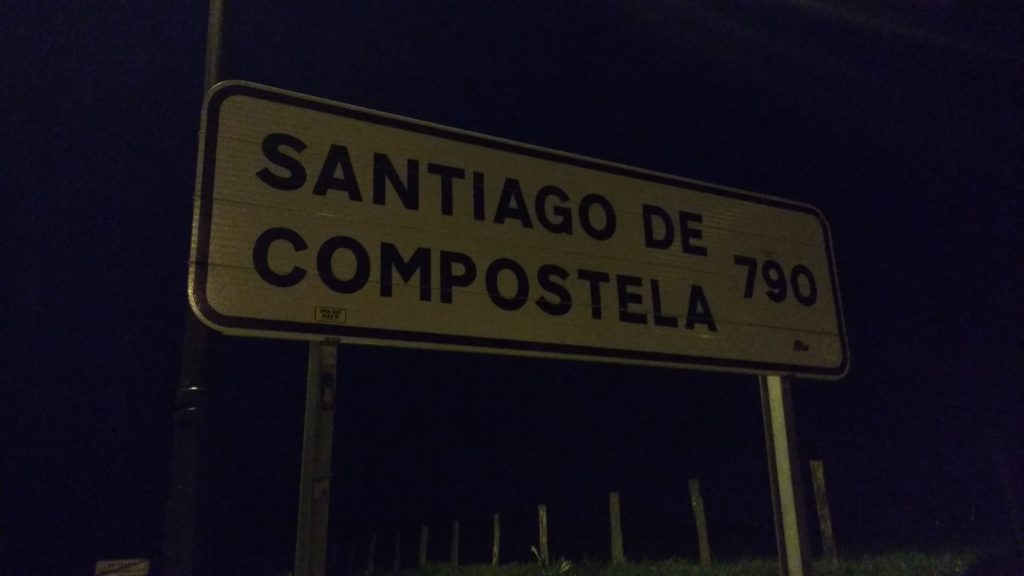 Only 790km to go after the gruelling 1st day
The Camino is a number of routes or paths, the most popular being the Camino Frances, to the final destination of the cathedral in Santiago de Compostela in the North West of Spain. The Camino Frances is officially a 799km (but actually longer in practice) journey from Saint Jean Pied-de-Port in France, over the Pyrenees mountain country border into the North East of Spain & across the country westward to Santiago. It is most often completed on foot, walking the entire distance or different sections of the trail as suits the time or physical abilities of the "pilgrim" (if you're on the trail you are known as a pilgrim). It can also be completed by bike or horse with the tradition beginning thousands of years ago when Celtic tribesmen would head to the coast for the "magic" rocks there. Later, Romans would follow the same route to what they believed was the most Western point in Europe & "End of the World". Around 1000 years ago Christian explorers discovered the remains of Saint James & had an amazing cathedral built in the town of Santiago de Compostela to house them. This led Christians in their millions to follow "the way" to worship at the site & towns, infrastructure & protection groups sprung up along the route to support them on their journeys. Bandits & prostitutes also setup along the path to relieve them in other ways. Along with the Christians, came the naming of 3 main sections of the route along religious lines associated with Jesus.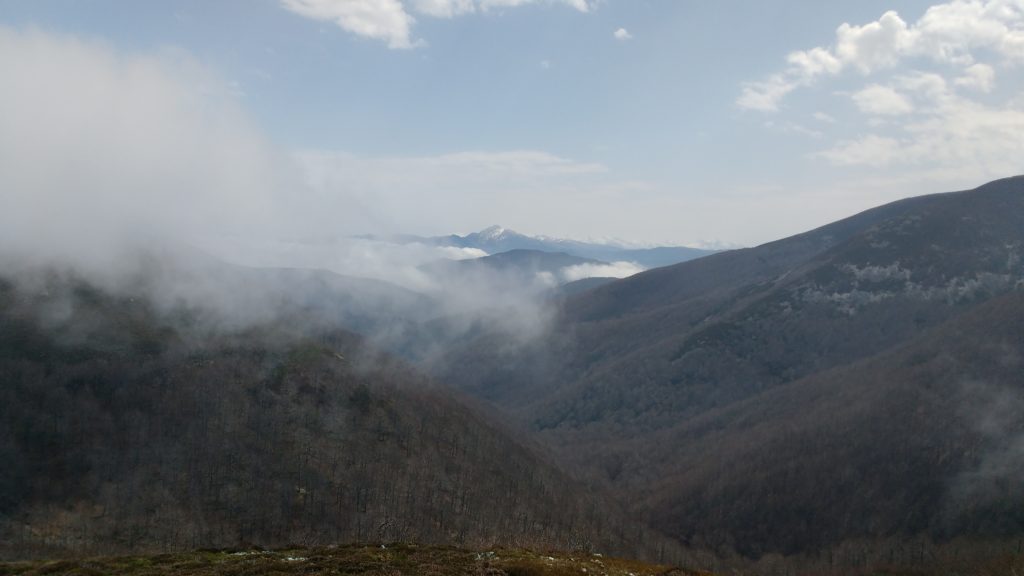 The fertile & mountainous initial section labelled "life", the middle flat & barren desert section of the Meseta after Burgos labelled "death" & the beautiful nature & return to hills & mountains of the approach to Santiago labelled "rebirth".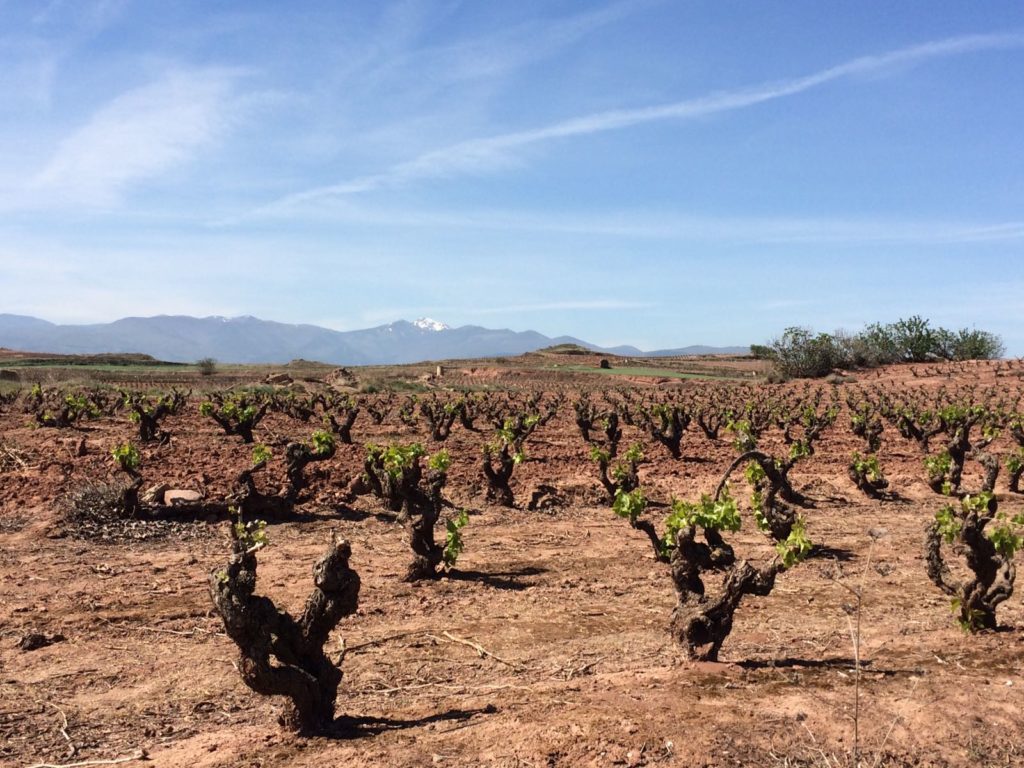 Flat, desert area of the Meseta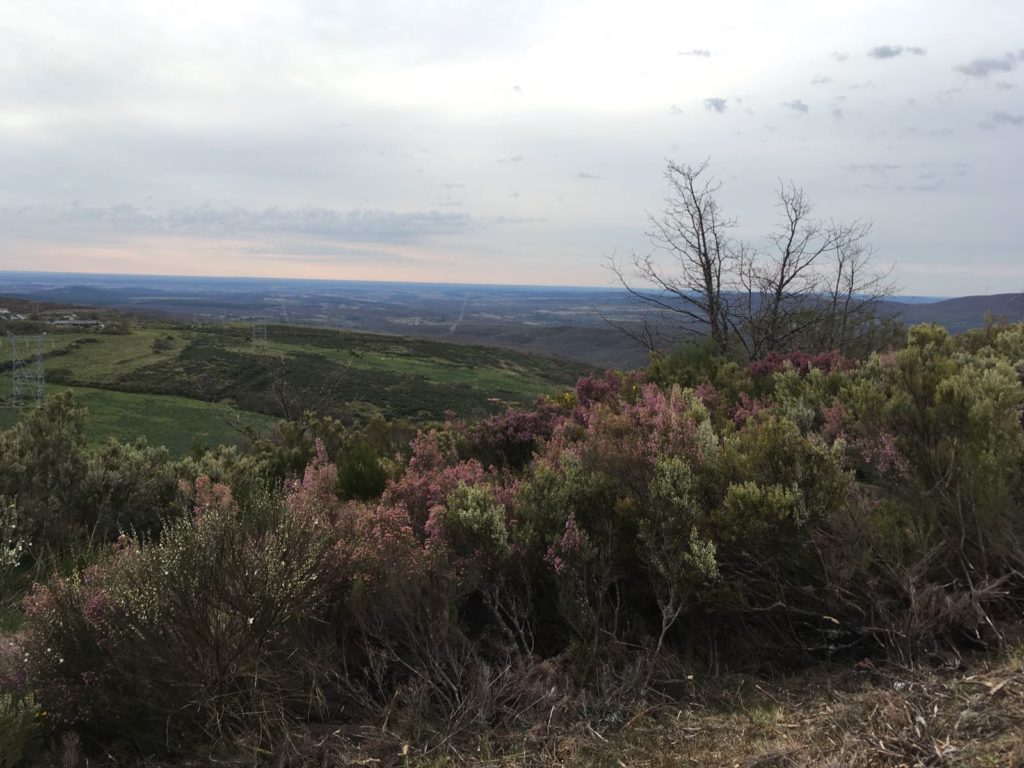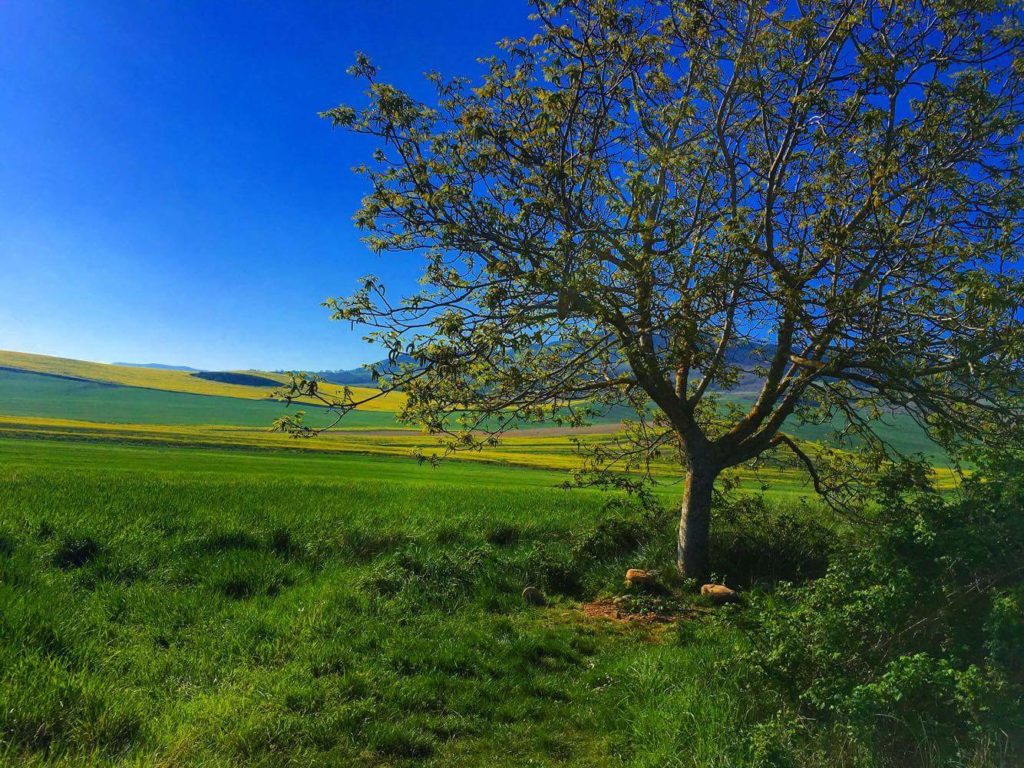 After the Meseta the land is "back to life"
Following arrival to Santiago for those with energy & time left there are extensions all the way to the coast to Muxia (86km) or Finisterre (89km) and you can also walk between the two like I did with an extra 31k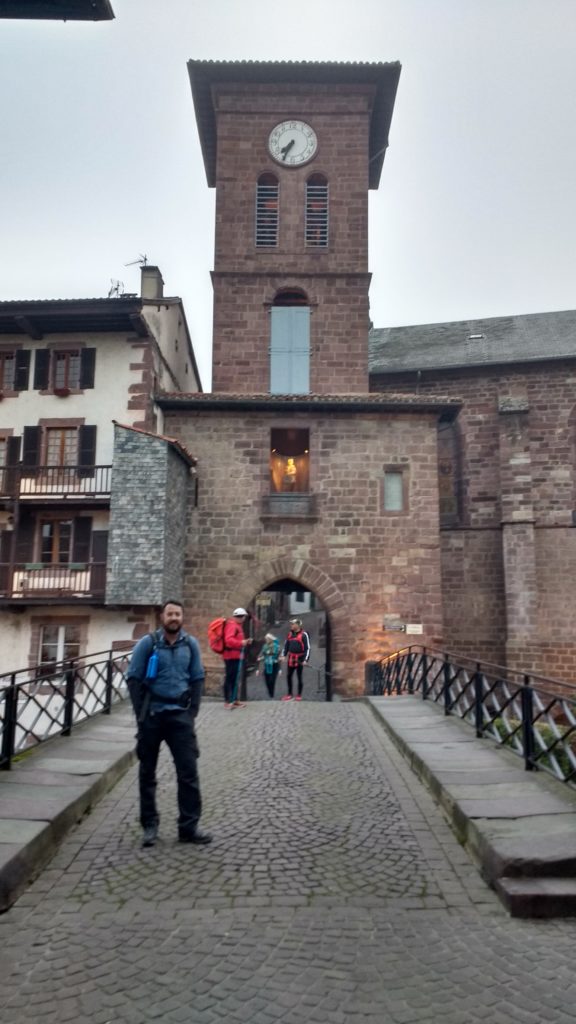 Who walks the Camino & why?
Pilgrims come to the Camino of all ages, from new borns being pushed in prams to pensioners well into their 80s. There are many motivations for the journey with some seeking solitude & relaxation from their stressful lives, former athletes or military looking for a tough challenge & adventure, those looking for religious enlightenment or some needing time out after a break up, deaths of friends/ family or personal tragedies. Or maybe they were just told about it during other travels or in the pub & thought it sounded like fun. Many people come back repeatedly to complete different sections, other Camino routes or to do the same one again & enjoy the social side. Of all ages, they also come at all levels of physical abilities with the extremely fit steaming ahead at 6km+/hr, some pottering along at 2km/hr and average distances covered varying from 10-40+ km per day.
While many on the trail are local Spaniards, pilgrims come from all over the world, creating a diverse mixing pot of people & cultures, that have the same eventual goal; finish the Camino.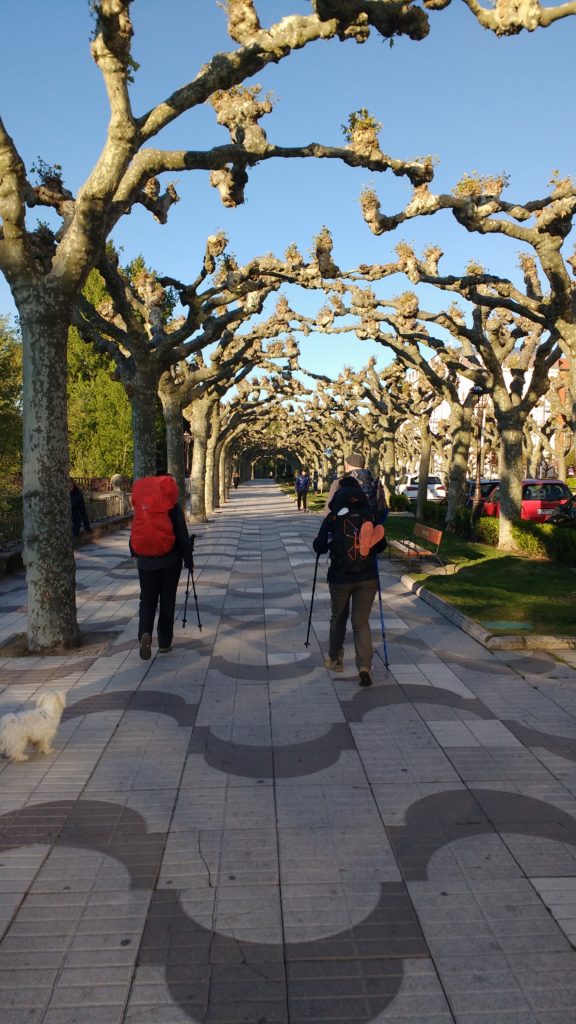 What is the Camino Experience?
Physically this is a very difficult undertaking as you cross mountains & sometimes rough or muddy paths in highly diverse weather conditions. Walking while carrying your bag & gear is  by my estimate at least 50% harder than walking unburdened making the distances covered seem further again. It is said that at some point the Camino is going to break you & all pilgrims at some point will feel physically exhausted, sore & challenged as to whether they can go on. Waking up & finishing each day with new blisters, aches or sore spots brings a mental challenge to the task as well. At one point I had maxi pads strapped to my bruised, blistered & swollen feet, everything hurt & each footstep was excruciatingly painful. At this point it seems like madness to go on but from the darkest moments "the way provides", as the saying goes. You find your body draw energy & resilience from places you didn't know existed & as your body gets stronger & adapts to the stress you begin to feel empowered in a way that is difficult to explain. This transformation is an extraordinary experience.
After years of abuse on sporting fields, in gyms, sitting at a computer desk & bar dancefloors my body is a wreck of previous injuries at the best of times. Despite this, my body went through significant weight loss, I had gained weight while working long office hours during the miserable London winter, & adapted to the requirements of the walk. When my body was feeling pain, it responded with tremendous rushes of endorphins & feel good energy. I became stronger to the point my bag began to feel light & previously difficult distances became easy. With this newfound feeling of strength on some of the steepest sections my body wanted to forge ahead & I ran up some of them!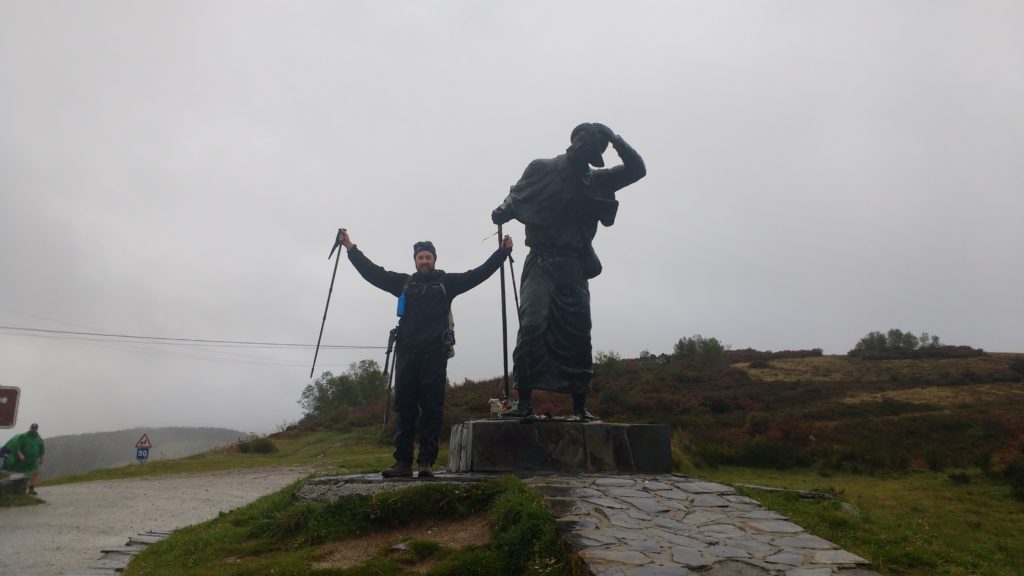 While the physical struggle is real, the adaption extends to mental strength. After continually getting through each challenge the Camino provides you begin to feel that nothing life has to throw at you will be able to slow you down. Going through these trials you also have a lot of time to think. It is not unusual to become highly emotional, I and many others were reduced to tears at different points. Many claim to have spiritual intervention help them along the way. The closest to this I went was with about 700km to Santiago to go & while doubting my ability to finish, I felt a surge of energy & strength and visualised myself walking into Santiago. At this point I knew I would make it (there were many more hard times to come) & I cried with happiness at the surprising strength I had found (or the way had provided if you believe in these things).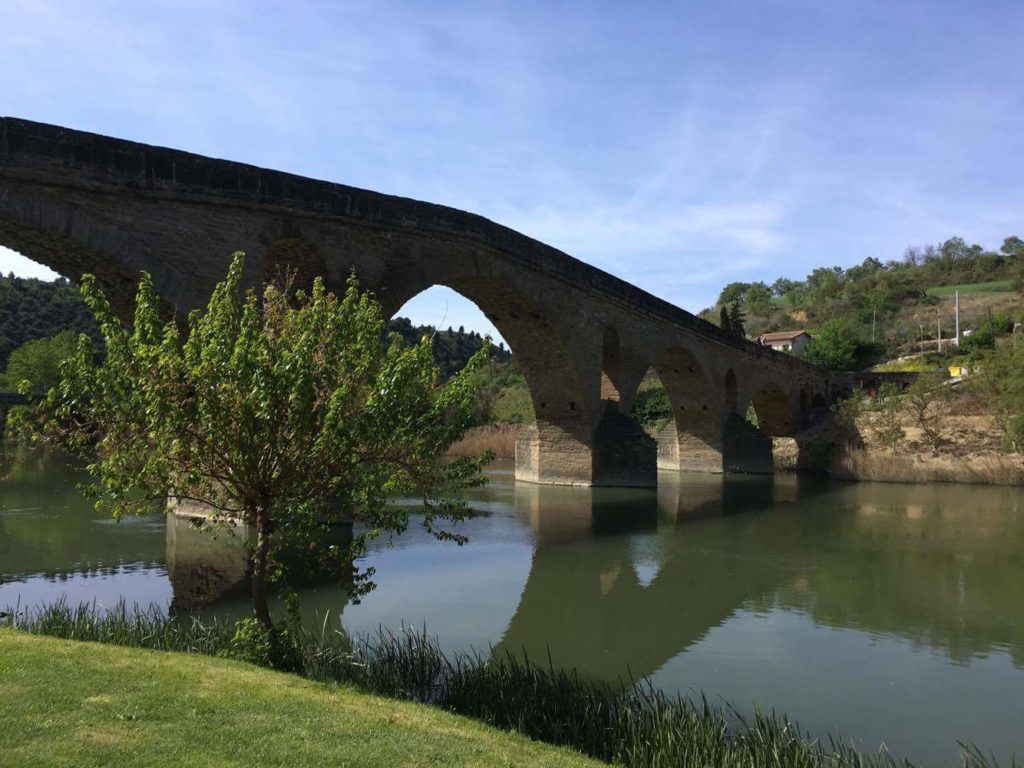 It is certainly a difficult undertaking but I believe that for anyone with the ability to walk, who sets appropriate goals & listens to their body, the Camino is something that almost any individual can complete. I have a friend who started his journey at 170kg, despite the disbelief of others that he could make it, he walked every step of the way. By the end he had lost 35kg & has now completed the journey 3 times. Others had their own challenges & it is truly inspiring to see them overcome their disadvantages. The Camino providing what you need seems to become a habit & it is amazing how often a fountain or cafe pops up just when needed or another pilgrim offers you a snack when you're hungry or lends you a walking pole if you need it more.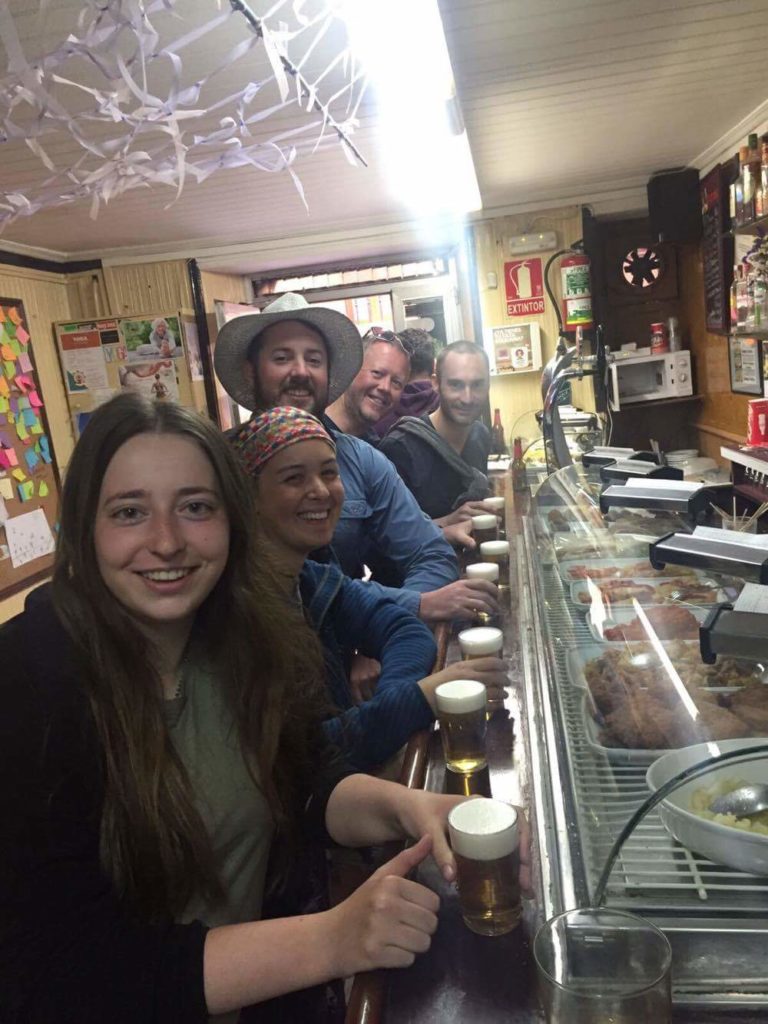 Thirsty pilgrims refuelling & socialising
With so many people on the trail (on average 1-2000+ per day over the peak months) one of the brilliant things is the social side to the walk. As we took regular breaks during the day we would regularly run into the same people multiple times every day. With limited albergues in each town you likely have the same people as roommates or to share communal dinners with as well. As these positive people are going through the same journey the atmosphere of excitement  is contagious and it is great to share the highs & lows with people from such diverse backgrounds. Of course with so many different exhausted people there are bound to be some clashes of opinions. It is great to hear different points of view to your own to build your knowledge & view of the world but one particular German irked me with his disrespectful behaviour. His benchmark that a task was only difficult if at least 4 people died from it last year particularly so (those that survived giving childbirth, it must be easy according to this guy). New lessons & skills in temper control & putting up with idiots are also gained on the Camino.
When should you do the Camino?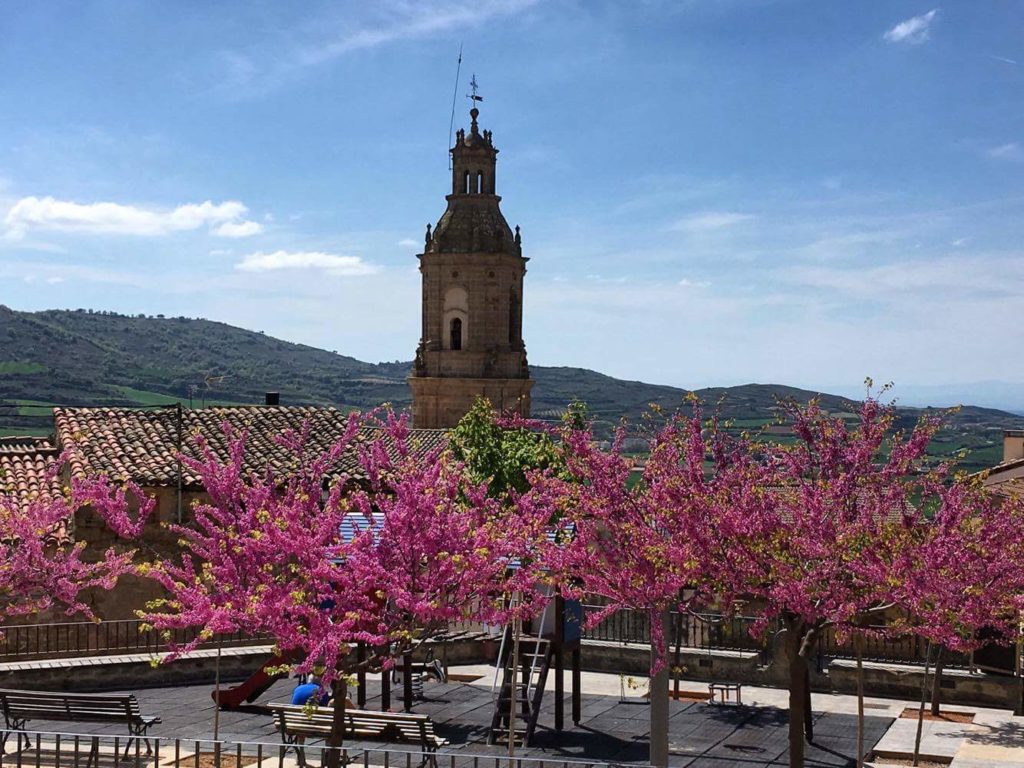 The Camino is busiest when the weather is warmer & outside the wet season with numbers starting to build from March until they peak in July & August & reduce again until October. Outside these months it is much less busy with much colder weather conditions, greater possibility of snow on the mountains and many of the albergues (Camino pilgrim accommodations) are closed.
Especially busy in July & August is the final 100kms from Sarria as this is the closest distance you can start to Santiago if you want to receive a Compostela (certificate for completing the Camino). During this time it can be difficult to find accommodation, albergues cannot be booked & fill up, resulting in a race to the day's end destination. For this reason it is recommended to do the Camino in the shoulder seasons of April/ May like I did or September/ October when the weather is not exceedingly hot and accomodation is more freely available​.
What should I take with me, foot care & other essential lessons
In short, you should bring as little as possible. Every extra ounce of weight you will feel when you're walking over mountains or the long distances involved. As well as having to carry less weight, being free of possessions is one of the meditative releases of the Camino & you realise how little you need to enjoy life!
The guideline to aim for is that your bag should weigh no more than 10% of your body weight including your water supply for the day. My bag clocked in at just over 10kg at a bodyweight when I started of over 90kg.
While minimising weight should be the aim there are some essentials you need as follows;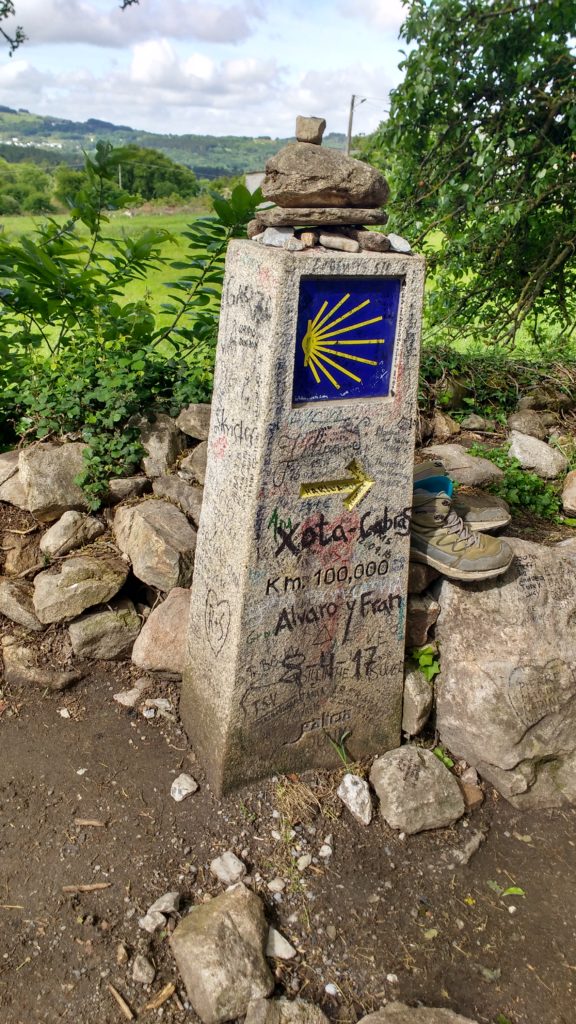 Many ill fitting boots get left behind on the trail
Good boots/ walking shoes, foot care & blisters – Good footwear is definitely the most important item you will bring with you. Do not skimp or cut costs on ill fitting boots or you will spend that money at pharmacies to relieve pain & fix your feet! My cautionary tale is that my boots were a little tight but had been fine on numerous long distance walks to wear them in. I didn't allow for the fact that with consecutive days of long distance walking, especially over sharp rocks, your feet are going to swell up. I ended up with very bruised & blistered feet that threatened to end my Camino. Numerous pilgrims fell victim to this & too tight boots can be solved with the classic "two finger" insertion method. Once your potential purchase boots have shoelaces done up you should be able to insert two fingers into the back (but no more) to allow your foot some room, especially when going downhill or on rough surfaces.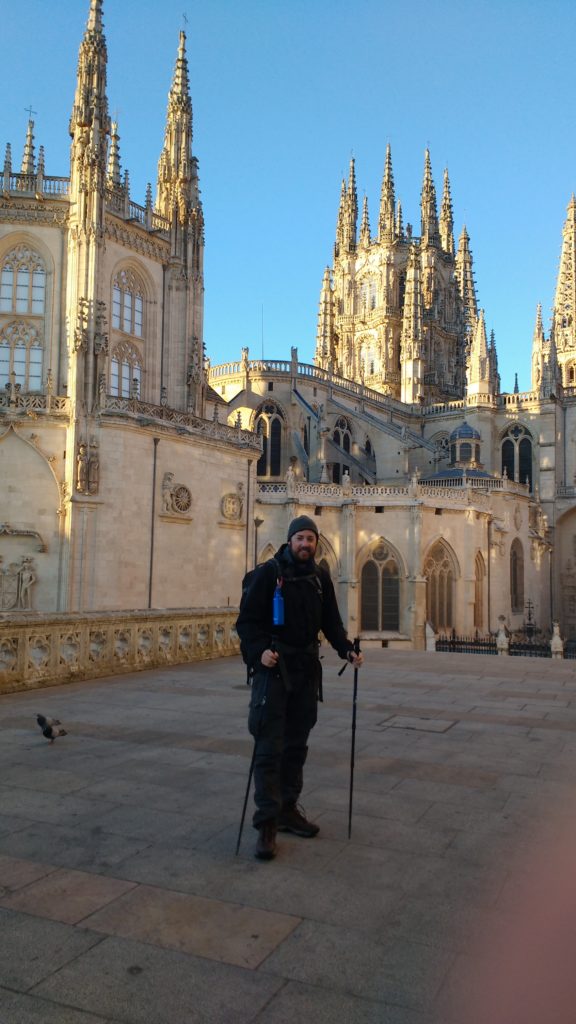 These new boots passed the insert two fingers test & I was a new man
Foot care & blister treatment – When googling how to treat blisters at 5am one morning the oft repeated advice was that "the best way to treat blisters is to not get blisters". This was absolutely infuriating given I already had blisters. The state of my feet at their worst due to the too tight boots was that when I took my shoes & socks off one pilgrim remarked that I had a really bad blister on my middle toe of one foot. This was the only toe that I had not taped or bandaged up as it was my "best blister" & least painful. Assuming your boots fit well, as soon as you feel any rubbing you should deal with it immediately by applying sports tape or a plaster as appropriate. Getting blisters is common with very few exceptions so to minimise this you should regularly take your boots off to allow your feet to breath, change your socks & if already sore elevating your feet above your heart can help reduce swelling.
When you inevitably do get blisters & need to continue walking the next day you are best off draining them of fluid when you can in a semi-sterile environment with a needle & applying antiseptic or alcohol solution to prevent infection. It sounds barbaric but leaving a thread going through the blister allows it to continue to drain & prevents build up of fluid. For heel blisters, which are the mother of all & most painful, a product called compeed can help. These things are very expensive at around €1.50 each but provide a protective layer of "skin" over the blister & last for a few days as they are extremely adhesive. It is preferable not to remove them sooner as they stick so well that they can tear the skin from the blister but they also reduce the pain of the blister rubbing a lot. Care should be taken not to place them over the wound if it is infected as this can stop the healing process & make it much worse. In the town of Bercianos Laura, the angel of a hospitalera (host), treated pilgrim's blisters with scalpel to cut away dead skin, disinfectant & bandaged them back up. Mine had largely recovered by this stage but the experience was heavenly.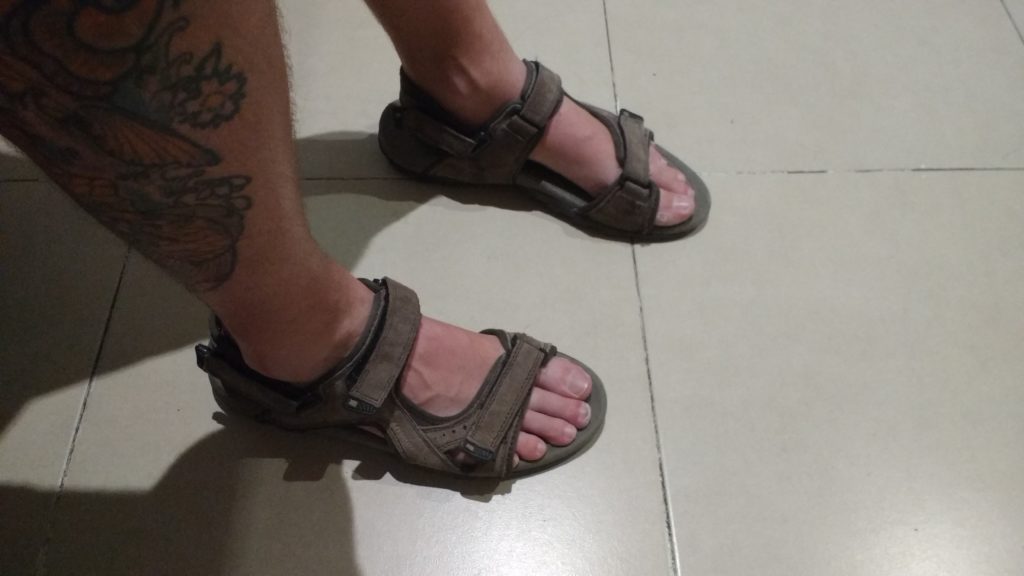 Sandals – walking sandals with straps are preferable to flip flops or thongs & your feet will appreciate them at the end of the day of walking when the boots come off.
First aid kit – a basic collection of plasters, antiseptic, sewing kit for threading blisters & fixing clothes & pain relief such as paracetamol will come in very useful.
Sunscreen & a hat are also necessary with the Spanish sun quite unforgiving on days up to mid 30°C temperatures.
Walking sticks – you may have never used these before but, for those doing the whole Camino Frances, not using them is the exception rather than the rule. They can be purchased from €5 each & help greatly to take some of the weight & punishment off your feet. They are extremely light & at a minimum will support the weight of your arms (which is on average 18% of your body). When it comes to hills, which can be extremely taxing on joints of the knees & ankles, they take more than 30%. I would highly recommend you use them.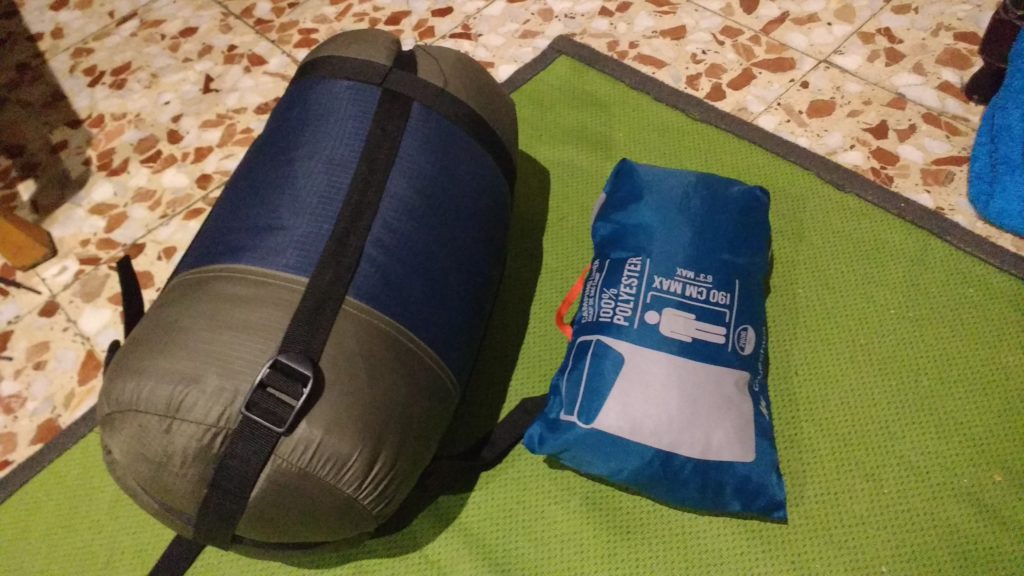 Sleeping bag/ liner – if you are doing the Camino during warm weather then the lightest sleeping bag possible is preferable to reduce weight. I took this to the extreme & only used a sleeping bag liner (280g vs sleeping bag 1kg) & had no problems with being cold in dorms with mantas (blankets) always provided & often not necessary at all. As seen above it took up much less room in my bag too.
Clothing – a change of fresh clothes for the end of the day, walking outfit, something a little warmer & changes of socks/ underwear are all you need. You can wash regularly at the end of the day & carrying anymore is just extra weight & effort required.
Weather protection, rain gear – if you're walking for over a month you should expect some rain. We had a couple of days where rain was absolutely torrential & others with light showers. A waterproof jacket or poncho is essential & waterproof pants can be picked up from local decathlon outdoor stores for ~€3 & are extremely lightweight.
Spanish Food is awesome!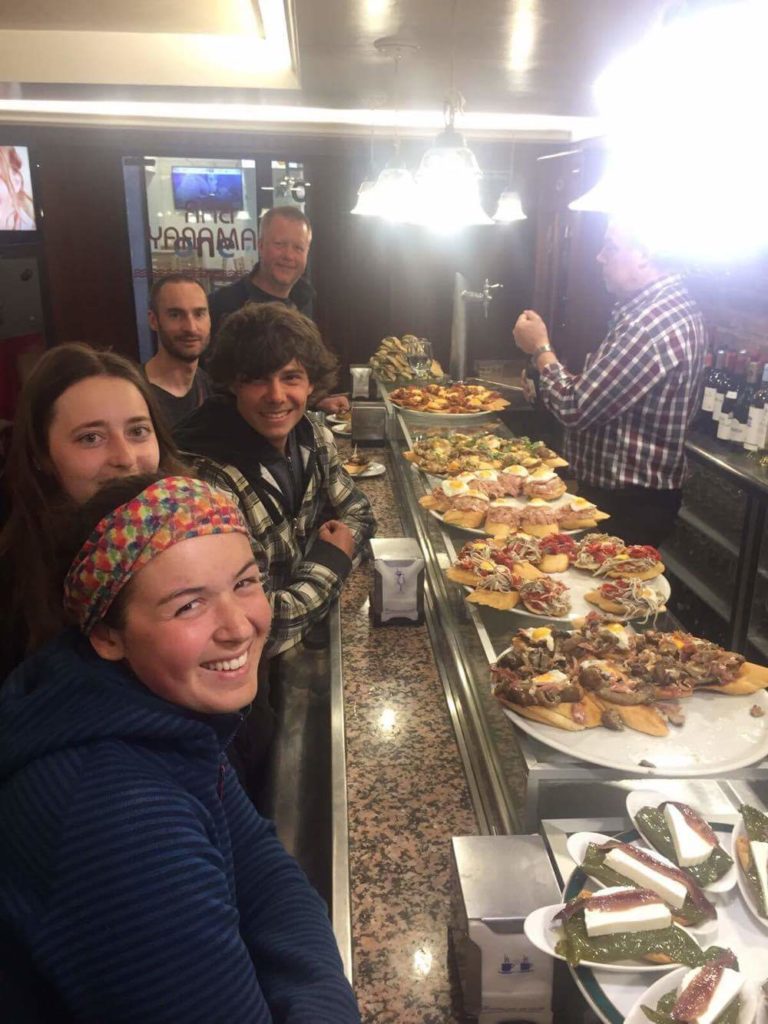 Breakfast – some albergues offer breakfast but when the towns are close together it's nice to walk for an hour or so to get the body going before stopping for a rest break at a cafe. My regular breakfast consisted of Spanish tortilla (made of egg & potato) with a ColaCao which is a high-energy chocolate drink with vitamins and minerals (a little like Milo for the Australians or Nesquik) which provided fuel to get me through most of the day's walking.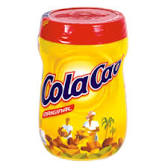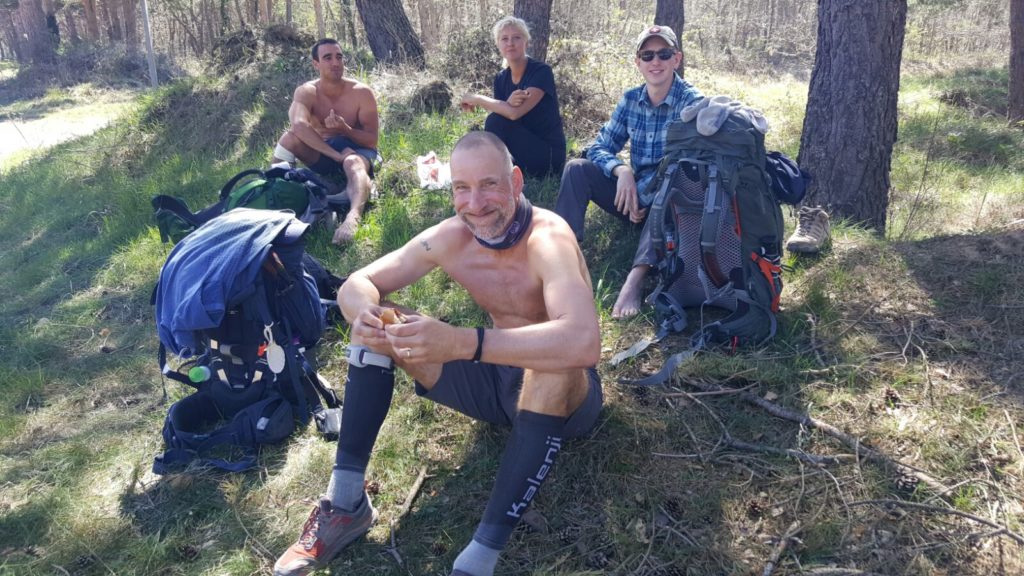 Pilgrims enjoying a roadside snack
Water/ snacks – it is important to keep hydrated while walking these long distances so you should make sure you carry an easily accessible water bottle (that you don't have to take your bag off to get to) & drink regularly along the way. Towns will often have a water fountain but in some instances they will be marked "Agua not potable" (water not drinkable) due to fertilisers or pesticides used in the area. I carried a 600ml bottle & kept a schedule of having 2-3 sips of water every 15 minutes. If you wait to get thirsty you're often already dehydrated & this puts a lot more stress on your muscles, joints and ligaments making you a lot sorer if you don't drink enough. At times there will be long distances between towns with cafes or services needed so at these times it is good to carry a little extra water along with high energy snacks like fruit, nuts or chocolate for when you need them. On Sundays many shops will be closed in Spain so consider having snacks ready on these days.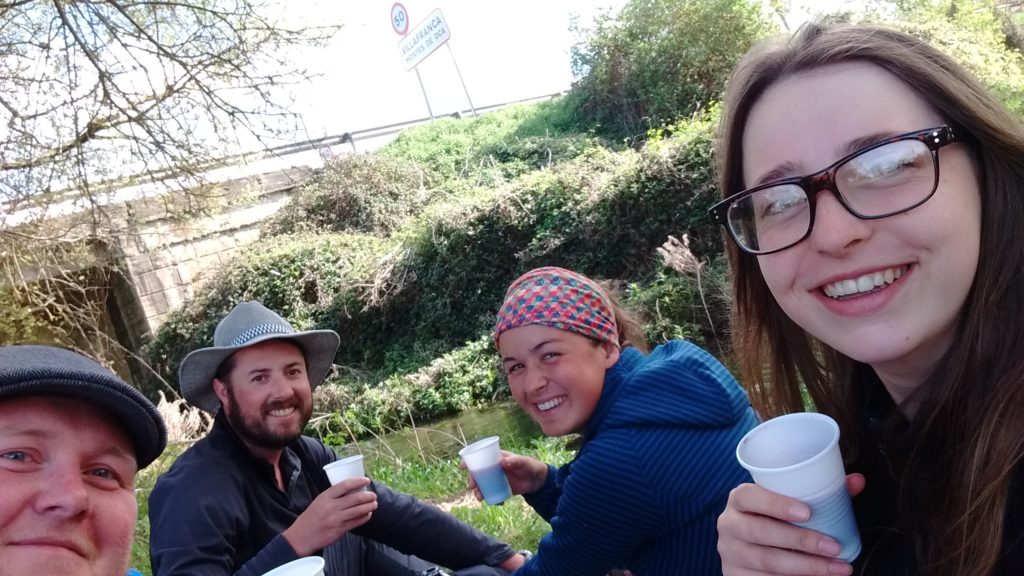 Kalimotxos/ Tinto Verano – Our daily plan involved a breakfast stop, often a 2nd breakfast stop & later in the day the Kalimotxos stop. This is a seemingly unlikely delicious combination of red wine & coca cola  that originated in the Basque region of Spain. Again, it provides energy & the alcohol can bring pain relief when the going gets tough. I would generally find my speed increased by at least 1/2 km an hour with this energy boost. Another benefit of the Kalimotxos diet is weight loss as once I started drinking them my weight decreased significantly (some people put this down to walking 25km a day but my spreadsheet correlates the loss with Kalimotxos consumption). For those that are not fans of the combination a valid alternative is the Tinto Verano which translates as summer wine & combines lemonade instead of coke.
Tapas/ Pintxos – tapas are a well known Spanish style of serving small portions of food, generally to accompany a drink. Pintxos are the Basque region variety & usually served on bread.  These range from Spanish tortillas, deep fried croquettes, jamon serano (ham), patatas bravas (brave potatoes), calamari, seafood & many other options. Best spots on the Camino for a tapas crawl are either Leon (the best with tapas free with each drink & more info below) or Pamplona in the early stages of the walk. If you have time after the Camino the city of San Sebastian has without doubt the best food in Spain & they are the masters of the Pintxos scene..
Pilgrim's Menus – these are offered in many restaurants along the way & usually priced at €10-12 with 3 options for starter (often salad, soup or pasta) and mains (often meat choices & potato/ vegetables or stew & vegetarian options) with bread (pan) and wine (vino), beer (cerveza) or soft drink (refresco) and dessert sometimes included.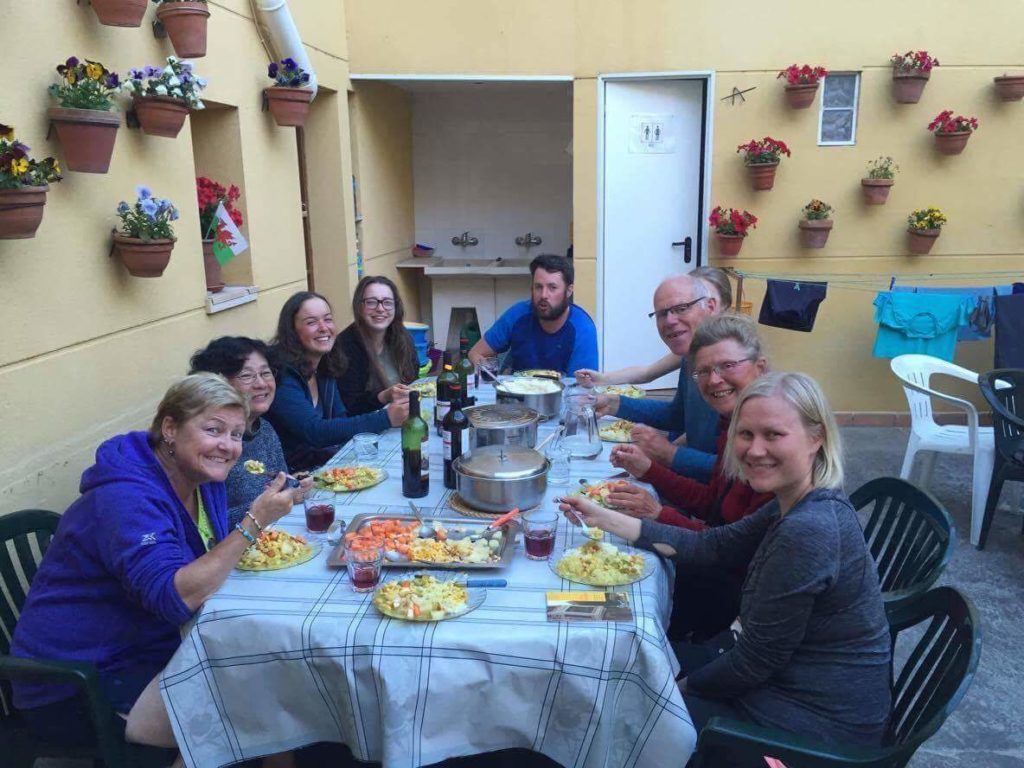 Communal dinner in an albergue after Kristian cooked up a feast
Albergues will also often have communal dinners, some have payment by donation, or kitchens available for you to prepare your own meals. I was lucky enough to be walking with a talented Danish chef who prepared many fantastic group meals as well as providing me cooking lessons as his sous chef.
Vino (Spanish wine) – Spain is one of the world's leading producers of wine by volume (they compete with France & Italy for top spot each year) and they have it down to a fine art. As well as being delicious it is incredibly inexpensive with good quality bottles going for between €1-5 at supermarkets & a glass of vino tinto at a bar often around the €1 mark. Wine is often cheaper than softdrink or water (and free at one point of the Camino I mention below). Adjust your drinking habits accordingly! For those on the beer bandwagon it is also inexpensive with beers from a vending machine €1 & from bars also well priced.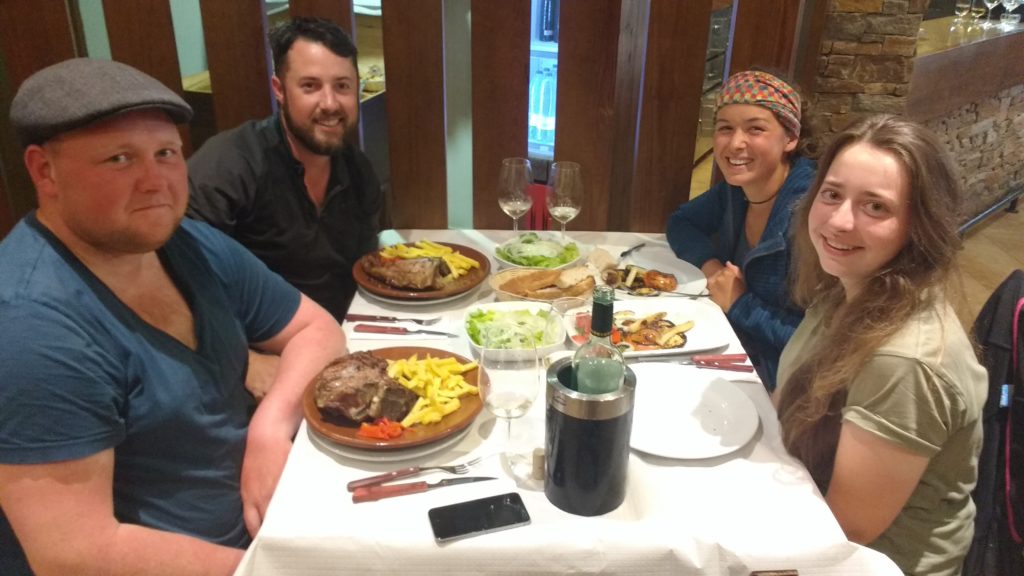 Monster 1kg Chulaton steaks
Another food recommendation I received & tried was the monster Chulaton steaks in Galica, famous as one of the best in the world. We shared 2 of the 2.5 inch thick 1kg variety along with sides between 3 of us & were disappointed we hadn't gone for 1 each. Absolutely delicious!
Albergue Accommodation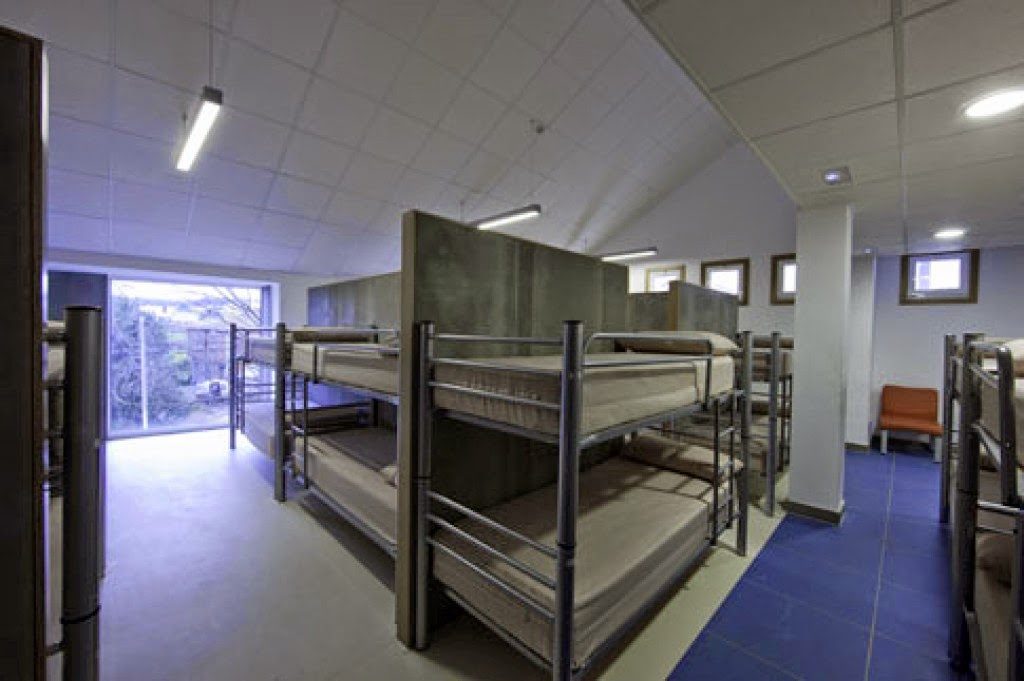 The albergues are setup exclusively for pilgrim's & in mind of their need to sleep impose a curfew which is normally 10pm. After this time the doors are generally locked, lights turned out soon after & staff leave or go to bed for the night. This posed a problem for me on one night when getting up to go to the toilet during the night I was used to heading out to the shared bathroom (in this instance we had a private room) & inadvertently became locked out of the albergue. This was located on the Meseta or desert meaning at around 1am the overnight temperature was very cold & due to the warmth inside I was only wearing my underwear to sleep in. After a long time outside & unable to get in after making several laps of the building to try to find an unlocked door, I became concerned at the risk of exposure & potential hypothermia. At this point I decided to yell for help, hoping another pilgrim would hear & let me inside. When no assistance was forthcoming I began to prepare for survival by collecting cardboard wine boxes for shelter. Eventually my loud knocking on the window of the bedroom woke one of my travel companions who came to the door to find me in my underwear & holding the boxes in a half frozen state. My other roommates were highly amused the next morning to find the boxes on the floor of the room as they thought we had only consumed 1 bottle of wine each rather than several boxes. I later found out that a fellow Australian pilgrim had heard the Australian accented yells for help & thought they were very annoying before he rolled over & went back to sleep without investigating their source.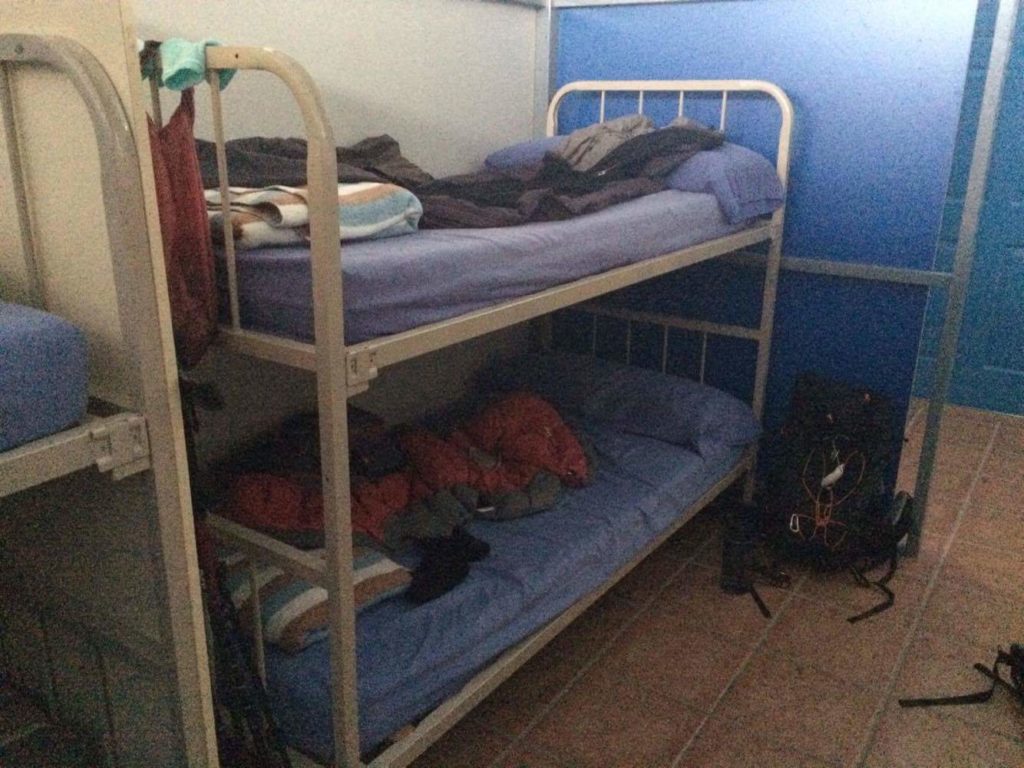 Albergues have shared showers & bathrooms so often a good idea to get in first so you can relax, enjoy a post walk beverage & do your washing if needed. In general the facilities are really well maintained & cleaned with pilgrims all having left early each morning.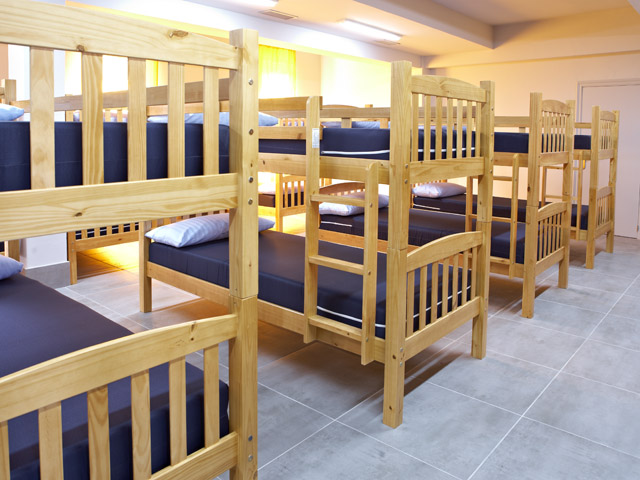 Sleeping in an albergue is a bit of a lottery in that you might hit the jackpot & be in a shared room with no snorers or noisy co-occupants but it is far more likely this is not the case. The dorm style accommodations have up to 20 bunk beds per room & while some people try to go to bed later others will try to get up really early. Some of the less considerate pilgrims could be heard making cat meow noises at 6am, talking loudly, not hearing their own alarms while they woke everyone else or returning to the room in a highly drunken state while others tried to sleep. Considering the low cost of the accommodation (sometimes only by donation) this is to be expected & if you're a light sleeper then opt for earplugs & an eye mask or consider private accommodation options. As a group of 4 the people I walked most of the Camino with were non-snorers so we opted for private rooms or smaller albergues to minimise the level of noise we were exposed to.
Another benefit of the smaller albergues is that it makes it easier to socialise & get to know a smaller group. Thanks also often have kitchens, which are shared between less people at peak times, & you can often ask around for who is keen to cook a shared meal together.
Albergues will also often have communal dinners, some have payment by donation, or kitchens available for you to prepare your own meals. I was lucky enough to be walking with a talented Danish chef who prepared many fantastic group meals as well as providing me cooking lessons as his sous chef.
Laundry – some people fail to realise that walking long distances & being sweaty causes them to smell. The aroma of the boot storage areas or pilgrim's end of day socks borders on deadly. When you are carrying all your clothes for a month, changing locations & exercising everyday some smell is unavoidable but there are also laundry facilities readily available to minimise this. Costs are normally €3-4 for a load of washing & same for using dryer (clotheslines available too for free if you have time to air dry). More economical pilgrims sometimes carry & use a "Scrubba bag" which you can buy online & allows you to hand wash your clothes inside a waterproof bag or on old style scrubbing boards on laundry sinks. Alternatively, pilgrims will often combine washing to share the costs of a full machine load. I tried to handwash my clothes daily or machine wash in shared loads with other pilgrims whenever I could.
How much does it cost?
Completing the entire Camino Frances & extensions to Muxia & Finisterre I spent a total of €1450 (excluding new boots purchase & big nights out in Leon & Santiago) in 41 days (including 5 rest days) at an average of €35 per day. This included all food, drinks, mostly shared accommodation, laundry & pharmacy supplies. This cost could be reduced significantly if you seek donativo albergues, use kitchens more frequently and reduce end of day beer/wine consumption (but why would you?). For private accomodation & rooms in hostels the costs will increase accordingly.
Route highlights/ alternate routes & rest days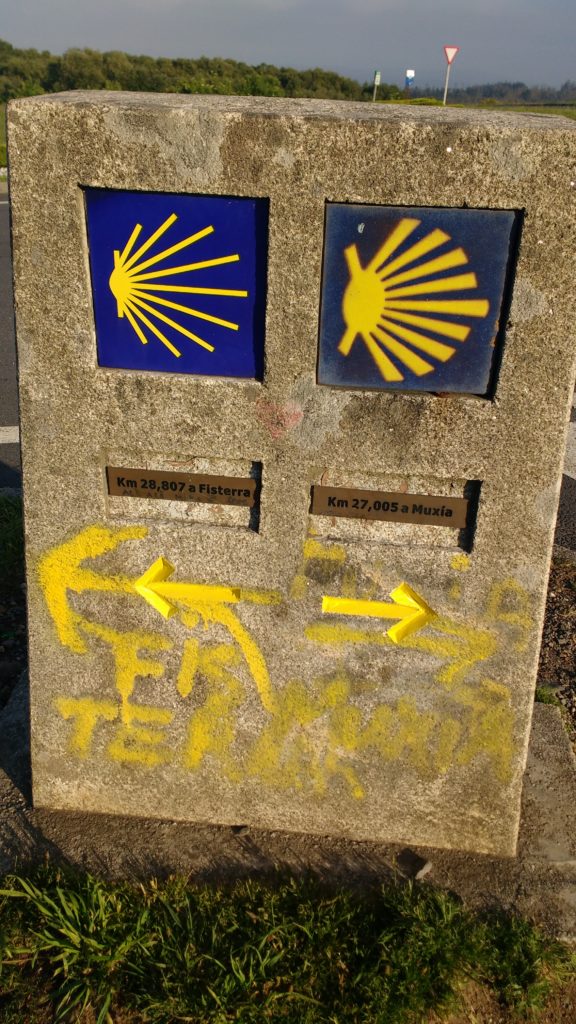 Always follow the arrows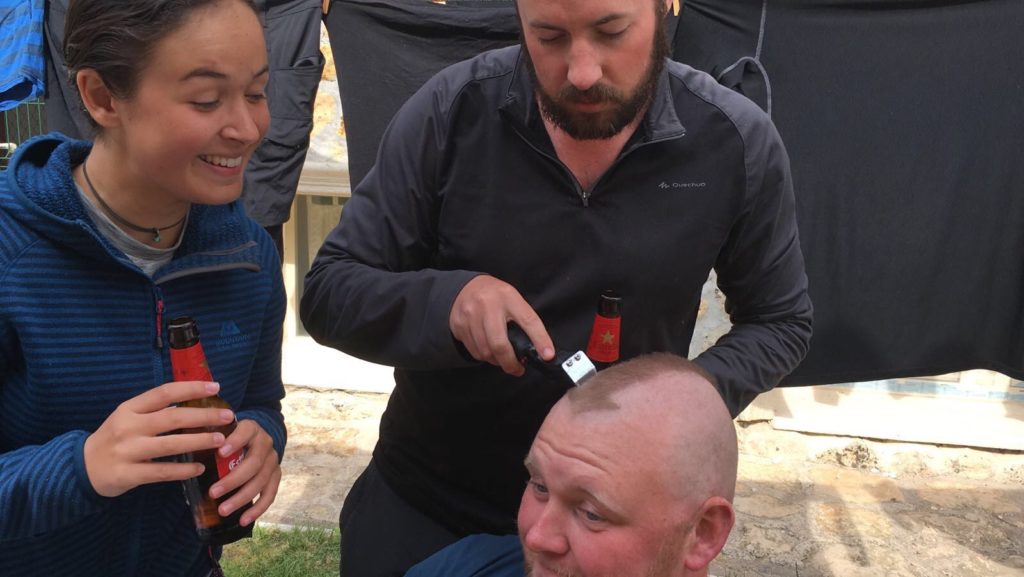 Maybe don't follow this arrow
In general the Camino path is very easy to follow with the way marked regularly by yellow arrows showing you the direction to go. One pilgrim I met decided at one point to ignore the arrows & ended up in a totally different town to which he intended & was charged 10x the price of accommodation for the privelege (not recommended). In some sections of the Camino, however, you will be given the option to take an alternative, more scenic route to the main path. This is often slightly longer but in many instances is worth the detour.
I'd also recommend allowing time for rest days along the way to allow the body to recover & spend more time enjoying the journey. I had rest days in Logroño, Burgos, Leon as well as Muxia & Finisterre following Santiago after the main Camino route. Below are some of my favourite highlights of the Camino Frances.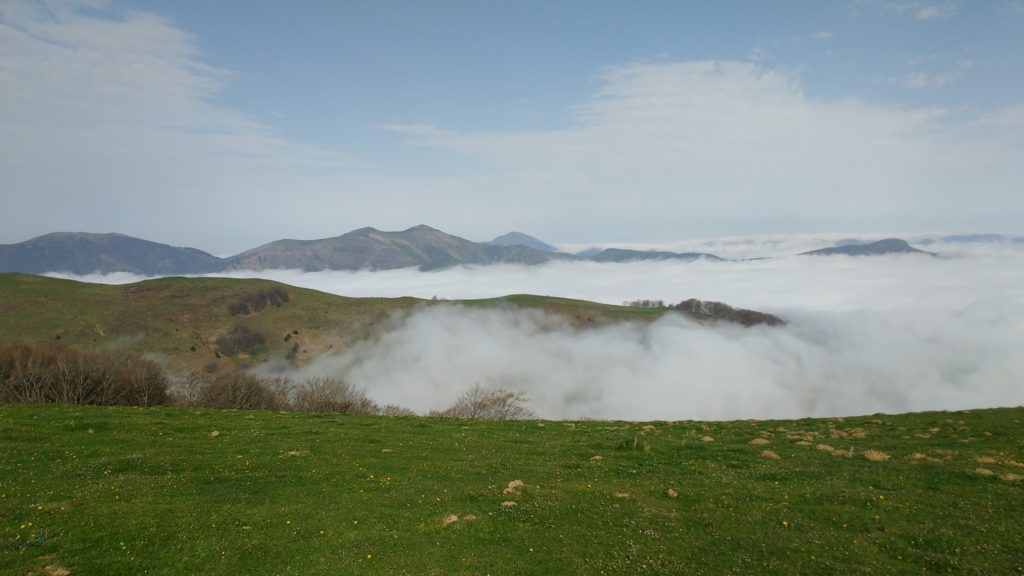 Up above the clouds on the Napoleon route
Napoleon route – St-Jean Pied-de-Port to Roncesvalles across the Pyrenees mountains, this is the first day of the Camino for most & undoubtedly the toughest. Within minutes the trail climbs steeply out of SJPP to give you an immediate reality check & humbling. Once you reach the upper reaches of the mountains the scenery is spectacular as is the muscle soreness the next day! There is the option to ease your way in by stopping the night at Orison to enjoy the view after the first 8km instead of doing whole 27km.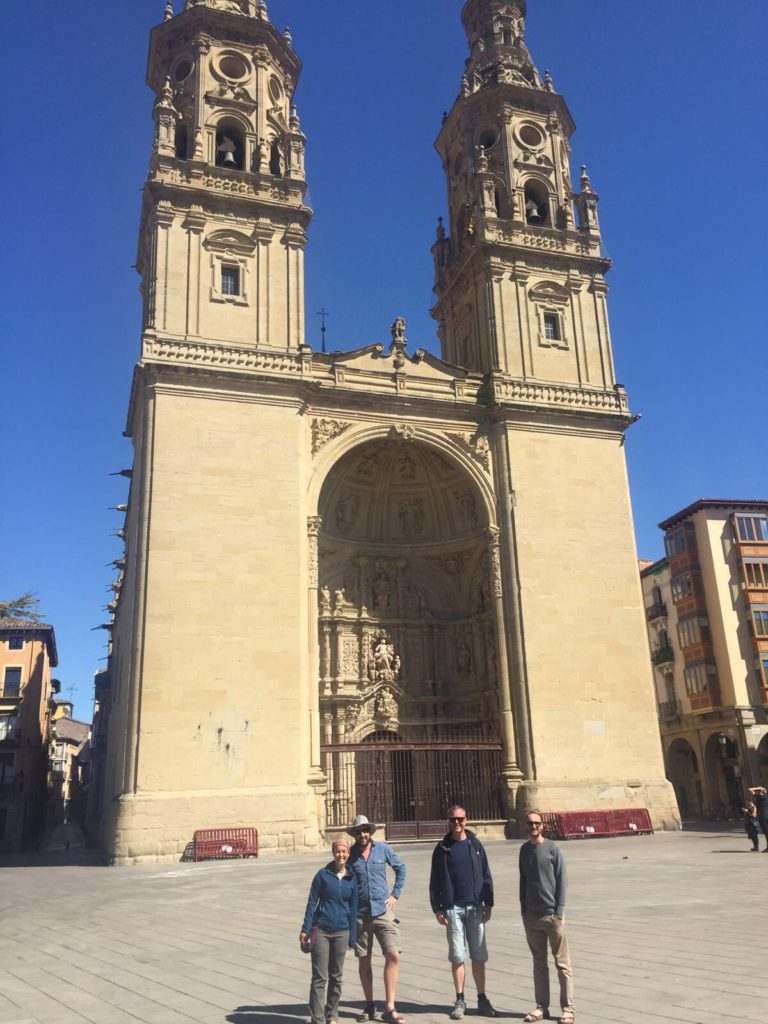 Pamplona – walled Roman city made famous when Ernest Hemingway brought the "running of the bulls" San Fermin festival that is held each July to the world's attention. Good spot for a Pintxos crawl & you can check out the narrow streets of the 870m long bull run to the Plaza del Toro on the route.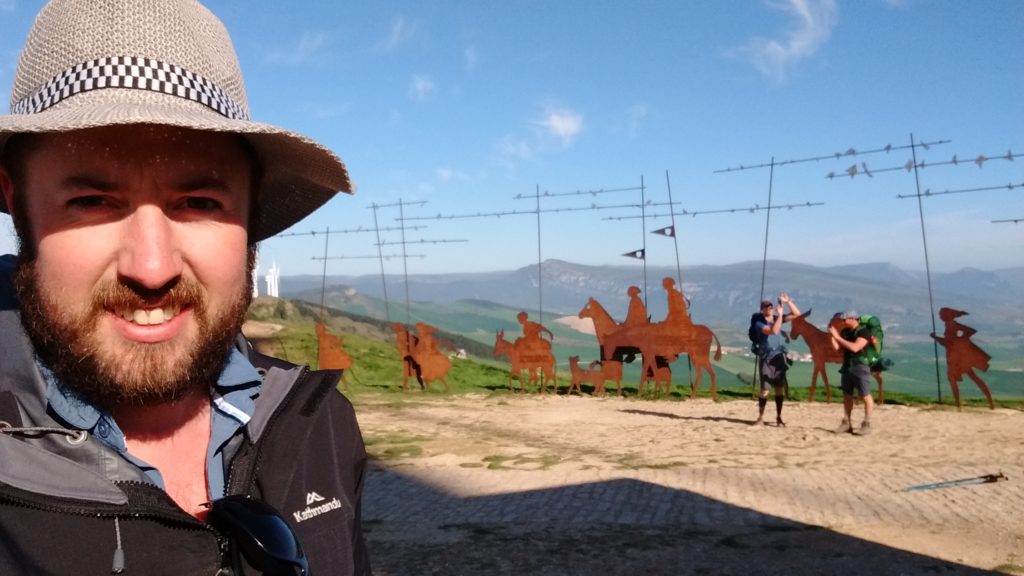 Sierra del Perdon – This mountain top ridge following Pamplona has windmills alongside silhouettes dedicated to pilgrims and is a popular photo stop.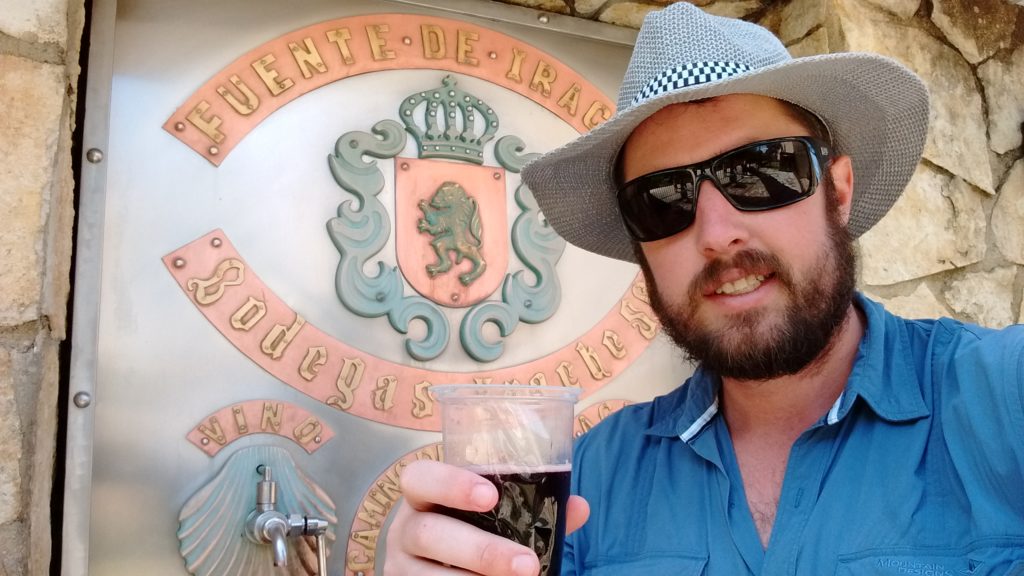 Fuente del Vino (the Wine fountain) – a local wine producer provides a highlight on day 5 or 6 shortly after Estella with their free wine fountain that delivers up to 100 litres per day to pilgrims. Bring a plastic cup or empty water bottle along if you don't want to drink directly from the tap!
Burgos – For the approach to Burgos, one of the largest cities on the way, I would highly recommend to take the river (rio) route (which heads to the left after crossing the highway rather than the more direct route into town). Every person I spoke to who took the more direct approach said the 12km of industrial estate into the city, although flat, was one of the gloomiest & often toughest section of their Camino. Those who took the river route, including myself, found it quite pleasant with the walk mostly through parkland instead of along a main road in industrial areas.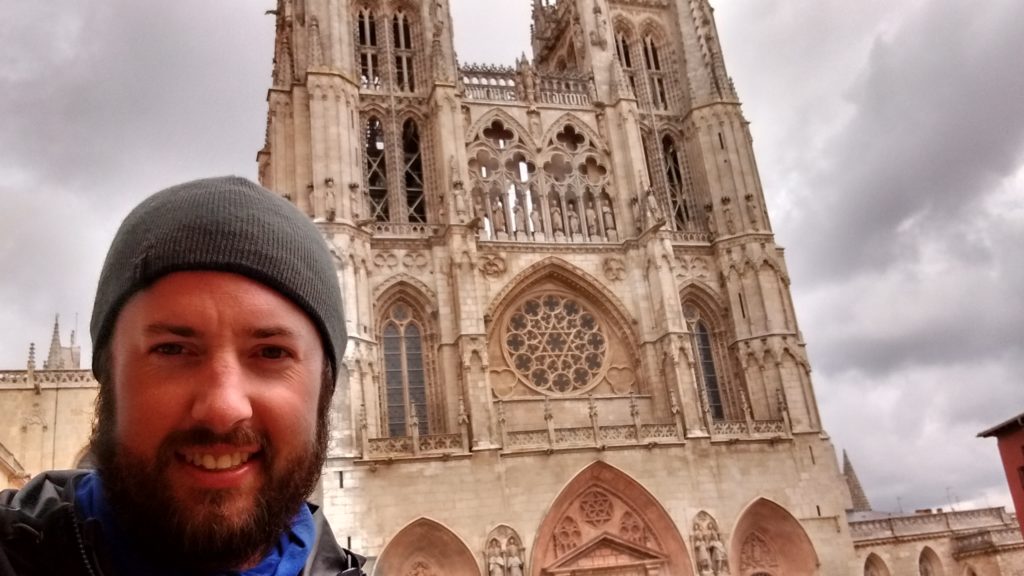 The Burgos cathedral has historically been one of the highlights for Christian pilgrims. For those who don't have "cathedral fatigue" from their other travels around Europe this is more impressive than the one in Santiago & I'd recommend making time to check it out with pilgrims getting a special entry price. Spanish hero El Cid's 850 year old sword "Tizona" is also located in the city but you'll have to head to the local museum rather than the cathedral to see it despite popular opinion.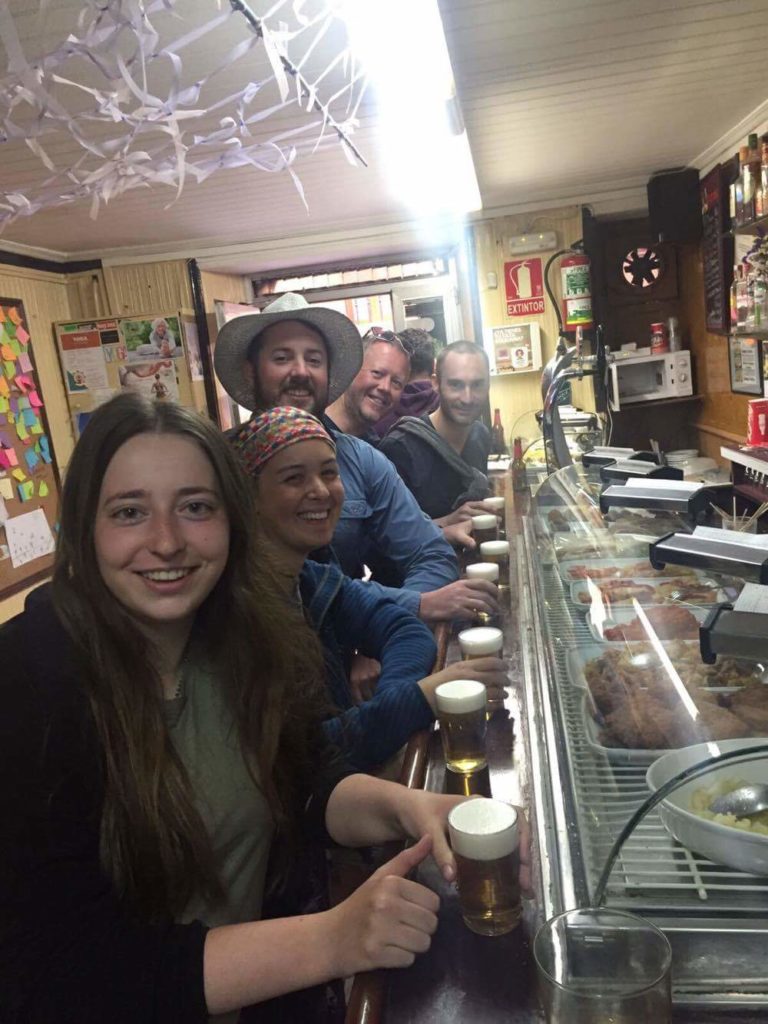 Logrono – town with vibrant food scene & nice for a rest day if needed.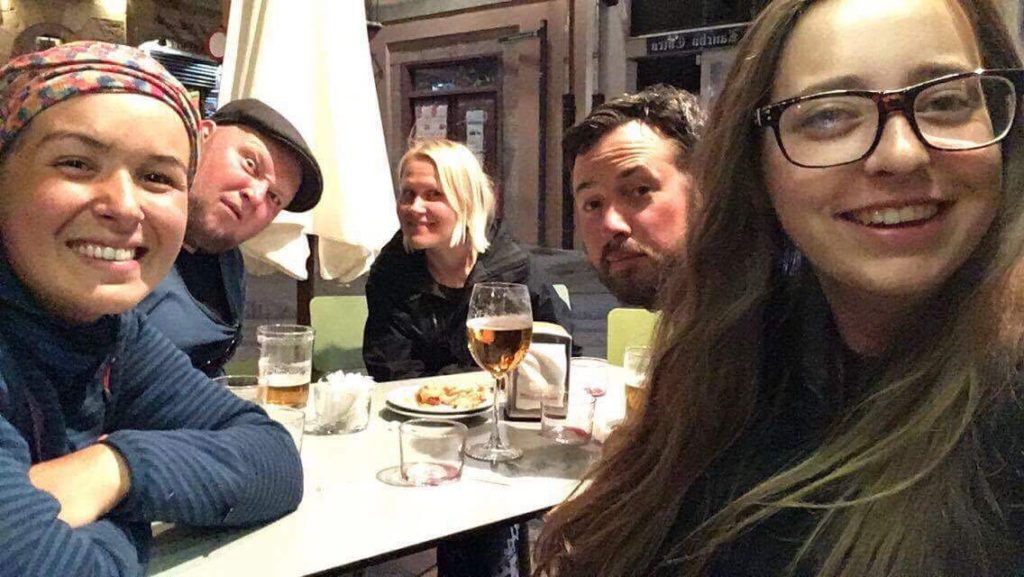 Pilgrims enjoying tapas in Leon
Leon – this city is a real highlight with a fantastic tapas scene that gives you free food with every drink you buy. For this reason it is a great place to stop for an extra day to give your body a rest & enjoy more of the delicious food as well as having facilities & shops that might be lacking in smaller towns. Some favourite restaurant recommendations include for tapas included free with drinks (stick with ordering cañas so you can get more food) El Palomo, El Tizon & Rebote for croquettes, Ezequiel & El Altar restaurants for sit down meals & a number of great dessert places in the road that leads to the right side of the front of the cathedral.
Astorga – another cool city with a thriving main square & famous for the chocolate made there.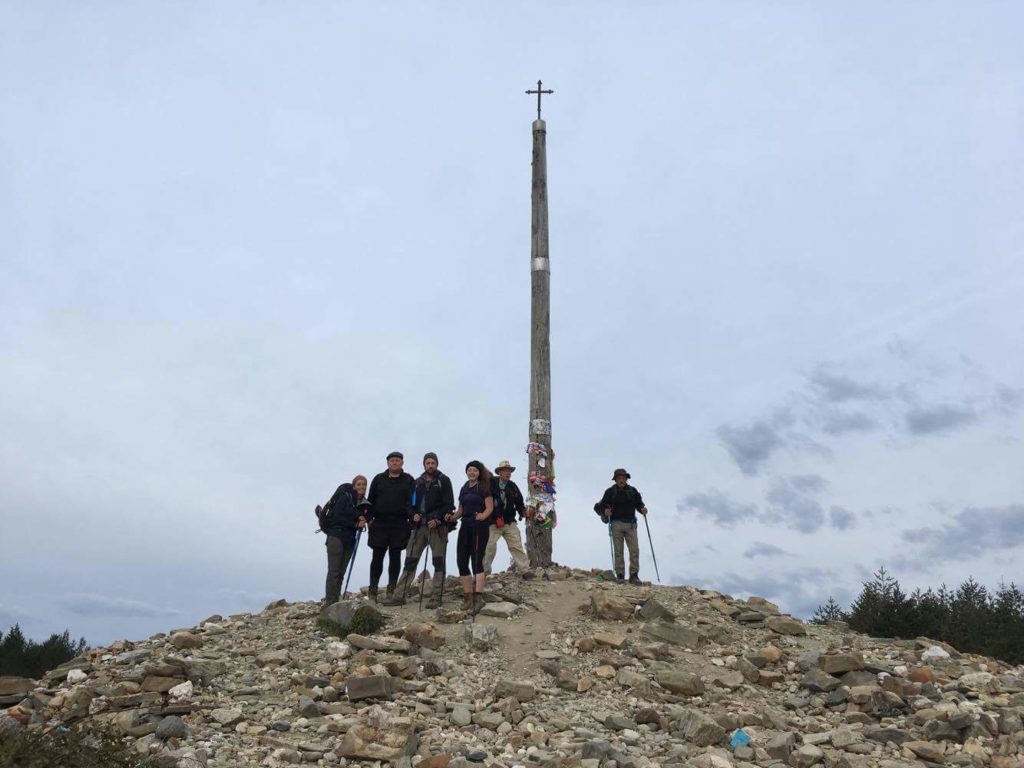 Cruz de Ferro – this site goes back 1000s of years & is often considered the most spiritual point of the Camino. Many early pilgrims, even before it was christianized, would carry a rock from their home representing their problems & troubles which they could cast away at this site. Amazing to think that many hundreds of thousands of superstitious and otherwise people have become unburdened at this site throughout​ the centuries.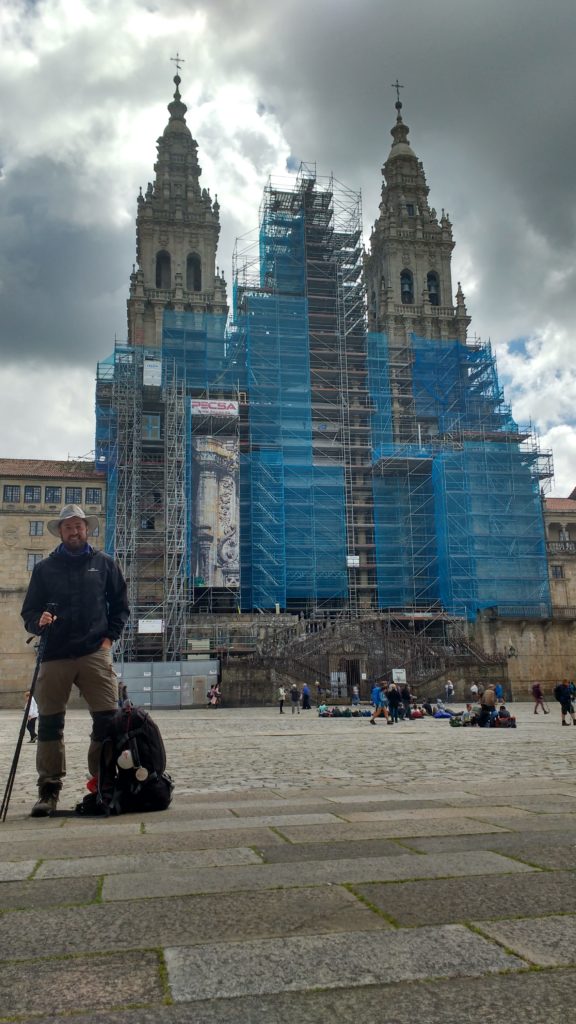 Santiago de Compostela – final destination for the majority of pilgrims and hence a site of celebrations & recovery. The cathedral holds a pilgrim's mass at 9am, midday & 7pm each day & if you would like a seat you should turn up early.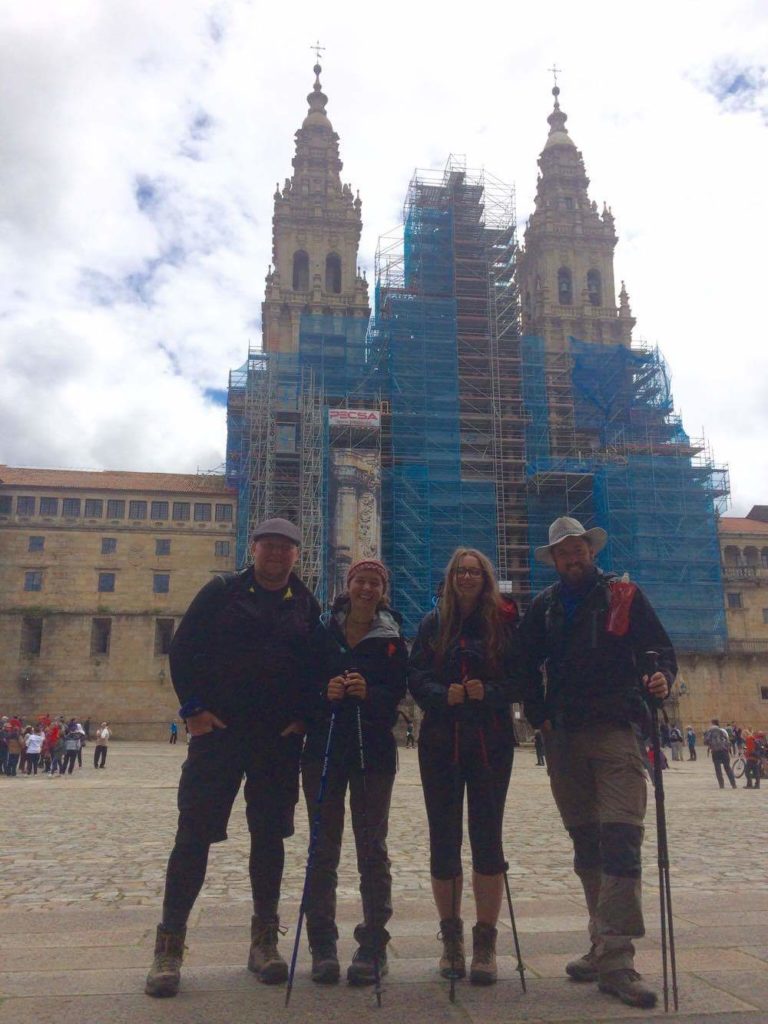 If you have had your pilgrim's credencial stamped regularly along the Camino then you are entitled to receive the Compostela certificate from the pilgrim's office. You can also get a certification of the official total distance you have walked for around €3.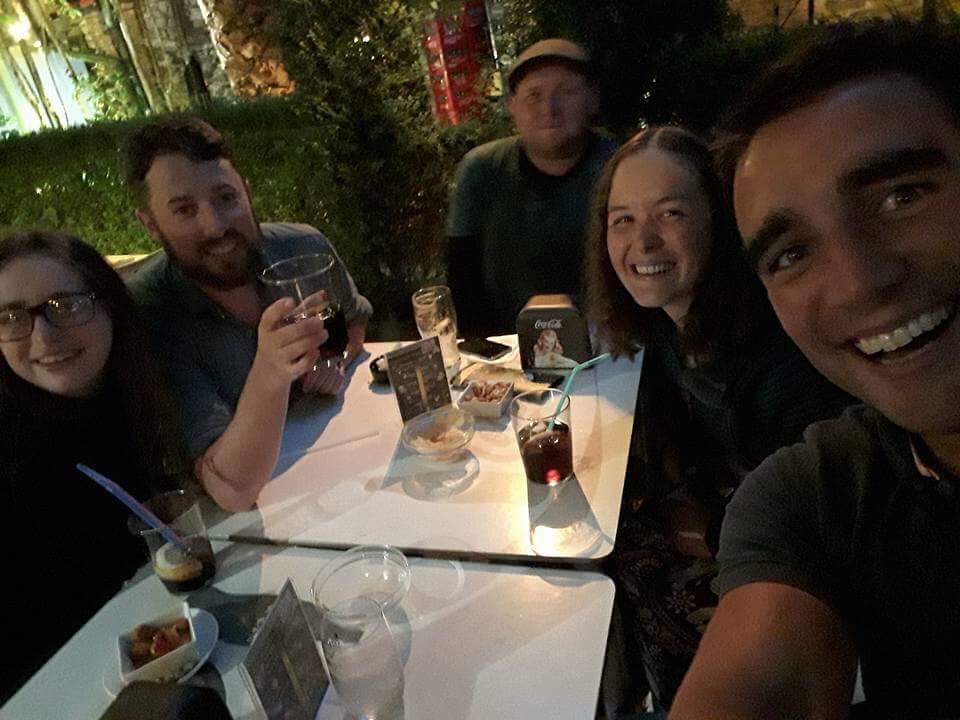 Celebrations in Santiago
One bar I would recommend in Santiago that was described by the locals as "curious" is Pub Momo which has a cool beer garden, interesting decorations & if required are prepared to serve celebrating pilgrims enough drinks that they try to catch a taxi back to their accommodation from directly out the front of their hotel…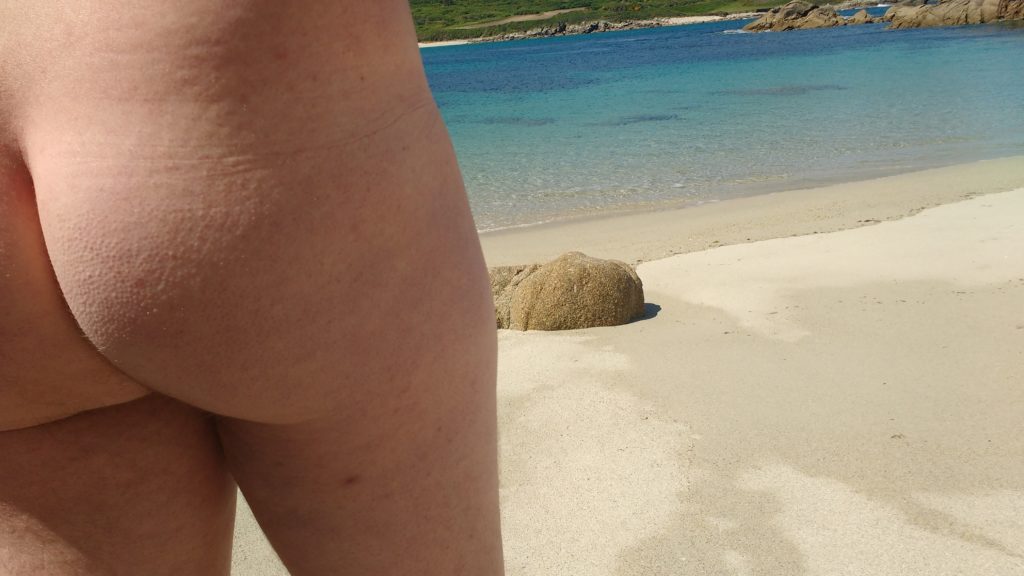 Secluded beach near Muxia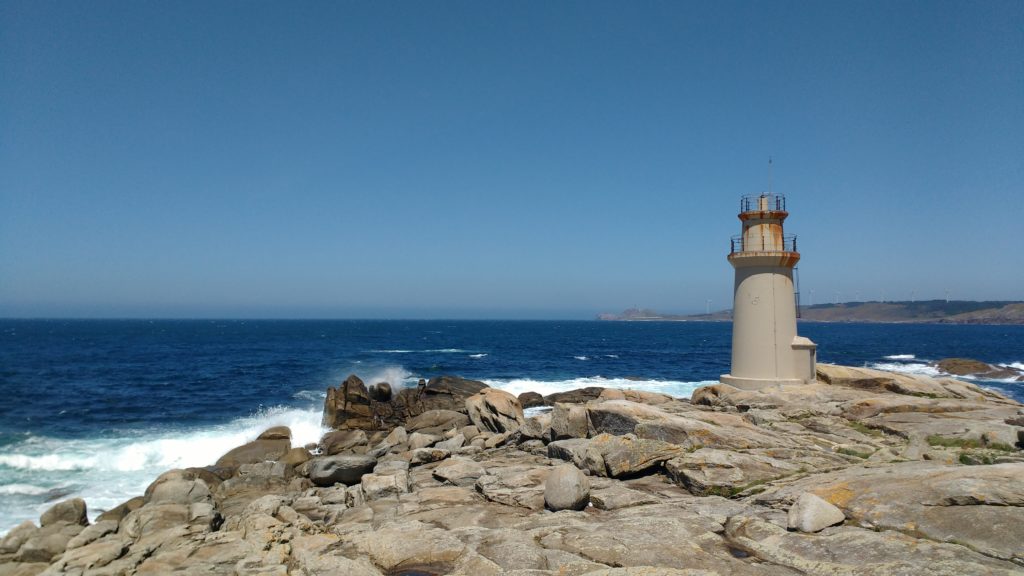 Muxia lighthouse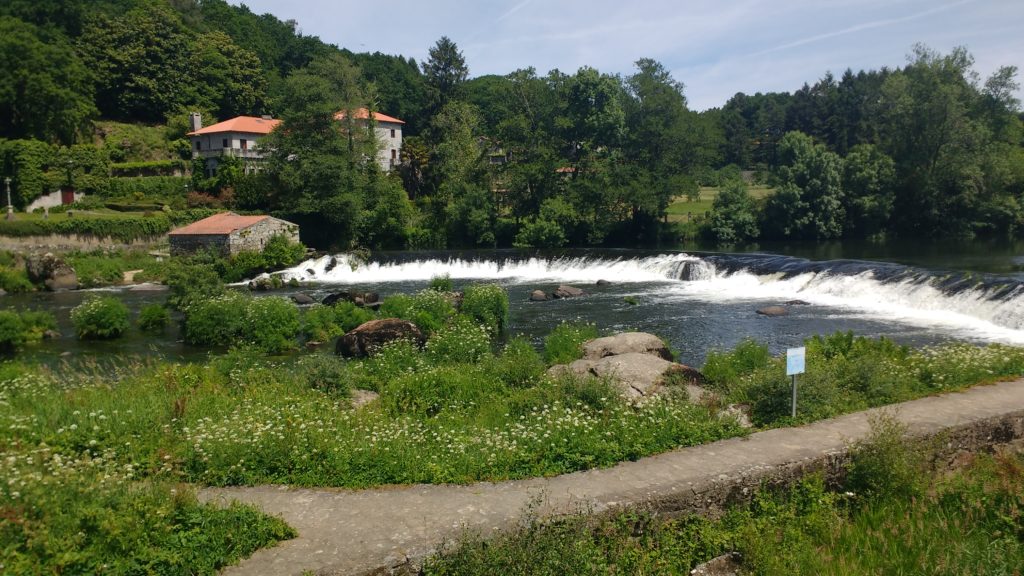 Scenery on the way to the coast
Muxia – Original coastal site of Celtic worship 1000s of years ago. It is a smaller & quieter coastal destination to Finisterre with secluded beaches suitable for skinny dipping. I'd recommend staying in the brand new Bela albergue which is fantastic.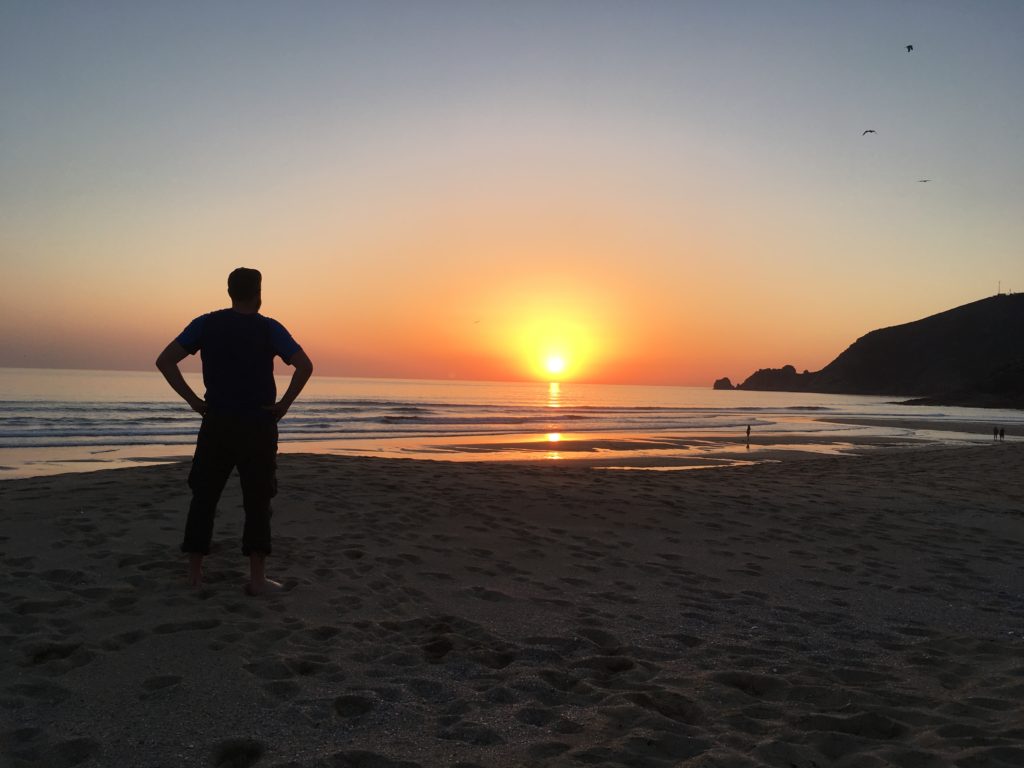 Finisterre – known as the "end of the world" until Christopher Columbus "discovered" the Americas this is a pristine coastal location that pilgrims have travelled to forever. The beach on one side of the peninsula has a fantastic view at sunset which was attended by dolphins when I was there. Pilgrim's historically would acquire a shell to prove they'd made it to the ocean. The shell has since been adopted as the symbol of the Camino.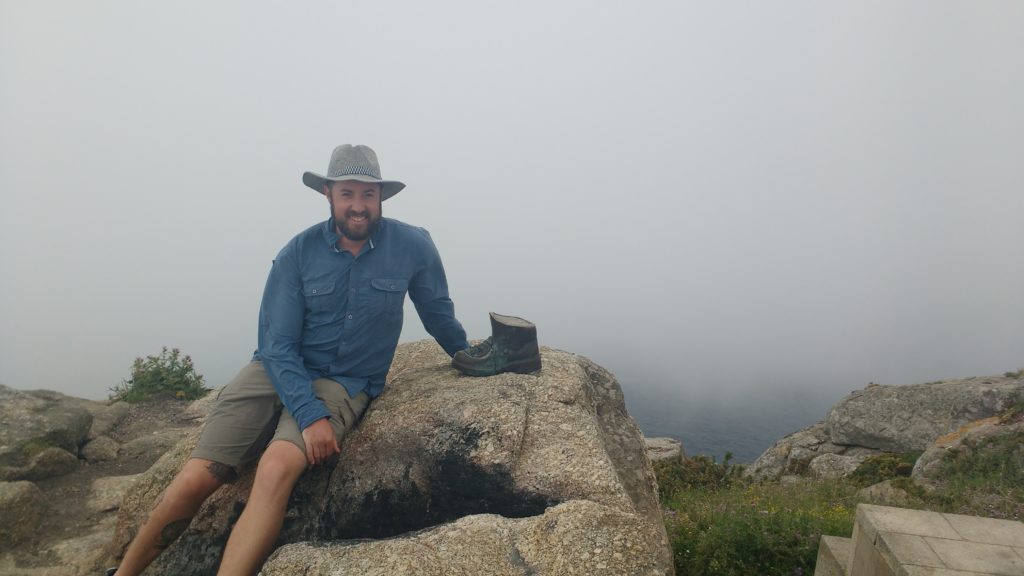 Famous boot sculpture on Cape Finisterre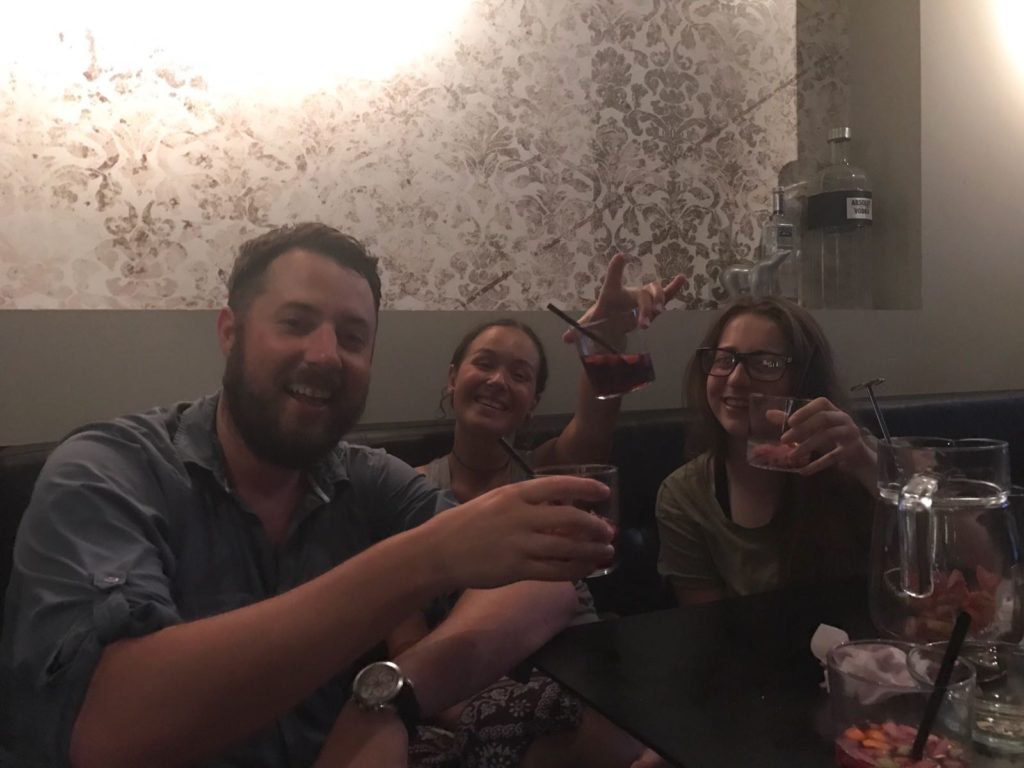 Final night of celebrations in Finisterre
Language
English is the official language of the EU & predominant on the Camino however many of the locals you encounter will only speak Spanish so it is good to know a few key phrases.
Hello – Hola, Good morning (until 2pm)/ afternoon (until 8pm)/ night – Buenos Dias/ Tardes/ Noches
Two beers (big/ small) please – Dos cervasa (grande/ pequeño) por favor (a small beer can be called a caña)
Two more – Dos mas
Do you have a bed? – Tiene una cama?
You are very sexy – Tu es muy guapo/a (use o ending if a guy or a for a girl). May get you extra servings at pilgrim dinners haha.
I like – Mi gusto
I need a kiss – Necessito un peso (not to be confused with perro – I need a dog)
Thankyou my friend – Gracias mi amigo
Good journey or way – Buen Camino. This will be the most common phrase you here as fellow pilgrims & locals wish you well on your journey.
Resources
Camino stages profile map (click link below) )profile-map-of-34-stages-on-camino-frances 
http://caminoadventures.com – Blog with detailed descriptions of distances between towns & services on offer at each place, brief & interesting history of sights along with walking conditions & things to see for the day
http://caminodesantiago.me – Camino chat forum run by Ivar with thousands of questions on all aspects of the Camino asked & answered by members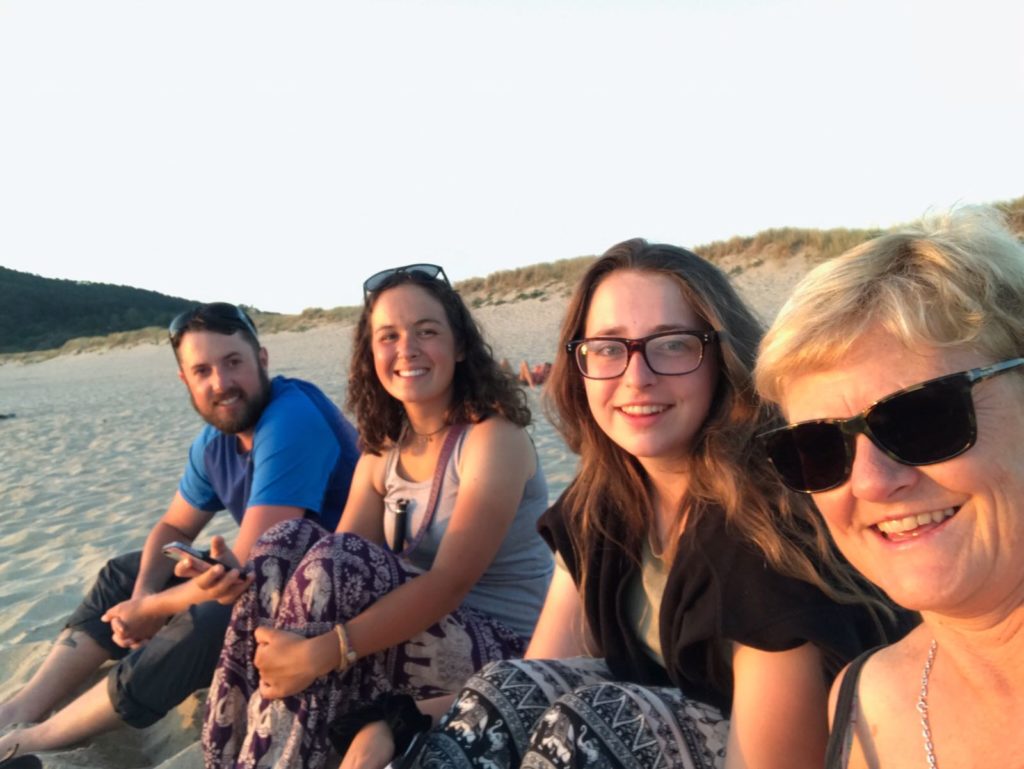 Pilgrims happy to be finished their walks on Finisterre beach