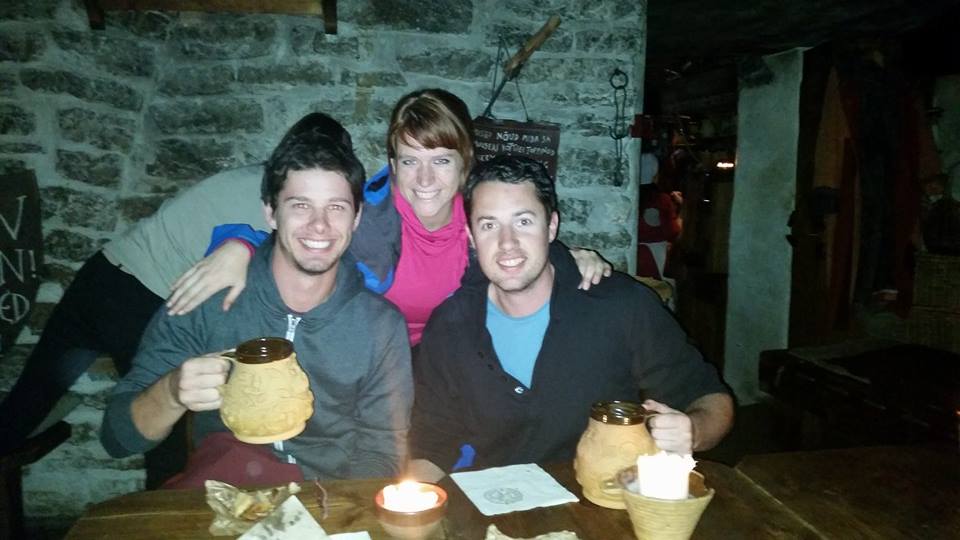 From Russia our next destination was the Baltics with stops in Tallinn, Estonia and Riga, Latvia… We arrived by bus after enjoying a number of our new favourite drink, Russian hot chocolates. Dinner was with one of our American roommates from St Petersburg, the vivacious Carrie, with a traditional meal in an old style medieval restaurant lit only by candles that made me feel like I was in a tavern with Arya and the hound from Game of Thrones. Our meal for the night consisted of dried elk & and elk pie together with a flagon of lager poured directly from a large wooden keg.
Later when Carrie left to head back to Russia, we joined some Europeans from our hostel to watch the Eurovision song contest which was taken out emphatically by the bizarre but extremely talented performer from Austria performing "Rise like a phoenix" while wearing a dress and sporting a well-manicured beard.
Tallinn has a cool old town which we spent some time exploring by both day and night. We also hired bikes from our hostel for a ride down to the "surf beach" which did not have a single wave. At one point during the ride, while smashing out a quick workout on an exercise station, I lost the key for the bike lock which resulted in us being stung with a 16 euro penalty. The hostel later took pity on the backpacking Australians and reduced it to 6 euros instead.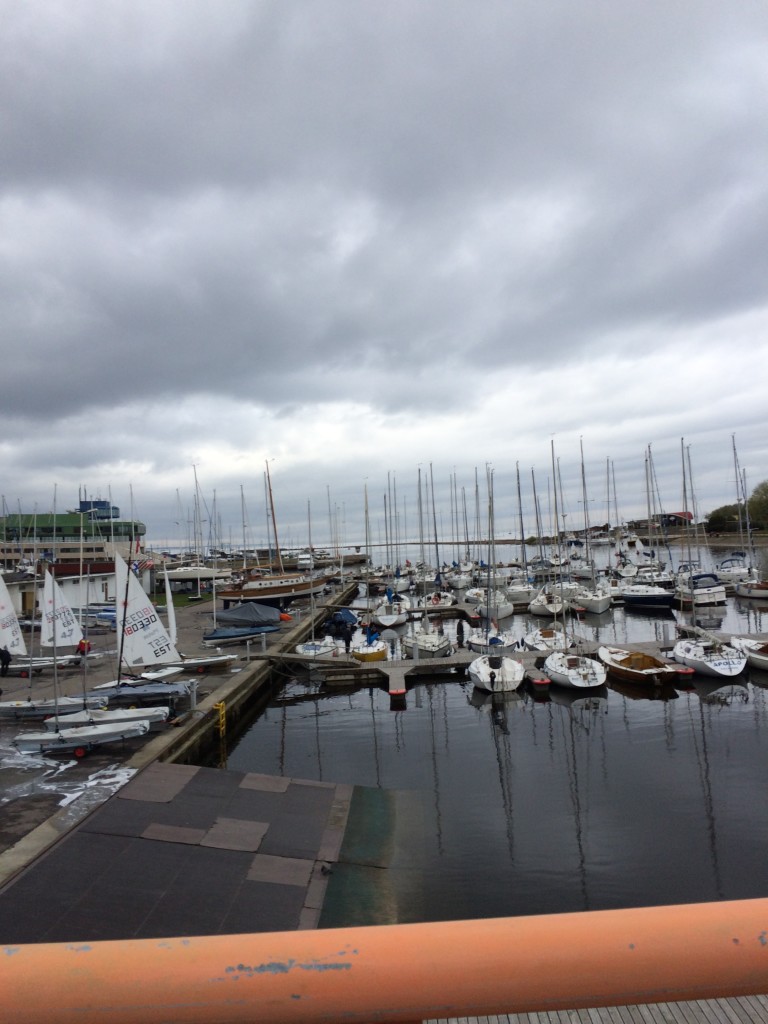 Tallinn "Surf Beach"
The 16Euro hostel had some cool facilities including a sauna and spa for guest use. In this hostel we also had the privilege of sharing a room with a middle aged Turkish gentleman who did not speak any English. For most of the night he watched pornographic videos on his phone while turning up the volume during key scenes so that we could hear it. He was also generous enough to offer the phone to all of his roommates to watch and for some reason the young Spanish girls were less than appreciative of the offer.
Next stop of the tour was Riga, Latvia which has been awarded the European cultural capital for 2014, bringing with the title a massive influx of tourists. We stayed here in the Naughty Squirrel, which has a reputation as one of the best hostels in the world. While staying here we again got our fellow guests involved in a series of drinking games. At one point Wyatty feeling over confident declared "I'm the opposite of everyone else. I love it when I get penalised and have to drink." Needless to say the luck of the cards turned against him and he was off to bed for an early night shortly thereafter.
Highlights in Riga would have to be our walking tour of the city with an extremely enthusiastic local who in his youth had played for the national ice hockey team, sampling the local liquor Black balsam and the massive food servings on offer from every restaurant visited. The touch of lighting up restaurants in the area by candlelight left Wyatty & I enjoying our meals in romantic conditions several times with other new friends joining us on occasion
With a looming deadline of our bus departure at 6pm we embarked on a search for a tattoo studio in the afternoon for a permanent memento of this trip. Time was running out when we came across a local studio and we stripped to our underwear to have some ink applied to our respective thighs by our Russian female tattoo artists. Alongside a very burly, heavily tattooed Russian at the next station I was determined to show no signs of weakness or pain. I pulled this off successfully given the artists' comment that she thought I had fallen to sleep during the tattoo session and that I was incredibly relaxed. This performance was somewhat tainted by the thoroughly sweat drenched table when I got up afterwards. We made our bus with an hour to spare and me sporting a Viking ship to commemorate my plunder and trail of destruction across Europe alongside my love for Scandinavia & Wyatty the canvas for a couple silhouette tattoo for his fiancé Rachel.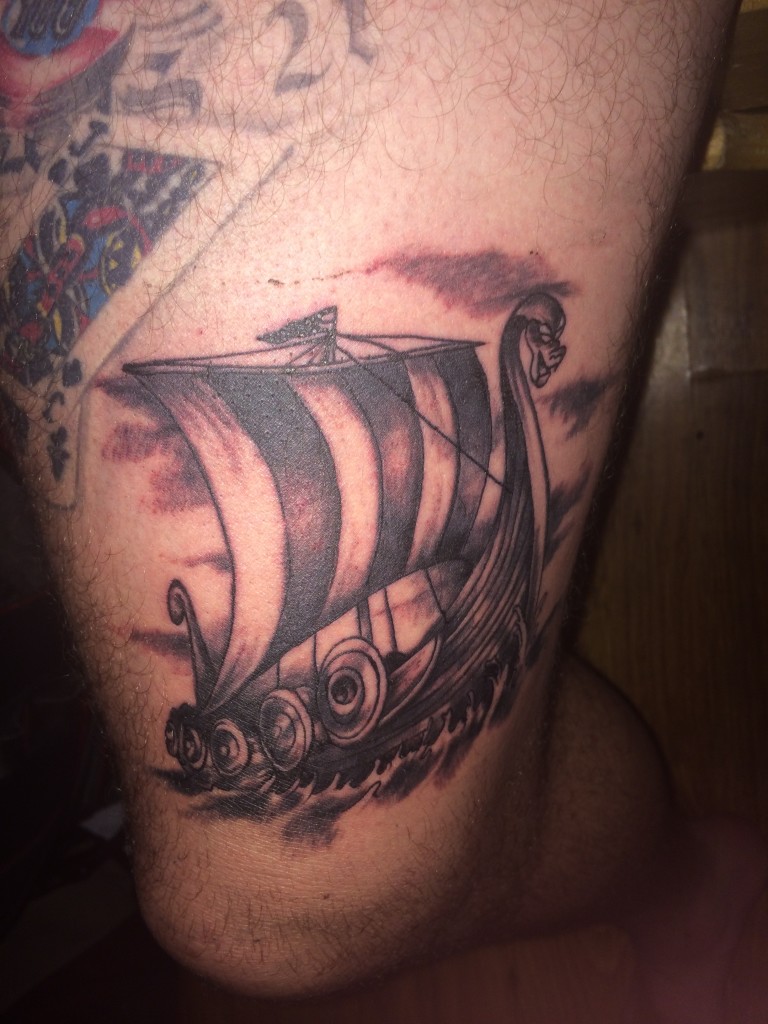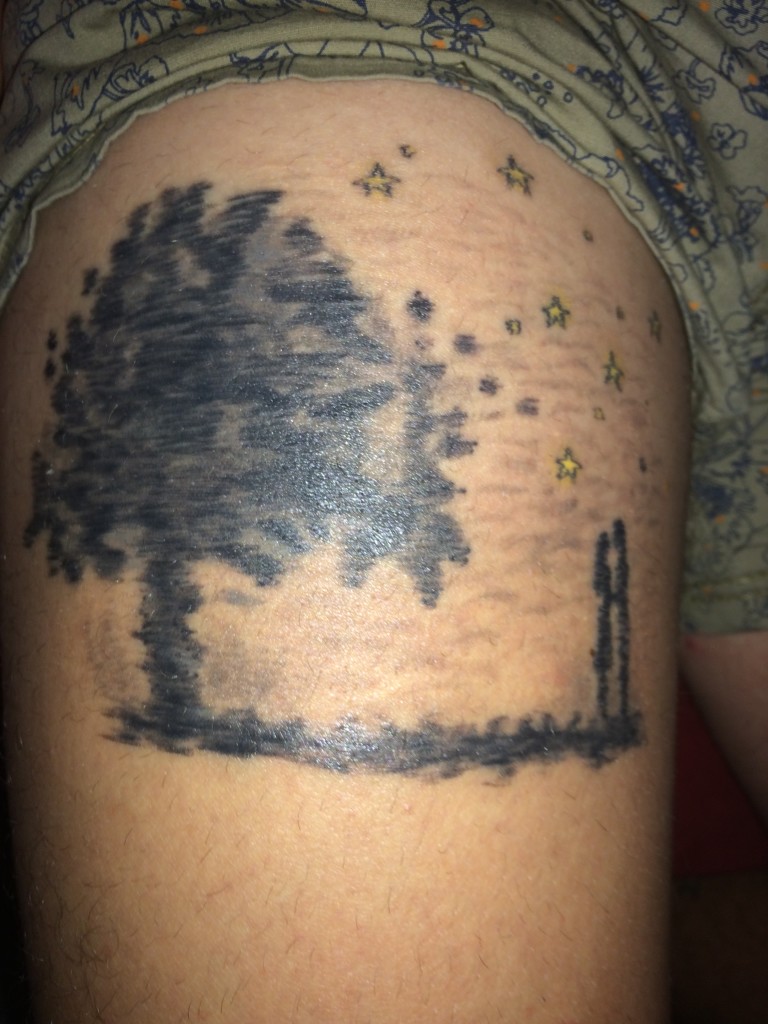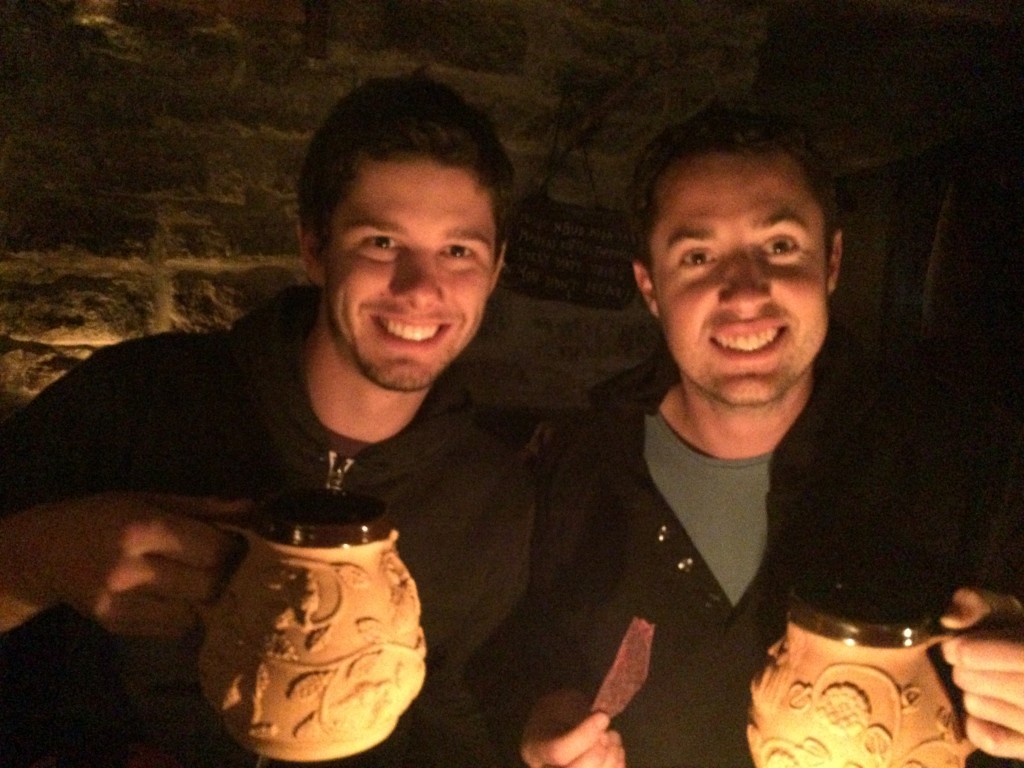 Enjoying a flagon of beer and candle lit dried elk