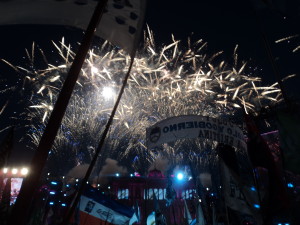 Before arriving in BA I had heard the city had a reputation as a big party spot. Little did I know the extent of the love to party we would find the locals to have.
We had arrived late at night on the 23rd of May & in our exploration of the city the next day found various references to an event on the 25th of May. It turns out this date is the anniversary of Argentinian independence on 25th of May, 1810. (The Argentinian equivalent of our Australia Day) The main plaza is called 25 de Mayo plaza & we figured this would be a good spot to see the parade or whatever celebrations would be going on. We arrived about 1pm to find a live concert starting out with a small crowd. We pushed towards the front & were surprised that the crowd seemed to be around 10,000 strong. Little did we know the crowd was to become a lot, lot bigger. The number of people there we were later told was somewhere between 500,000 and 2 million!!!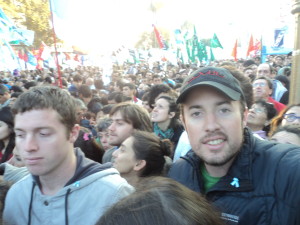 The crowd became so densely packed throughout the afternoon that by 6pm, with the on stage band featuring a lead piano accordion, I was involuntarily being pelvic grinded by some especially friendly local ladies. Argentina's female president continued to amplify the festive atmosphere by busting out some moves and dancing on stage after her well received speech to the crowd. This was followed by some artistic mastery by the organisers with 20 dancers and a 4 piece band swinging from a crane arm above the Argentinian flag and the crowd below and perhaps the biggest firework show I will ever see. My vote is to get whoever was responsible for this event to be contracted for Australia Day celebrations.
After an extraordinary day that night we joined a classic backpacker option of the pub crawl organised by our hostel. Along with many fellow travellers we hit up a number of pubs and clubs with the locals in celebration mode. We were transported between locations on our designated "party bus" where I received some arm bruising after performing some outlandish moves on the featured stripper dance pole. Our final stop of the night featured a nightclub with 5 separate massive dance floors each with their own music styles to keep all the punters happy. This scene had to be seen to be believed with the extremely attractive crowd living it up. While I returned to the hostel around 730am it was in the knowledge that the club would still be open for another 4 and a half hours!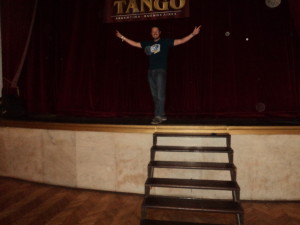 A regular feature of events here was the supply of copious amounts and quite often unlimited alcohol. We took advantage of this to enjoy a few nice red wines during a tango night we attended featuring impressive dancing, singing and comedy performers. Overall Buenos Aires was amazing, totally exceeded my expectations and I hope to return there again!