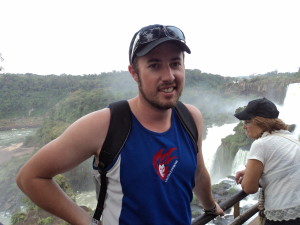 Relaxing at Iguassu Falls in between hearing some great quotes.
During our Round the World trip we heard some great quotes from characters. Here are some of my favourites…
"This trip should last around 45-50 minutes but I'm gonna try and do it in half that, within the margins of safety of course." – LA bus driver
"You just wait til we get to Phoenix. I'm gonna fuck you up." – massive African American man to much smaller man while boarding plane.
"I had a massive crush on Simba when I was younger." – Kat on her love for the lion king
Hysterical nonstop laughter – Norwegian cuckoo girls
"I would move if there wasn't some fat Australian in my way." – some classic Brian sledging after a few beers
"I'm going to fucking kill you" – Rio drug dealer in Lapa
"I think we're in a lot of trouble here, we should probably go home…
Screw it, let's do some shots. "- Adam after drug dealer confrontation
"There are a lot of girls staying here & wow, you boys are so handsome. You're gonna have a lot of sex here." – female Copa hostel employee in Brazil
"I'm not going to be able to afford milk for my kids if you pay that cheap a price." Rio vendor (he took it)
"You're too late, you've missed the flight." – Airline staff in Madrid. We didn't miss our Amsterdam flight but we did have to run all the way to the gate.
"What can I do for you mother fuckers" – Amsterdam cafe owner
"Guys were just snorting coke & throwing fruit at pickpockets & drug dealers. It was a great party." – hostel barman in Barcelona
"Fuck museums! Give me some fucking good coke & lock me in the hostel. I just wanna get coked out of my brain, that's my idea of a fucking good holiday." – Australian female backpacker in Spain in response to fellow travelers recommendations for a day's activities
"Aussie, Aussie, Aussie." – me at Thai boxing stadium where the Aussie fighter promptly knocked his opponent out in the first round after a rousing "oí, oí, oí" response from hundreds in the crowd. A cliche but still fun.
"Are you from Australia? G'day maaate." – every Thai shop vendor on Koh Samui
"I blow you. Good & cheap." – overly friendly Thai lady while sexually assaulting me.