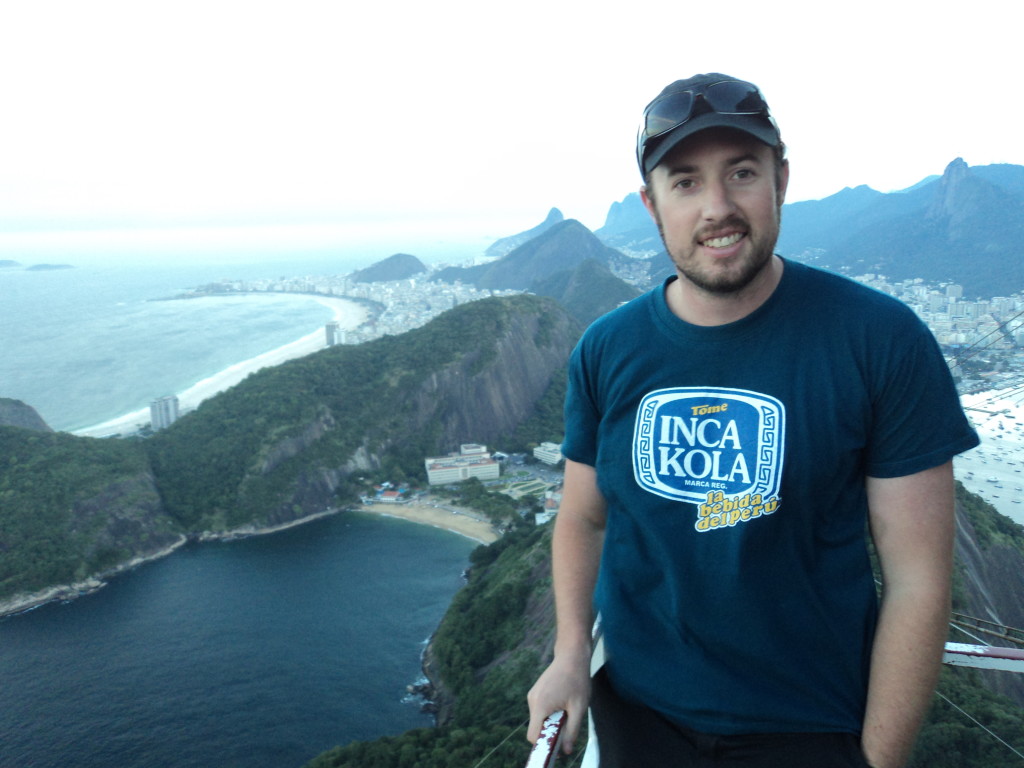 The view from atop Sugarloaf Mountain
Our arrival to Rio included the standard crazy South American traffic & taxi ride to our destination the Santa Mix hostel in Santa Teresa. This small hostel had a really homely & friendly feel to it with an elderly blind & deaf cat a long term resident. The cat sidled up next to me on the couch as we enjoyed a local soccer match on TV accompanied by a few beers with the hostel staff enthusiastically cheering & swearing at the action. The cat after 14 good years unfortunately managed to escape the hostel the next night and was run over by a car.
Our last night in the hostel was deemed free caprinhas night. A caipirinha is a very strong local liquor mixed with crushed lime & sugar over ice. They mess you up. After becoming the designated caprinha maker and consuming several of these & a dozen beers it was time to hit the famous Lapa Friday night party. The Lapa district is well known in Rio for it's famous tiled stairs, cheap beers, pubs & nightclubs and the party brings thousands of people out to the area on a Friday night.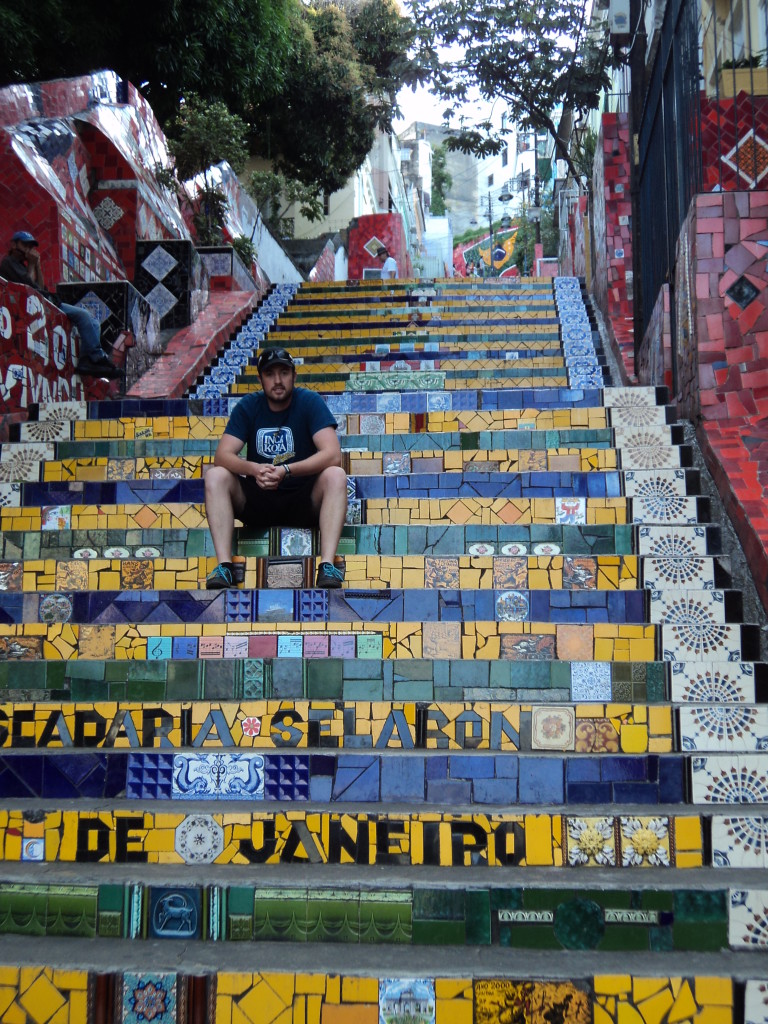 The famous Lapa staircase
Leigh developed a new hobby while in Rio of ripping money managing to almost completely tear a 100 real note (approx $50 AUD). It was so torn that every vendor we tried to use it with refused to accept it. On our night out in Lapa while discussing how we could get someone to take the ripped note I was approached by a local drug dealer asking what he could do for me. My cheeky request to exchange notes in Spanish was misinterpreted by him that I wanted to buy a kilo of cocaine. He promptly returned with a very substantial quantity of white powder that he discreetly showed to me and shit started to get real. I not so politely told him to "F*#k off!" after which I discovered the phrase "I'm going to f*#king kill you!" can be understood universally despite what language it is spoken in. Leigh joined in the argument to provide some backup and due to us being in a large group from our hostel the drug dealer was unable to fulfil his wish to slit my throat.
The rest of our group soon returned to the hostel and after discussing the fact that we were in real danger if we ran into the drug dealer again we decided to take the option of trying to use the ripped note to buy shots at various bars. We were unsuccessful in using the note but managed to order a few of the verde (green) shots.
The next day we moved locations to the Copacabana beach hostel. Our arrival there was met with the comment from the female hostel worker "There are a lot of girls staying here & you boys are so handsome. You're gonna have a lot of sex here."
I was in a not healthy state after the night out in Lapa and ashamed to say I let Australia down in our perpetual battle with New Zealand in a series of drinking games that night. To be fair these guys were expert drinkers and shot gunned cans with reckless disregard.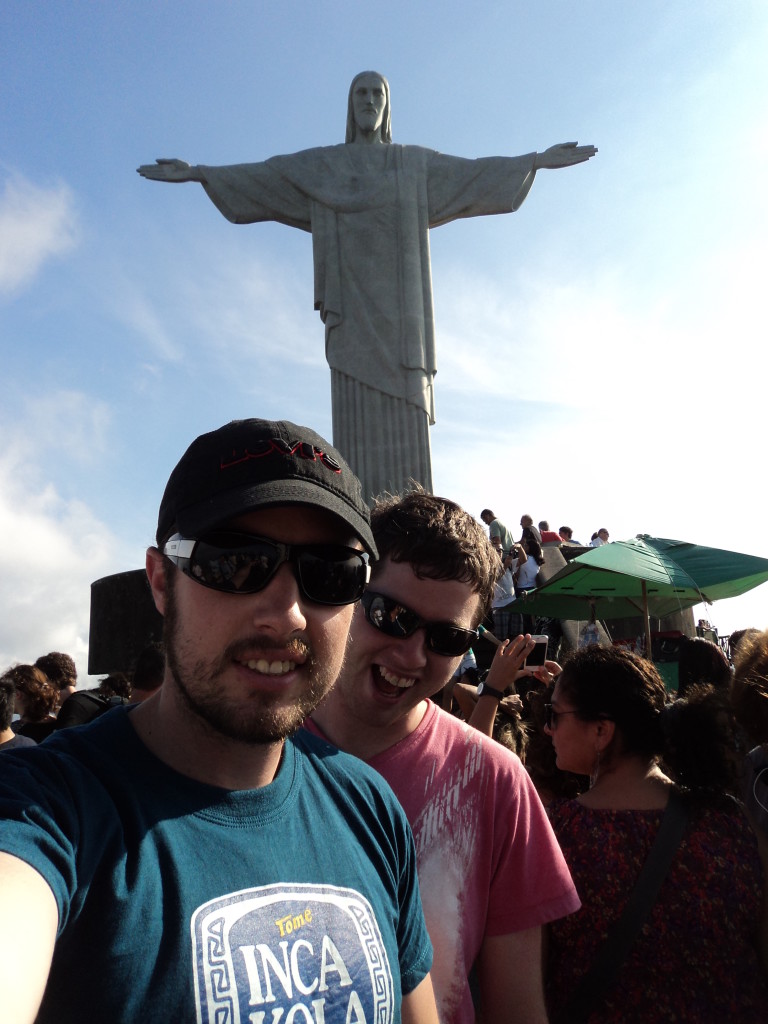 From the hostel location at Copacabana beach we undertook day trips to many of the brilliant Rio sights Sugarloaf, Christ the Redeemer, botanical gardens and Parque Lage. Our visit to Ipanema, one of the best & most beautiful and vibrant beaches in the world, was marred when we were there by a thunderstorm. Cariocas (Rio locals) don't come out when it rains so the beach was deserted. The area features substantial workout equipment that the locals must regularly use to keep their bodies in extremely good nick and I took the chance to blast out a quick workout in the rain.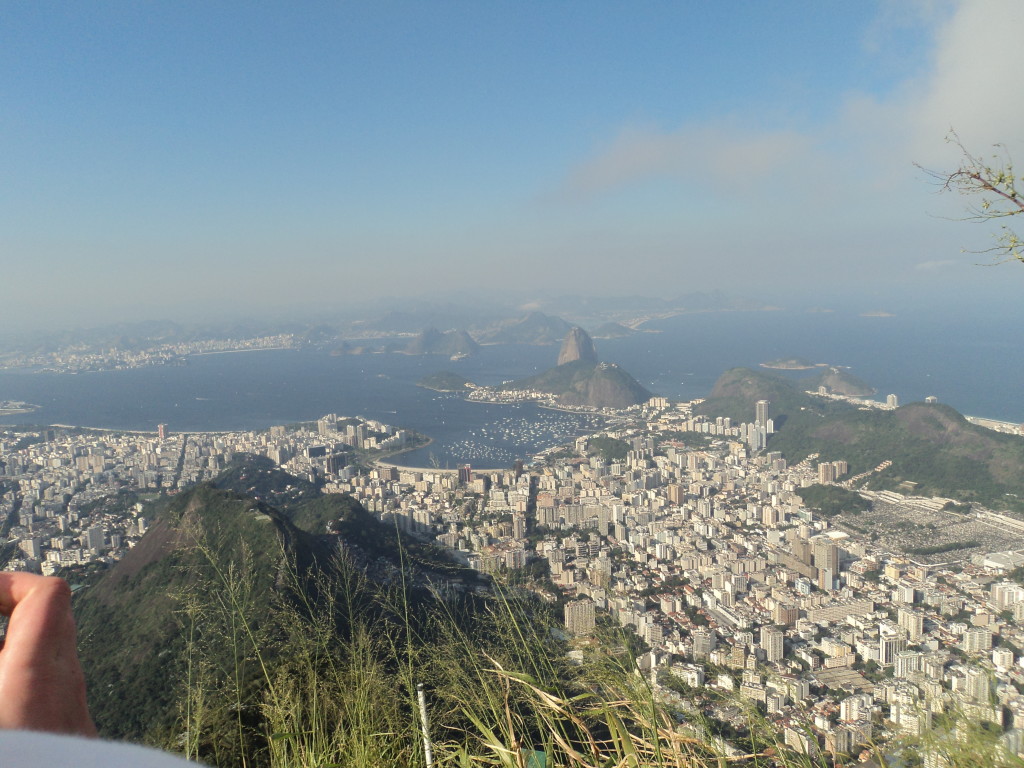 On our final night in Rio we were disappointed by our planned activity of a boat party being cancelled due to bad weather. With our money being returned and one night to spend it be decided to stay in a local restaurant for drinks and to keep out out of the rain. After knocking off the challenge of consuming every drink on the menu we finally successfully used the ripped 100 peso note.
We had planned to go hang gliding, however weather conditions meant we were unable to do it earlier and were left with our last day as our final chance provided the winds were fair. As it turned out we had nothing to worry about, the winds and weather were perfect and we enjoyed an 8 minute flight down to the beach. I found the fear factor before the leap (or run) of faith to be similar to bungy jumping and it was a great way to finish our time in this amazing place.