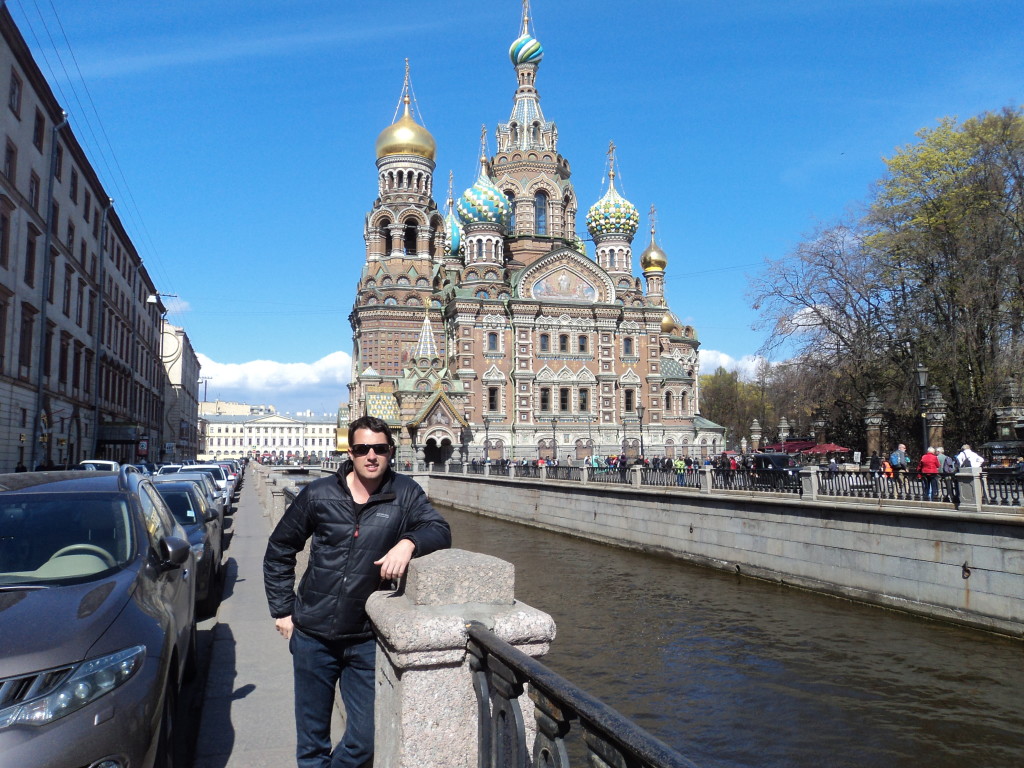 When telling others I was planning a trip to Russia the response was generally one of two extremes; "That's awesome" or "why the f**k would you go to Russia?" The visa process to enter the country is challenging and the reputation and lack of English spoken in Moscow make it an intimidating place but am so glad we had the chance to visit. 
After a 330am wake up I flew into Moscow via Riga from Stockholm. My credit cards were not accepted by the ticket machine for the Moscow Air Express train and the first 5 ATMs I tried were either out of order or "Unable to dispense cash" (isn't that the point of an ATM?). Eventually I was able to find one that worked and I was able to pay the 200 rubles for the ticket for the first train into one of the central stations.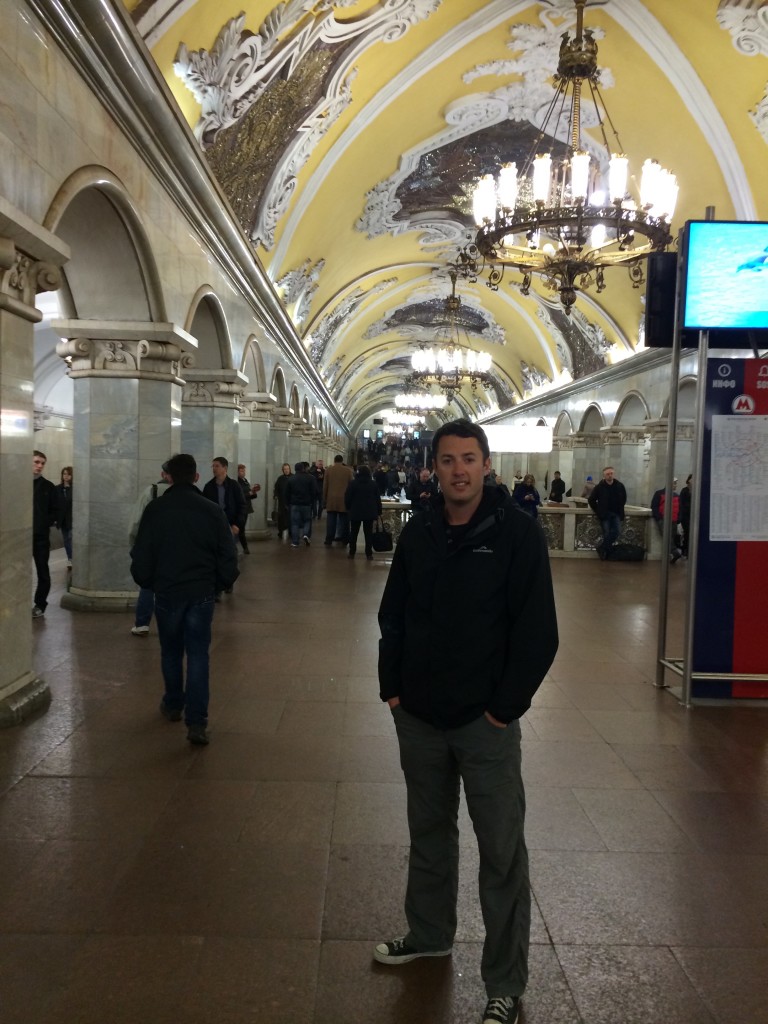 Moscow Railway stations are a little bit fancy
The Metro system in Moscow is absolutely world class, the stations an architectural masterpiece and very easy to use once you can interpret the Russian station names. Negotiating a public transport system in a new city requires some acclimatisation and it was here I experienced being yelled at in Russian for the first of many, many times after I took a wrong turn for the exits when attempting to switch lines. I later realised I was being told I needed another ticket to re-enter the system but my strategy of not understanding a word they were saying resulted in them letting me back in without paying for another ticket.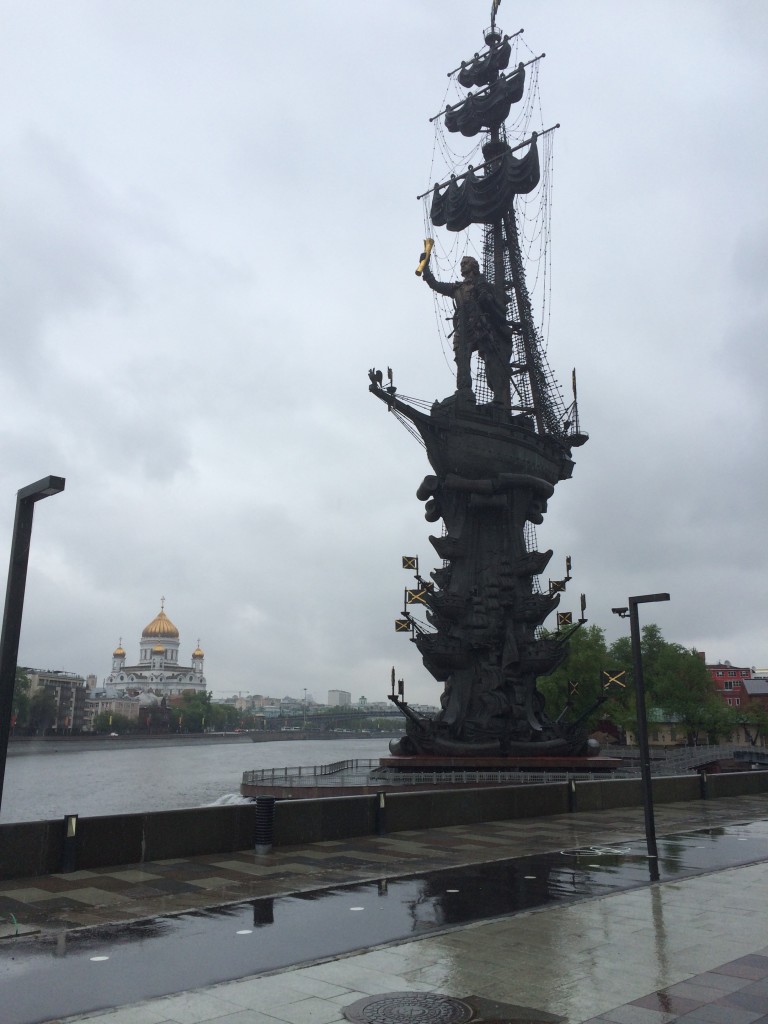 They do things big in Russia
The language barrier for native English speakers in Moscow is massive and while in the city we did not encounter a single service person in the railways, shops or restaurants that understood English. The communication techniques employed when this is the case becomes a lot of pointing, holding up fingers for a number required and the occasional nod or shake of the head or shrug of the shoulders to signal no understanding. These advanced techniques seemed to get the job done for the majority of our needs.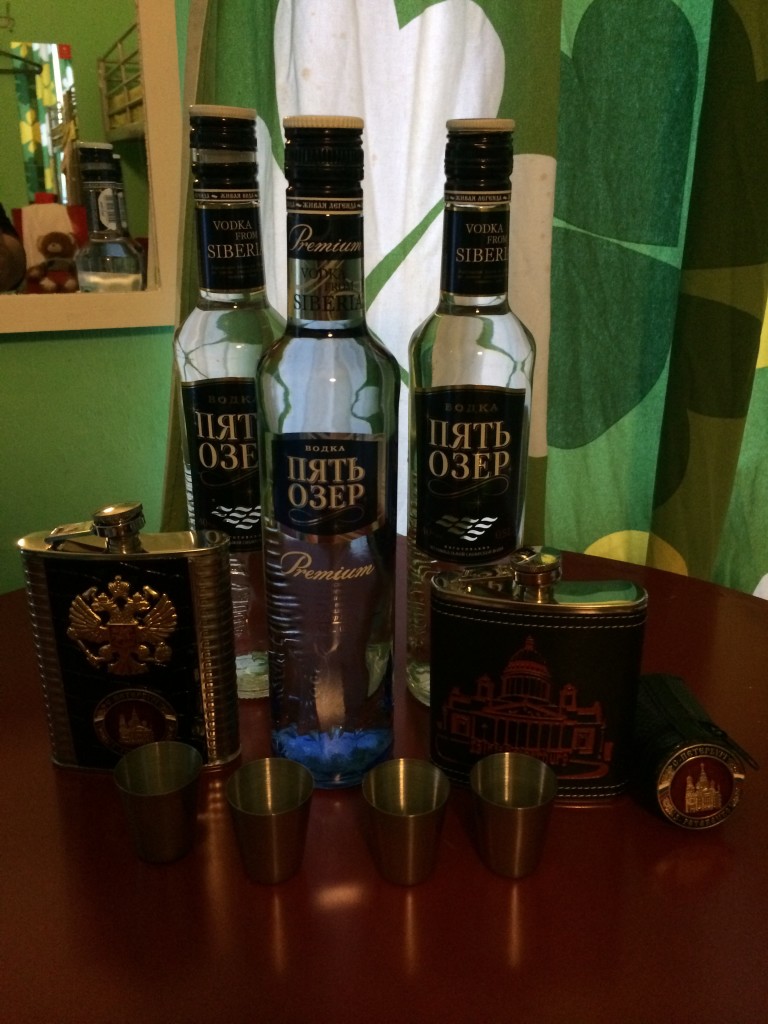 Daily Vodka allocation
After a bit over two weeks travelling solo I was reunited at the hostel with my travel mate and housemate Wyatty when he arrived a couple of hours after I did. We promptly made our way to the symbolic home of Russia, Red Square. It was there we celebrated our arrival in true Russian style with an obligatory shot of Vodka.
The Russian government has recently introduced a minimum price for the standard 50cl bottle of vodka of $4.77, to the disgust of the local community. Since the introduction of the mandatory minimum the majority of the vodka market has gone underground with 64% of the vodka market being illegal sales. Rather than tapping into the vodka underworld we opted for a premium vodka product at a price of approx. $9 which provided a nice accompaniment to breakfast, lunch & dinner each day.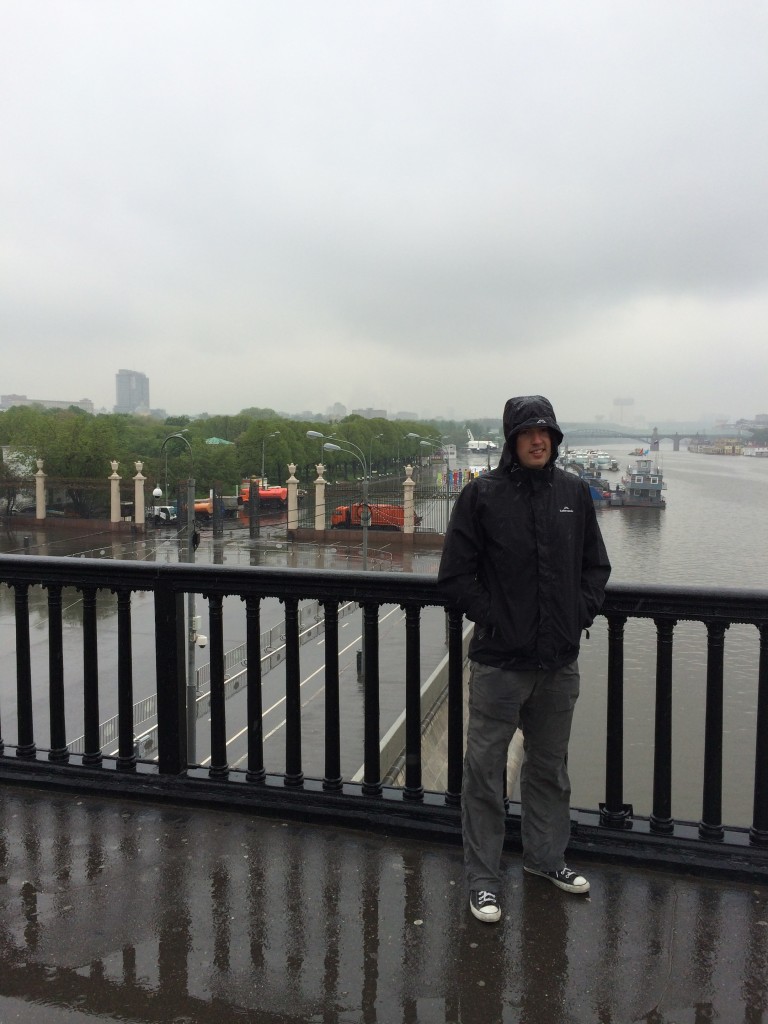 Visit to Gorky Park in the pouring rain looking suspicious
After being blessed with unbelievably good weather in Denmark and Norway the weather gods took their revenge in Moscow. During our time there it was incredibly cold and raining the majority of the time. Wyatty & I decided this wouldn't stop us seeing the city and we donned the wet weather gear to make trips to Gorky Park (think Central Park in New York in the centre of the city) and the Kremlin complex (castle containing cathedrals, etc alongside Red Square.)
During our first full day, thoroughly soaked after exploring the city in the rain, we were confronted by two police officers who chased us down after exiting their vehicle. Armed with machine guns and sporting some menacing night sticks they began yelling at us demanding to see our passports. In preparation for being out in the rain we had our hostel make a photocopy of our passports for if this situation came about. While Wyatty was able to produce his photocopy after searching through my pockets I realised I did not have mine. They were not satisfied with seeing my Drivers licence from back home either and as the yelling escalated, which of course we did not understand, I began to become fearful that I was about to be thrown into a Russian gaol cell. My explanation in English that the passport and visa was at the Godzillas hostel was not understood by the officers. They suddenly decided that they had enough of standing in the teeming rain talking to these Australian idiots and waved us away in disgust to our relief. After later speaking to an Aussie expat who had lived in Russia for 8 years he told us he had never been asked for his passport. He also suspected that the police may have corruptly been trying to line their pockets by asking us to pay them a bribe. We will never know but if that was their intention it didn't work out for them!
Wyatty tucked up in bed in sleeper train with stolen pillow
After 3 days we left Moscow for St Petersburg by overnight sleeper train. Wyatty & I were allocated the two top bunks in a 4 berth cabin and after inadvertently stealing the pillows of our Russian roommates we had a great sleep during the 9 and a half hours to St Petersburg. The location of the Cuba Hostel, which had been highly recommended to us, was next to the Kazan Cathedral which is perhaps the biggest monument in the city.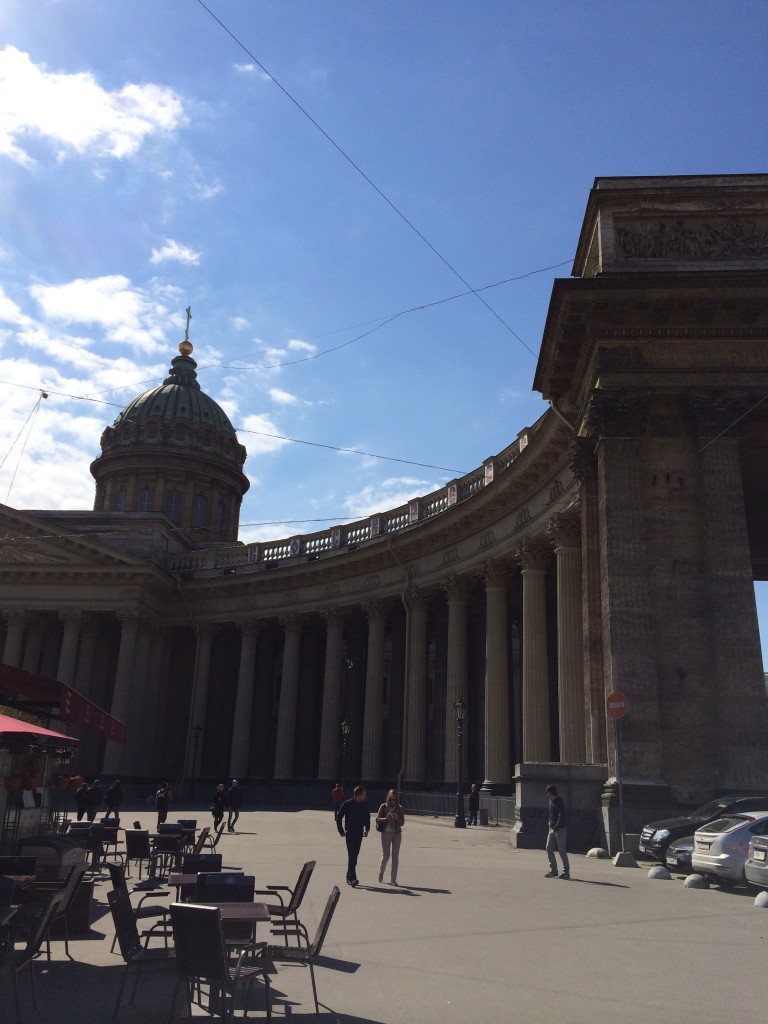 Wyatty didn't notice this small monument when we walked by.
We enjoyed a breakfast in a café across the road from the Cathedral including a hot chocolate (which was simply a cup of melted chocolate). When we left the café and began to walk to the hostel Wyatty noticed for the first time the too impossibly large to miss cathedral which he had somehow not seen beforehand as we had walked around it!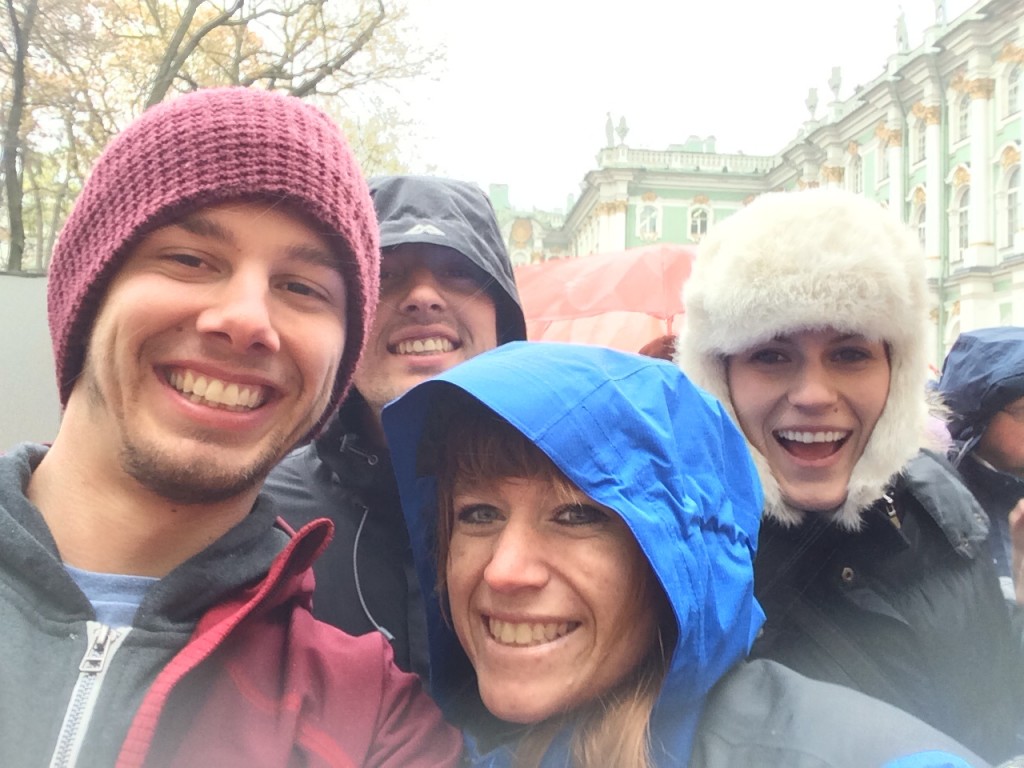 Our roommates at Cuba were a cool group of Americans (didn't know that existed), one of whom had that day had his passport stolen. The team "mum" Carrie, after a morning run & yoga session, organised us for a trip to the Hermitage which is regarded as one of the best museums in the world. Despite us not being museum fans it was cool to take in some culture and see paintings, sculptures and other exhibits by the likes of Leonardo da Vinci, Picasso, Monet and Michelangelo which are all contained in the magnificent St Petersburg palace.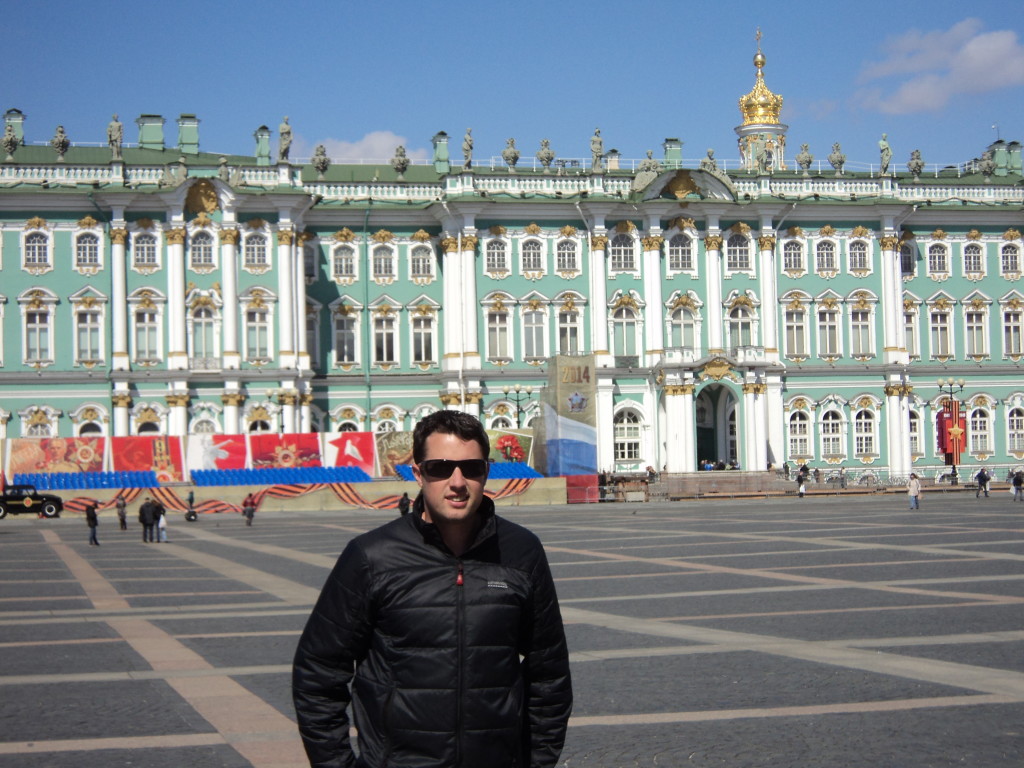 One of our nights in Cuba I was teaching Wyatty the card drinking game bus ride which had been taught to me by the Norwegian girls. One of the hostel staff members joined us for the game which involved penalties of beer or vodka shots depending on the cards turned over. We were having so much fun that the other 20 people in the common room all joined in as the night progressed for us to teach them the rules, which were made progressively harder by the sadistic staff member. At one stage Wyatty had his face slapped by her, which he probably deserved given his constant winding her up and antics. The Spaniards enjoyed the game so much that after the hostel went into quiet mode late at night they continued the game in their room for several hours. Meanwhile, we left the hostel with a number of the Cuba staff and guests to a local bar where we proceeded to dance in our Australian underwear until Wyatty decided to have a sleep on one of the couches for an hour or so.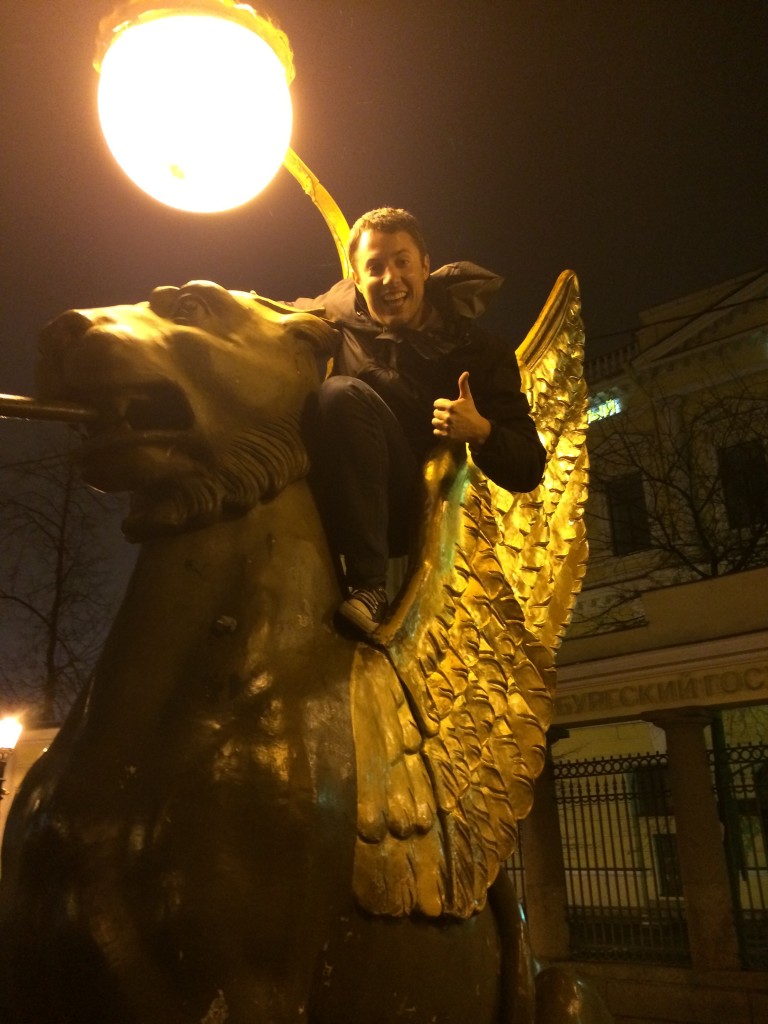 I didn't hit the deck in front of a group of local Russians while climbing down from here unlike some.
While returning to Cuba from a local bar Wyatty managed an epic fall while climbing down from a statue directly in front of a group of Russians who found this absolutely hilarious. He was fine other than a large area of bruising to his upper arm and dent to his dignity.
Victory Day in Russia represents a celebration of the end of World War 2 where families commemorate their loved ones lost in the fighting similar to Australians on Anzac Day. The celebrations were held on the final day of our stay in Russia and included a ridiculously large parade with hundreds of thousands of participants and spectators and was a cool way to finish our time in the country!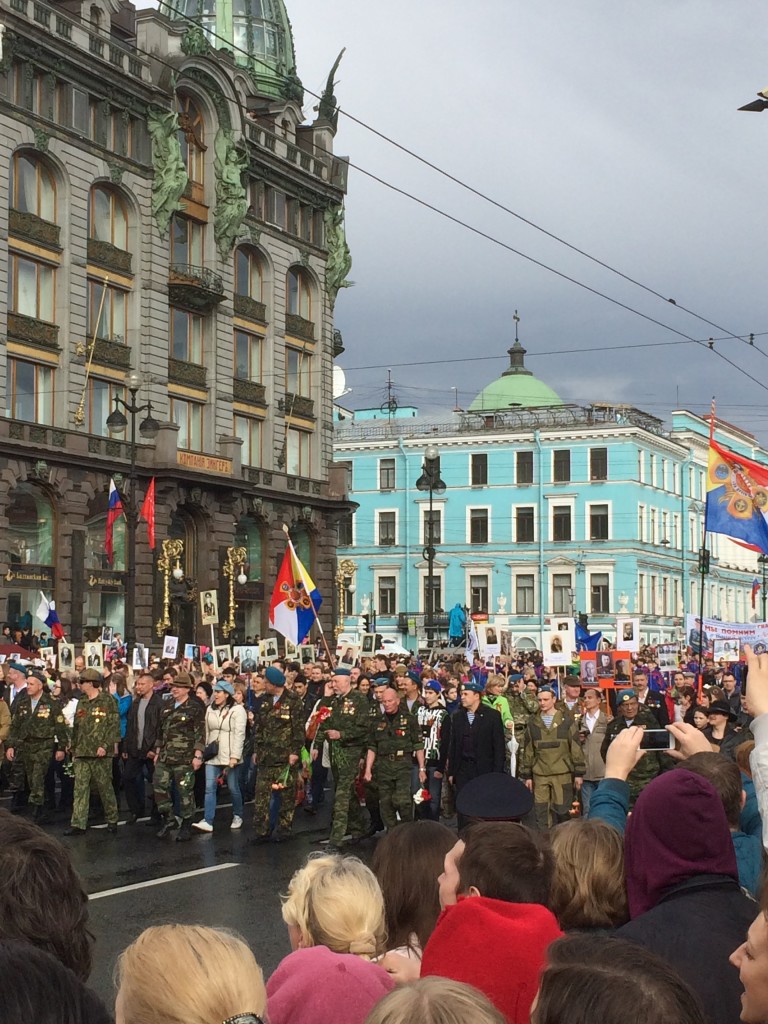 Victory Day Parade in St Petersburg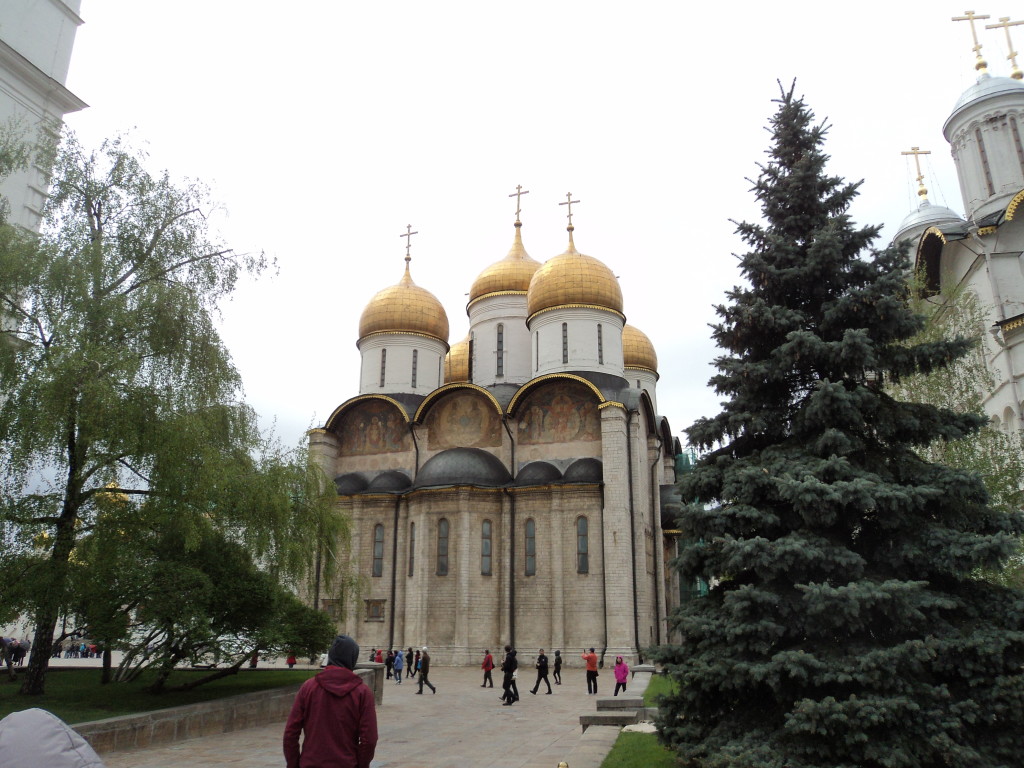 One of many cool buildings inside the Kremlin complex in Moscow.