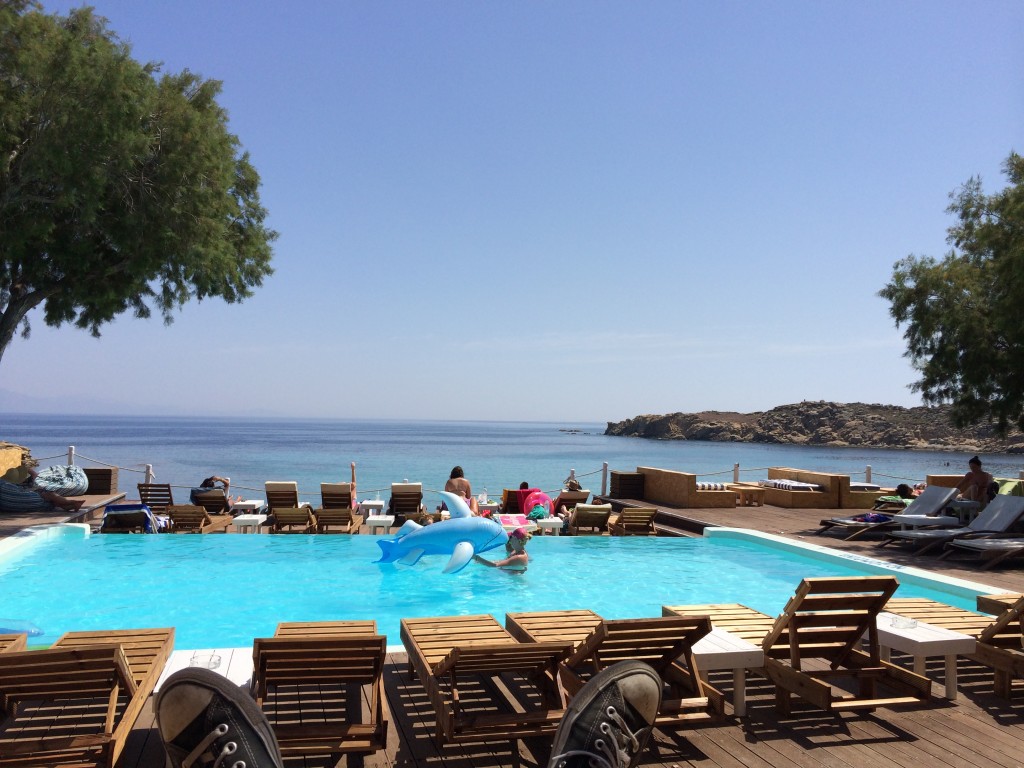 During Wyatty & I's first visit to Greece while on the island of Mykonos on the 22nd of September 2010 was the day I became a travel addict. Since that day I had looked forward to returning to the island group and this time around we would be travelling to the islands of Mykonos, Paros, Santorini and Ios over 12 days with the tour company Busabout…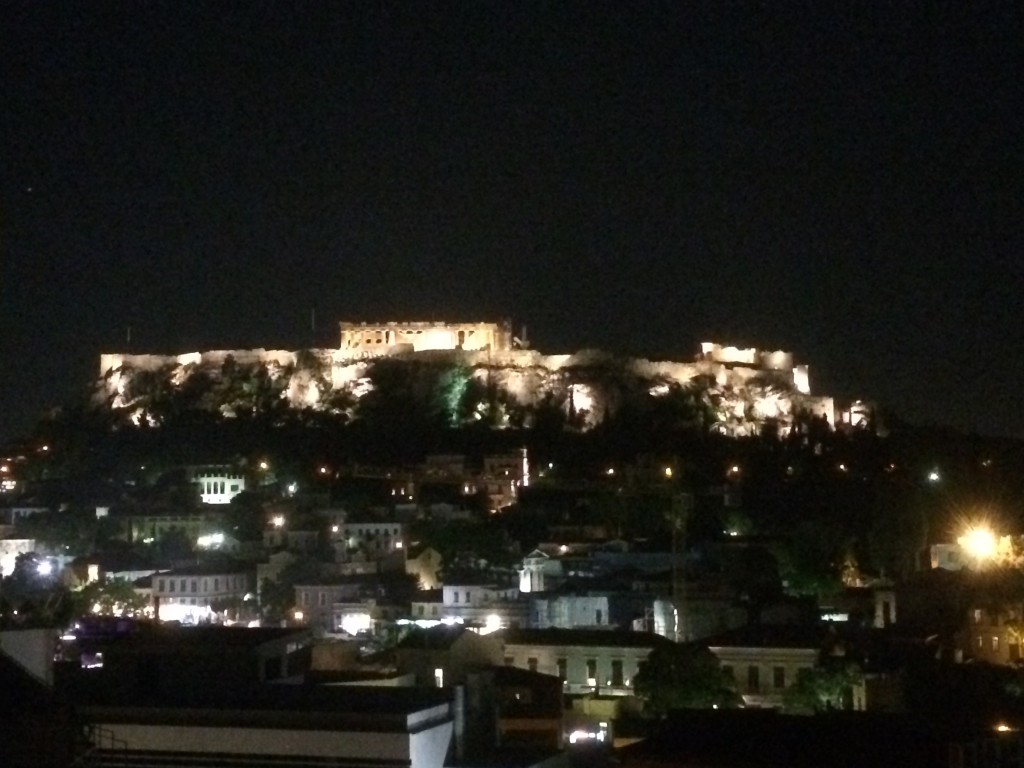 Our first stay in Athens included Wyatty being robbed of 250 Euro ($400 AUD) by a gang of pickpockets in the train station which we had to stop at to arrive at our tour pre-departure accommodation. With this in mind our train journey saw us keeping an eye on a number of suspicious characters who were unsuccessful in robbing him this time around. Our initial pre-departure meeting with our enthusiastic Busabout tour leader Tom and the rest of the group was in the rooftop bar looking up at the amazing Athens acropolis. With a wake up time of 5am the next morning we enjoyed perhaps one too many Greek ales while getting to know some of the group, a few members of the US armed forces and a member of a European royal family who were also enjoying the rooftop view.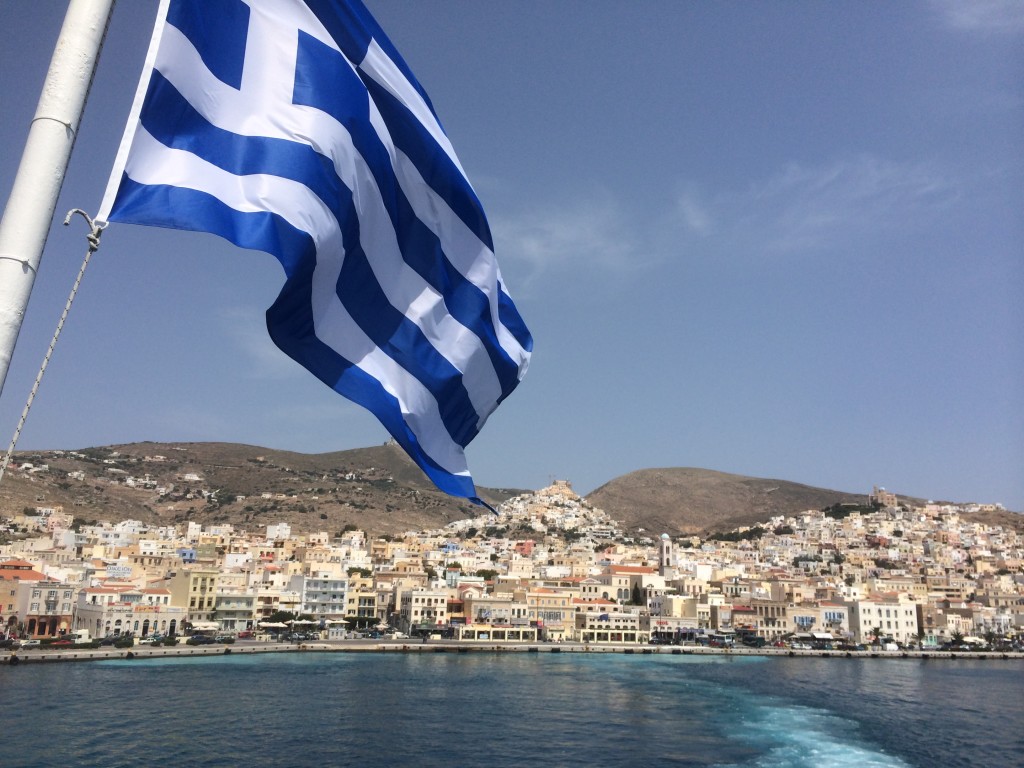 With a way too early in the morning start the long ferry trip to Mykonos was spent reading, listening to music and relaxing on the boat in preparation for the festivities to come over the next 10 days. Upon arrival at our beach resort we were greeted by a sign "Welcome to Paradise." The utilisation of a speed accommodation booking method for the trip in Austria resulted in Wyatty & I having booked a dog kennel type cabin which was extremely cheap and had a lot of character. In any case, there would be little time for sleep in Mykonos or for that matter the Greek islands in general.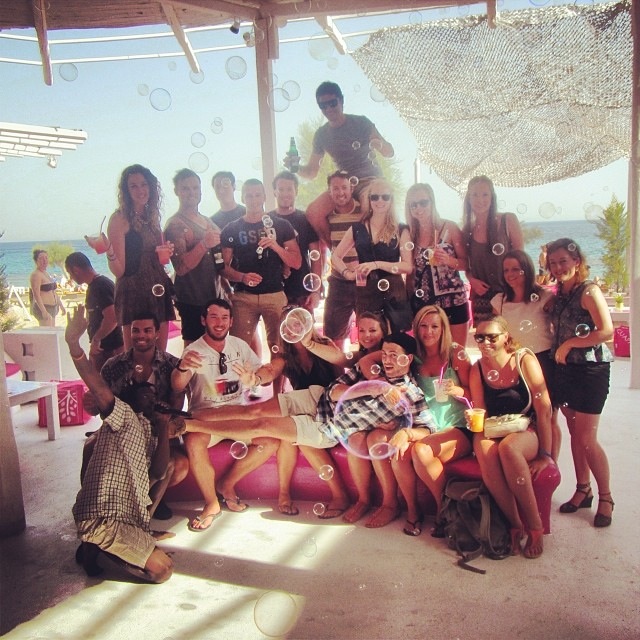 Any first night out with a new tour group normally involves everyone getting to know each other much better as inhibitions are reduced by the flow of alcohol. I was later told by Caitlin, one member of the Australian 5 strong girl group "the Pentagon" formed on tour, that Wyatty & I had appeared scary and intimidating when they first met us. By the end of the night this preconception had been quelled after I rescued some of the girls from a guy sexually harassing them on the dance floor and Wyatty eating a whole lemon before snorting a lemon seed.
In Caitlin's words, (and I quote) "We realised you guys are so awesome!" More highlights from this night included many group members dancing atop the Scandinavian Club bar. Charbel, after being told he was not allowed to get up the bar, did anyway with the bar managers attempts to hold him down having no effect on the Lebanese powerhouse.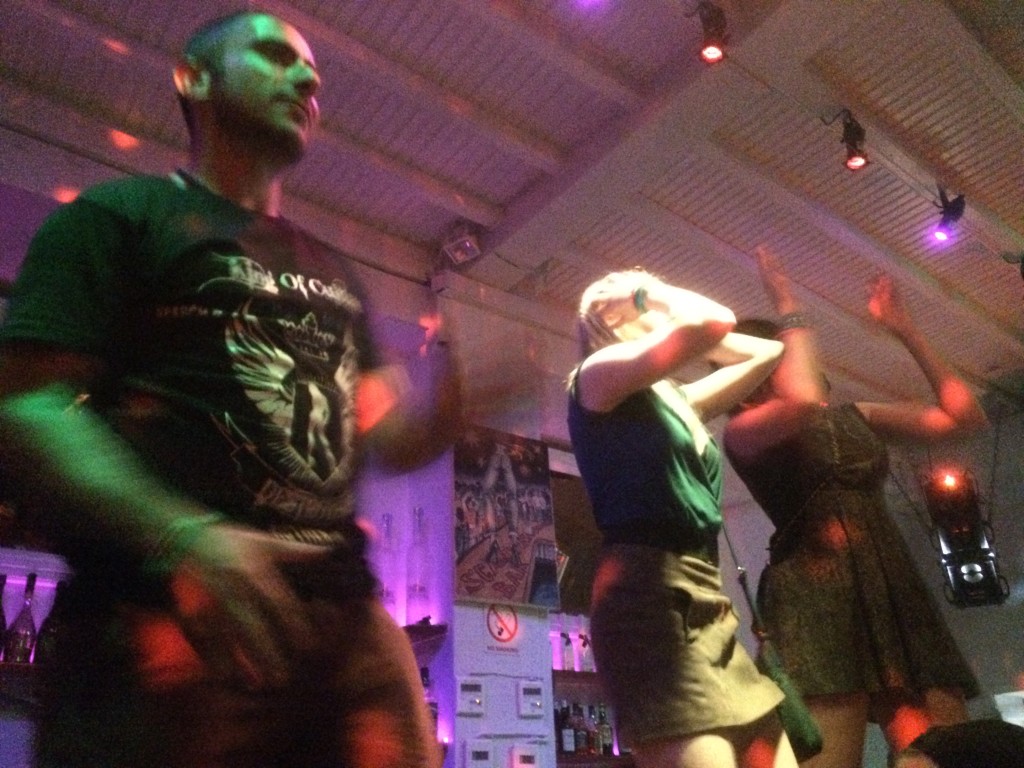 One of the highlights from our previous trip to Mykonos had been cruising around the island on hired 4 wheel motorbikes. With the stunning scenery and awesome weather we were always going to do this again and were joined by Rachael, another member of the tour.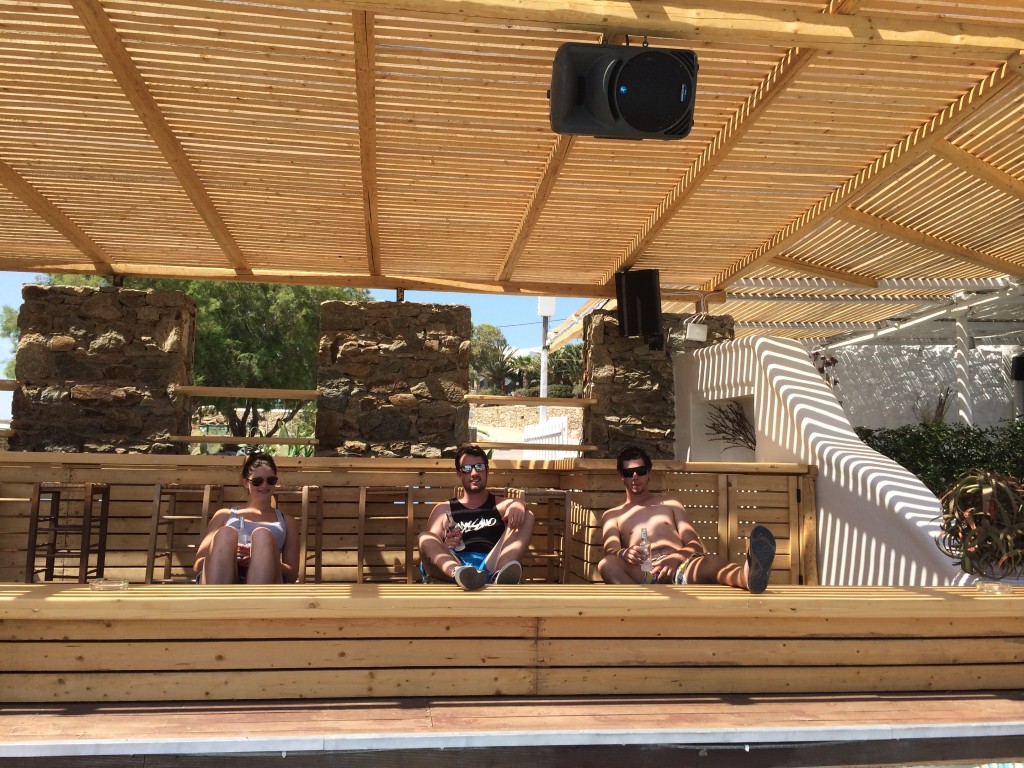 The streets of Mykonos are so alike that it may as well be a maze when trying to get anywhere but without a destination in mind it didn't really matter which way we went. After some high speed cruising on the narrow and windy streets and a nice meal at a restaurant we discovered attention turned to photo opportunities.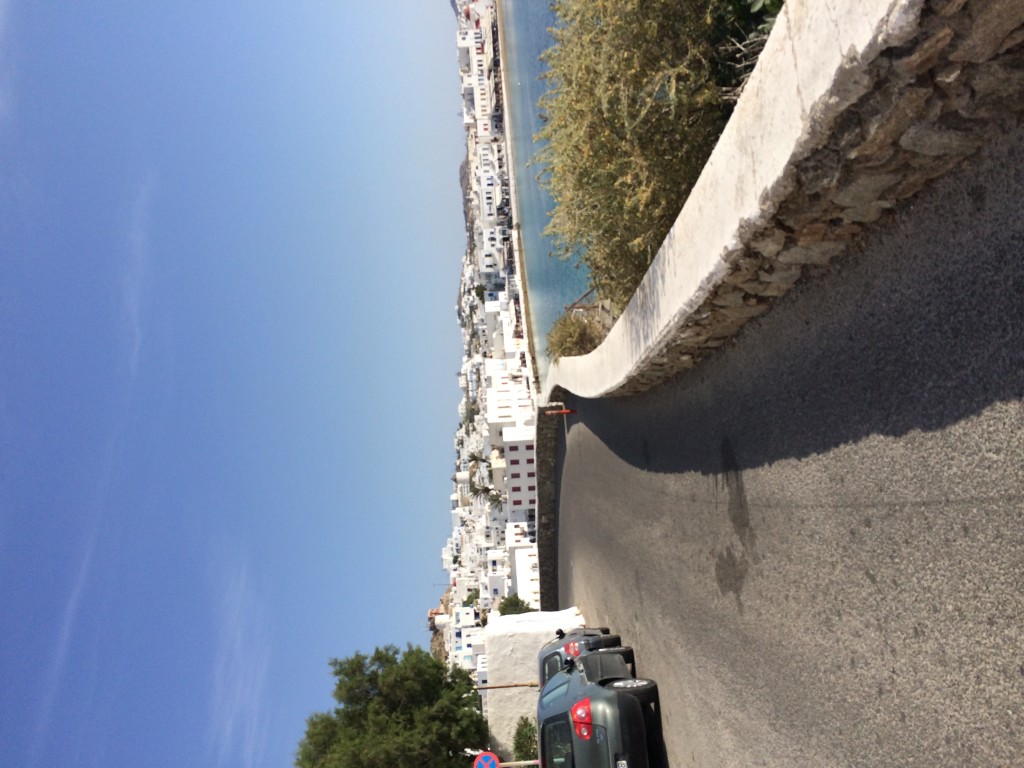 I decided the best option to appreciate the views on offer was to head directly uphill and after a period of flogging the bikes to death we reached the end of the road and top of the hill. The resulting photos were worth both the climb and the treacherous descent complete with locked up brakes and sideways slides.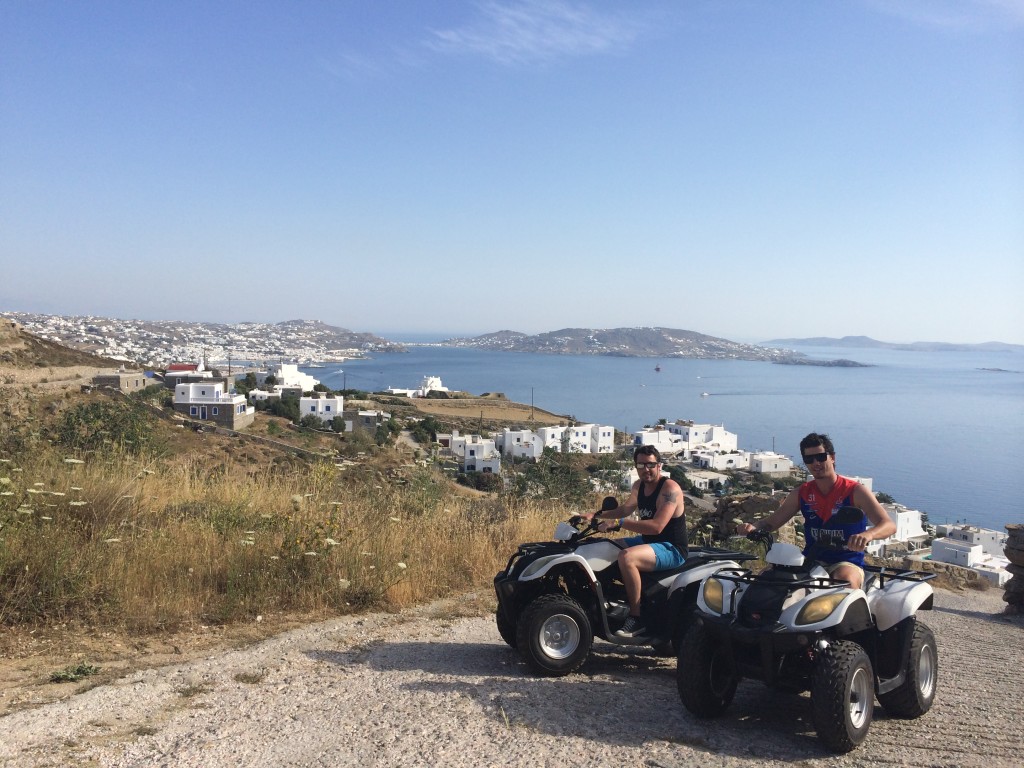 Night two on Mykonos we headed to a fluro party on Paradise Beach for pre-drinks before a Ministry of Sound event in the nightclub next to our resort. We expected that the fluro party would involve fluro paint being through around and purchased singlets for the occasion to prevent other clothing being wrecked. It turned out that the paint to be used was face paint but my "I'm in Mykonos Bitch" singlet turned out to be a good investment with a secret glow in the dark feature I didn't know about on purchase. Wyatty had hand prints added to his face to be used as a target for face slappings while I asked the face painter to surprise me & ended up with Harry Potter glasses and an orange beard. With the use of a bribe Wyatty convinced the artist to paint a penis on Charbel's cheek which he surprisingly had changed before leaving the party.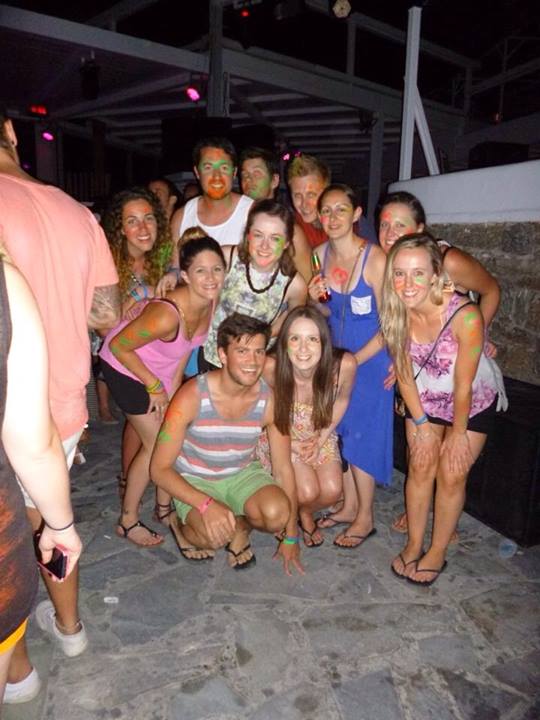 As part of the Busabout tour we were able to skip the large line into the Ministry of Sound party and I took this to give me the right to enter any area of the venue. The view from the closed off VIP area on the next level was unreal until I was joined by an angry security guard to escort me to the main arena. I explained that I had not noticed the many signs forbidding entry to the area or 3 chains blocking access to the staircases which mysteriously did not calm him down. It was then that I decided to abort my plan to jump into the inviting, well lit pool next to the dance floor which had also been declared off limits.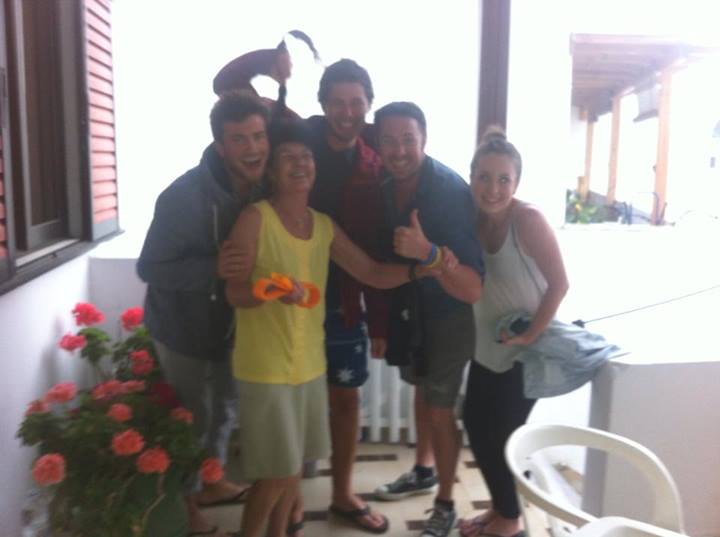 Our guide Tom warned us before arriving in Paros to expect some foul language from Lily the host of our accommodation who he described as a real character. The under 5 foot tall & elderly owner of the Elizabeth Pension was true to form when she performed a strip search on Wyatty & I to discover the fluro paint remnants of the previous night. She then called us "dirty f**king c**ts" and gave us a violent slapping around before promising to "cut off our bollocks" if we left paint on her sheets or pillow cases. I learnt my lesson after the first beating but Wyatty, being highly familiar with receiving a good slapping, continued to stir her up. With her slaps and backhanders failing to put him in his place she stepped things up a level and got out a long leather belt. After receiving a decent whip to the face Wyatty finally conceded defeat & settled down for the rest of that afternoon at least.

That night we went to a water front seafood restaurant for a 4 course seafood meal. When the massive first plate contained 4 separate items we thought that was it but turned out be only plate 1 of 4. Our resident photography expert Brian was unfortunately not a seafood fan and to the dismay of the restaurant staff would not accept free drinks instead of the meal. The rest of the party with full bellies we launched into some traditional Greek plate smashing and dancing. I delivered the fly kick treatment to shatter a number of plates and Wyatty dished out a head butt on one too. Perhaps feeling over confident in his ability to perform it he also attempted a fly kick for a result I have experienced many times before – split pants. Important lesson; never underestimate the power of the fly kick.
Wyatty smashes plate with his head
The following day, after I made it into Lily's good books by smuggling her some cigarettes into the hostel, the entire group set off on a boat cruise in ideal weather conditions. With unlimited white & red wine as well as Ouzo on offer for the day we had been forewarned by Lily to take it easy on the booze and pace ourselves. We disregarded her advice to start off on soft drink and launched directly into a couple of whites before our first swim spot in the pristine Mediterranean waters. Our second stop and snorkelling location featured a cave we were able to swim through. Our safety conscious guide Tom became distraught when he saw one of the daring Aussies Mitch launch himself from the cliff into the water below. His travel companion Matty & I began to ascend the jagged and precipitous cliff face to follow in his footsteps until due to my injured hand and after sustaining cuts to my feet I was unable to make it up. Matty successfully made the jump however and Tom was highly relieved when we all successfully made it back to the boat in one piece.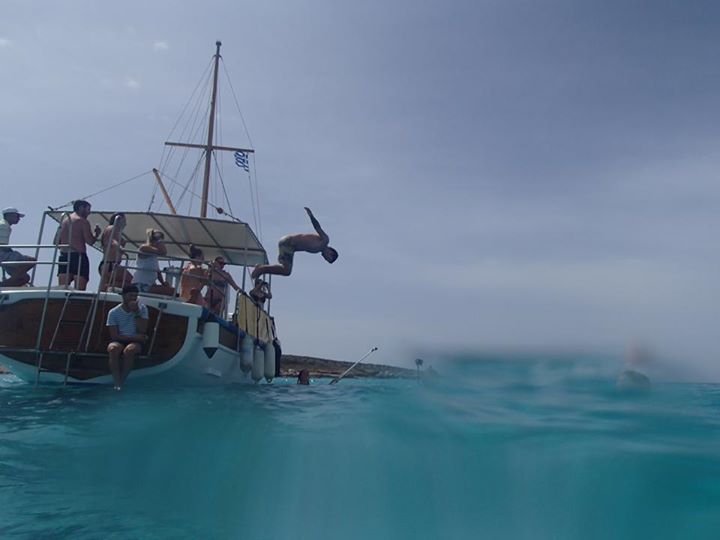 Next stop for the boat was a secluded island where the captain prepared a massive barbeque feast. While waiting for the food to be ready Matty's girlfiend and a fellow accountant Louise described how she regularly drank the boys under the table and displayed her prowess by punishing some of the Ouzo. The group then started a game of "I have Never." The game involves saying something that you have never done and if anyone else has done it they have to drink. In a strange coincidence the first 15 "I have nevers" were all things I had done and I was required to drink each time until Louise provided me with a reprieve with "I have never shaved my own vagina".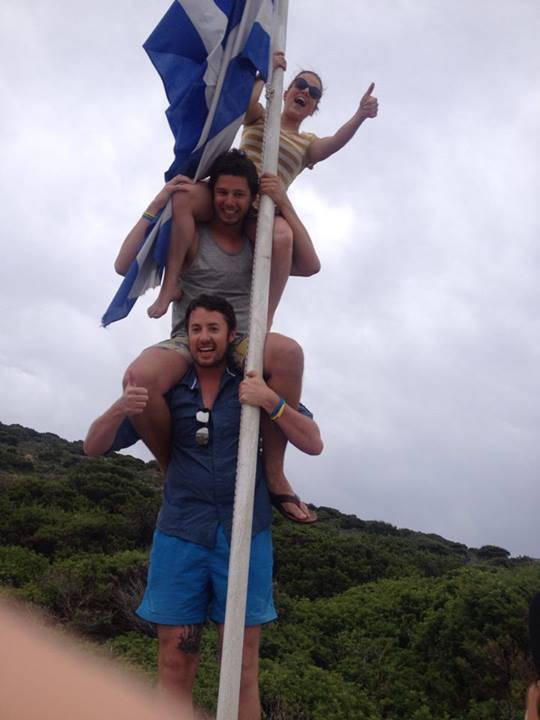 Ouzo began to flow as we ate the barbeque and one of the Pentagon members Claire ended up vomiting on the beach as she was unable to handle its effects. With her being cared for by other group members the drinking continued and we discovered that ouzo mixed with red wine complemented each other to improve their tastes. We boarded the boat again and Wyatty decided to scull a considerable amount directly from the Ouzo bottle.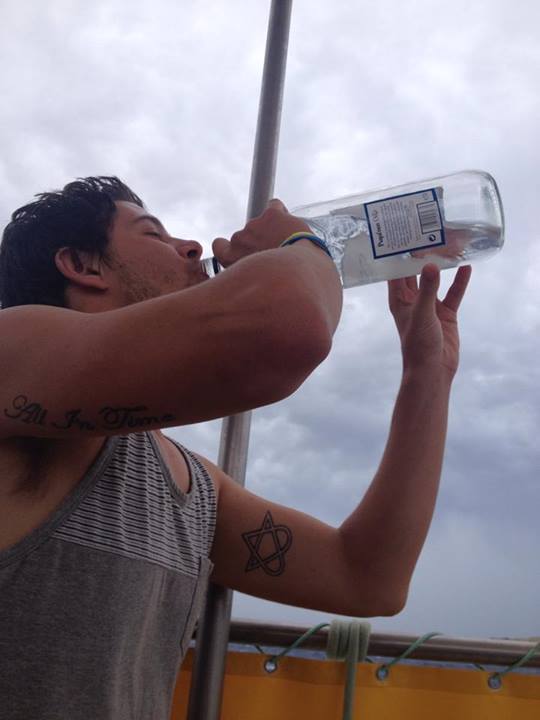 During this segment of the cruise the earlier magnificent weather got seriously worse until we were effectively in the middle of a massive storm amidst large waves. With everyone donning summer beach clothing for the day we had to huddle together in the middle of the boat for body heat. Everyone that was with the exception of Charbel who resolutely stood at the back of the boat with the crashing waves, hurricane like winds and apocalyptic conditions having no effect on him. Eventually around 15 of us resorted to going below deck into a space for around 5 people to escape the waves crashing across the decks and chilling winds where we unsuccessfully attempted to pour red wine into each other's mouths with the bulk going over our clothes.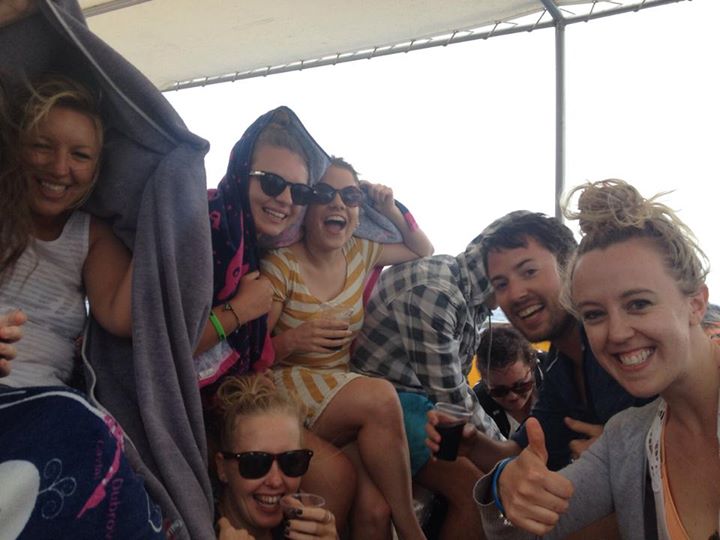 After making it to port we were required to jump from the boat to the dock as the captain and ship mate valiantly tried to hold the boat in place against the waves. We all safely negotiated this before heading back to our respective accommodations to get dry and changed for a group dinner. Kirra & Caitlin were keen to kick on and came to meet us at the Elizabeth pension where Caitlin copped a double slap to the face from Lily and the instruction to "sober up c**t".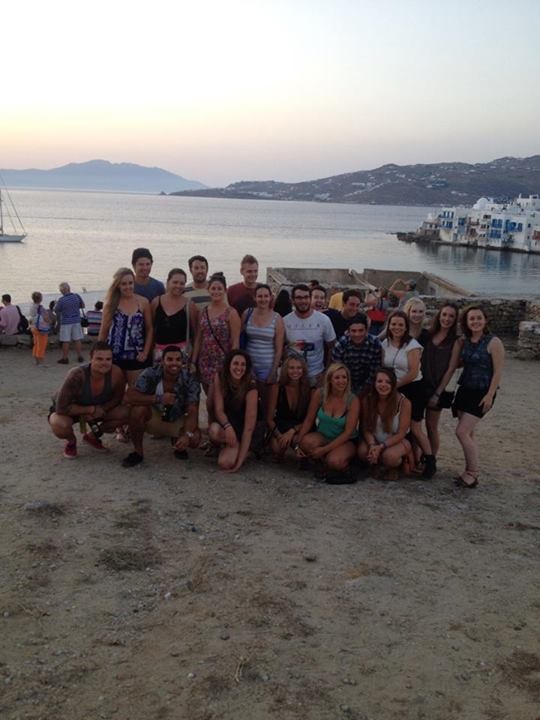 Following dinner we hit up a night spot offering cheap and delicious shots and a dance floor. Matty, Mitch, Mon, Louise, Kirra, Caitlin & I along with Tom performed increasingly outlandish dance moves to own the floor. Drenched in sweat we then began to perform the "floor crusher" by stomping with incredible force on the floor in time with the music. Surprisingly given the punishment it received the floor did not collapse and our last night in Paros was another great night.
Next post… Welcome to Paradise – The Greek Islands Part 2. Santorini & Ios…